Bootprint

1.So at first can you introduce your band, members, and give us short history?

The band started around 1 year ago with Nico on drums, Johnny on bass and myself (Laurent) on guitar/vocals. We went on studio really fast to records 8 songs and around 4 months after, we went back in studio for 6 more songs. We sent our tape to some labels and Uhl from Dim was interested so we decided to make business with him. We wanted another guitarist to drive the songs as the studio tapes so Ben (an old friend) joined us.We made our first show not long after that with Légitime Violence (from Québec city) and Section de Guerre (from Montréal). It went really well actually.

2. Bootprint is good name for Oi! band I think so why did you choose this one?

When i started the band, i would like to call it Necessary Evil, it was a one man project. I talked about it with my friend Johnny and he was very interested to join the project. Johnny didn't like the name so he found Bootprint (he had this name for a long time). After that we decided to start a real band and we found Nico for the drums.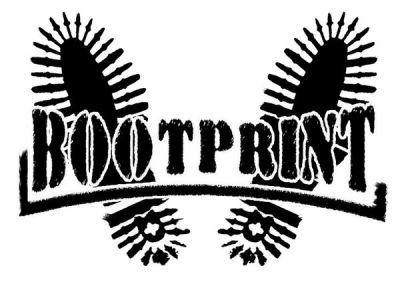 3. Have any of you played in any band before Bootprint?

Oh yeah! Johnny also plays bass for No Alliance. Nico is a former member of The Shifters and plays drums for Coup de Masse. Ben also plays guitar and he's the singer in The Uncivilized, he plays second guitar for No Alliance and he's the member of the one man project Markland Folks. I was the singer in the hardcore band Corruption 86 for 20 years, i play guitar for No Alliance and i play bass for Coup de Masse. We're a big family in Montréal...ah, ah, ah

4. Your sound is rough and hard like old English and French bands like Condemned 84, Brutal Combat or Warboots, what are your musical influences? What are your lyrics about and who is responsible for lyrics and music?

Except for the song Media (Johnnys song) and covers, I'm the main composer for Bootprint. My musical influences are Battlezone, Condemned 84, Indecent Exposure, Brutal Combat, Close Shave, Combat 84, early Brutal Attack, Vengeance, etc. Also mixed with a big sound. For the lyrics, we're a nationalist band and I talk a lot about national pride, family, friends and the fact that we're proud of our roots. I also talk about the death sentence, fuckin' junkies and all the bastards that want to shut our mouth 'cause we're proud. All these fuckin' hippies with no patriotic pride with Che Guevara t-shirts. I must say that even if i'm the main composer, Nico, Johnny & Ben always bring their touch in the songs and the Bootprint sound is a band work.

5. You have album out now on DIM records...it seems like DIM is small factory on good CD..s..how was your cooperation with Uhl?

We had great cooperation with Uhl, it was very easy and simple to work with him. A nice and reliable man, we gave him our trust and we had a lot of respect for him and his team. We hope to work again with him in the future. For a first experiment with a label, we can't ask for more. As long as Uhl will want to work with us, we'll be ready!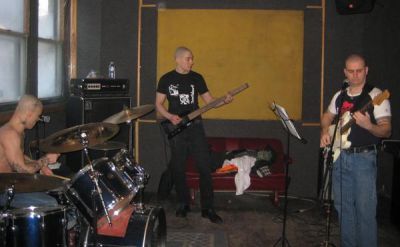 6. What about the gigs in Montreal and in Canada in general? Is it difficult to find place for patriotic oi! band to play? And what about the laws..it is like in USA(no smoking in bars, no drinking on the streets)?

Yeah the laws are the same, but we deal with it. It's not so hard to organise concerts in Montréal. 5 or 10 years ago, it was different because of the RASH. But right now everything's easier and we have no more problems with them. We're not too sure about the rest of Canada. We don't really have close contacts with the rest of the bands because we live so far apart, and there are very few Oi! bands at the moment (check out No Fuckin' Good or Alternate Action). The scene's different everywhere you go. There will always be a little tension with the French and the English in Canada. But Bootprint is an French/English band, so there's no trouble here. We're all bros.

7. I know some bands from Montreal like Coup de Masse, The Prowlers and also rock identitaire band Troublemakers...how is the scene in your town like crews, bars, venues..it is united or divided and can you recomend us other new breed bands from your area?

We're very close of Coup de Masse, Section de Guerre, No Alliance and Légitime Violence. We recommend all of them, they're all great patriotic bands. Troublemakers is back and we hope to play with us in the future, Jonathan the guitarist also plays for Coup de Masse with me. The Montréal and Québec city scene is rising real fast and we're very proud of that. A patriotic scene without compromise.

8. Canada is famous for NHL and their hockey team. Are you fan of hockey and are there anything like hooligans or ultras in this sport in your country?

I don't really like hockey but I can say that there's no real hooligans in this sport in Canada. You can hear about riots but it's not about hooligans, it's about drunken assholes who just want make mess and disorder.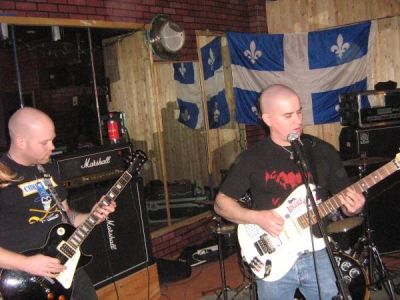 9.Do you know anything about Czech skinhead scene?

I'm very sorry to say that i don't know a lot about the Czech skinhead scene. The only band i'm sure is Disdainful. I'll be very happy to learn more about your scene.

10. What about your stuff like CD..s, T-shirts etc..Where could we buy it?

Except the "A Part of Us" CD, right now we have nothing to sell like t-shirts, patch, etc. But i know that you can buy buttons on the Dim Records site and Uhl was supposed to make some Bootprint t-shirts. We'll sell more CDs and after we'll make t-shirts :)

11. Plans for the future..

Yeah we plan to make concerts in Europe next year, we also have new songs and we'll be ready to go to studio around january 2010 to records them. They will be very different but with the same big sound. Little more technical with the same raw style.

12. Words on the end..

Thank you Peddy & Backstreet Battalion for your support and a big cheers to all Czech skinheads. We hope to discover more bands from your country. Also we salute all our friends and all patriotic skinheads around the world.