The Black Tartan Clan

1. So can you briefly introduce band history, members and how you know each other?

We started with the Black Tartan Clan in February 2008. Things went very fast after that, we recorded our first demo after 3 weeks and we did a mini tour in Scotland after 3 months. MacTouche (guitar), MacPiŽ (bass) and Ddee (drums) played together in a band before we started with BTC. MacHoze (bagpipes) plays in a traditional pipe band but was a guest piper in our former band and MacLoud (vocals) also plays an acoustic set with MacTouche. This is how we all got to know each other. We wanted to start a band that didnít sound like any other, the raw punk sound is still there, we just replaced the solo guitar with bagpipes and that results in a very unique sound that seems to reach a very broad audience, from streetpunk to folk, pagan and metal.

2. When and why did you founded The Black Tartan Clan? Have any of your members some experience with playing in any band before BTC? And did any of you play in some different now? Who is making the lyrics and music?

See Ďband historyí. Lyrics are made by Macloud and MacTouche. The songs basics are made by MacPiŽ and MacTouche. We then work out the details with the whole band, thatís what gives diversity to our songs.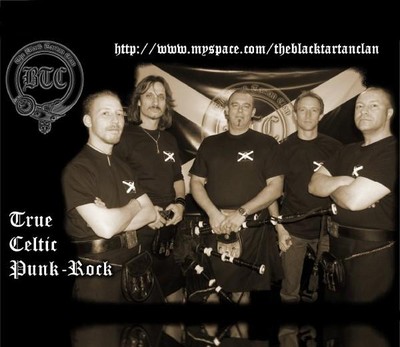 3. You released your album "Boots Kilts and Pipes" on Czech label 4 Subculture records, how was the cooperation with Michal? And do you know anything about Czech Scene?

We are now looking at the Czech scene since being contacted by Michal and are amazed at how strong the StreetPunk and Oi scene is in your country, there has been such a great reaction to our band and to our first Cd 'Boots, Kilts 'n Pipes' so thanks to Michal for believing in us. Michal is as passionate about music as we are and that is what we read in his mails to us. We were wondering who to give our first CD to. It was like handing over a huge part of us, something physical, and because of the passion he showed, we chose Michal and 4Subculture Records.

4.When I look on your webpage, it seems that you like playing live, because you have planned gigs one year to the future, so which bands you played gigs with? And what was your the best and the worse one in your career?

We only started in 2008, so we played no really big gigs yet. But Iím sure that will come, we will play in Berlin (Germany) at Punk and Disorderly in February 2009 and we also have contacts to play at other big festivals this year. You can keep an eye at our calendar on our Myspace. So far, we really liked the Christmas gig in Boqueho (France) where we played with The Business and Anti-Nowhere League.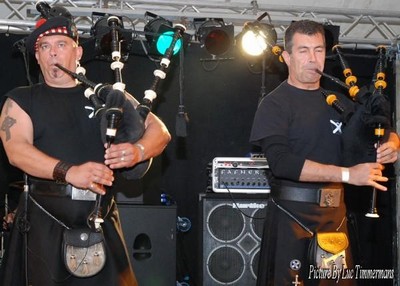 5.How people from Belgium find the "small Scotch" inside them? Why did you choose theese kind of music and what are your musical influences?

There is a strong sense of individuality in Belgium, and Celtic blood does run through our veins. Who doesn't love to feel the carefree attitude that Scottish Bagpipes and a glass of whisky brings to the Celtic soul within us all...

6.One question for the reading girls, are you really naked under your kilt:D?

Well how about we ask the girls what they have under their skirts, only joking ladies!!... Lets just say 'some things you just have to find out for yourself..;-)'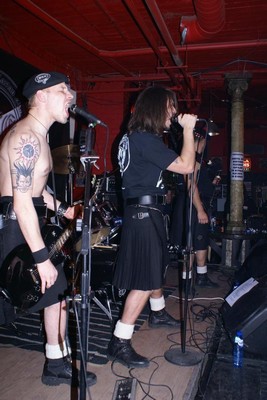 7.Belguim has great Oi!/streetpunk scene so can you tell us about some new bands there?

The Agitators are probably the best known band outside Belgium. We just class it as StreetPunk or Punk. As ever people judge too quickly and think coz your head is shaved and have black boots your left wing or facists...even we've been accused of being facists and we sing about having fun and being together as A Clan. We honestly donít follow any scene in Belgium, weíre just 5 regular guys thrown in this adventure.

8.What should we do to organize your gig? What are your requirements? Talk to the manager and MacTouche. MacPiŽ is forbidden to talk about requirements as he just wants to play (for free).....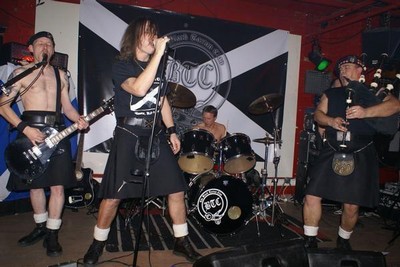 9.Plans for the future?

If we listened to our manager we would be travelling all over the world! But we are still learning and growing together as a band and need to get some more experience on live stages. MacPiŽ wants us to be perfect before attacking an extensive international scene...he strives for excellence on stage and the rest of us bow down to his talent. We listen to him when he decides something.

10.Words on the end, greetings etc...

Thank you Peddy for your excellent review of 'Boots Kilts 'n Pipes' and we want to thank all the folks who listen to us and want us to play live in Czech Republic. We owe our success to folks such as yourself Peddy who enjoy our music. We look forward to coming to your country and playing one day soon.

All For One!