Ciurma Skins

1. So tell us something about members, band history and how you met each other.

Ok mate first of all thanks for the interesting in our band after that let's go. The band was born in October 2005 from the ashes of our old Band Antiruggine with a lineup different fromthat we have today. With Antiruggine we've recorded two cds, a first demo cd and a second split with another old Sardinia Oi! band Adunata from Sassari, and play a lot of gigs around the island, Italy and a gig n Mallorca. We decide to close the Antiruggine experience for some reasons, but the most important was the politic. This band was linked with RASH movement and when our interest for this things finished we decided to close the Antiruggine project and start with Ciurma Skins, with the same old line up and a little different line. Our ideas are always the same but the band is the band and our private life is another thing, so here we are. The first line was Lorenzo – voice, Fabrizio (me) lead guitar and choirs, Nicola – guitar and choirs, Dario – bass and choirs, Daniele – drums. After one year the lineup changed for different reasons and now we are Mauro – guitar and voice, me (Fabrizio) – lead guitar and voice, Roberto – bass and voice, Daniele – drums and this the lineup that has recorded the cd. With Mauro and Roberto we met together at an our gig When the old players left the band I ask them to play with us and they accept.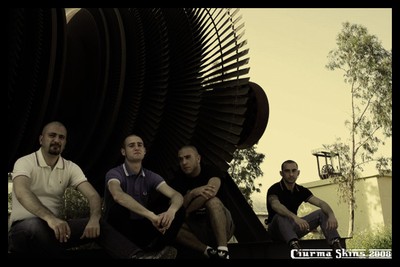 2. What does the name Ciurma Skins mean?

In Italian ciurma is the crew that working on the ships and more exactly the crew of the pirates ships. Like you can see in our web site and on the cover of our cd we have an iconography strictly linked with all this things in a traditional style derived by our love for the traditional tattoos.

3. When and why came the decision to start Ciruma Skins? Do you playing in any other bands beside this one?

Like I wrote before Ciurma skins born from the ashes of our old band Antiruggine in winter of 2005. I've played in other oi! bands before Antiruggine and Ciurma Skins, Mauro and Roberto played with Rametz before us.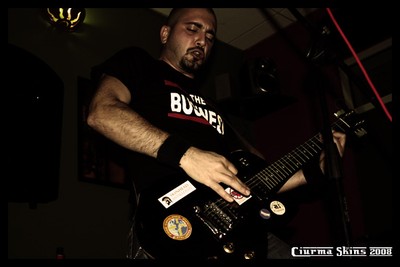 4.You have self titled album out on Shame and Scandal Records, can you told us something about cooperation with this label?

The album born form the collaboration of 3 labels, Hammer of Sardinia Records (the label where I'm working now with Tonino the original boss, from Sassari), Shame and scandal records and Conehead records from Germany that organize us a two days minitour in Germany the last year and a ten days tour this year, great man. We met Patti the boss of Shame and scandal when we played in Bologna in 2005 he like our music immediately so when we decided to record the cd he give us his help and support for the production, a very good guy.

5.Your music sounds like italian classic, what are your musical influences and who write the music and lyrics and what are your lyrics about?

In our sound there are some different influences the Italians historic bands like Nabat are one of this but you can heard some others things, like street rock and a bit of old school HC punk like GBH too. I write the music of all songs except Scritto nel destino written by Mauro. The large part of the lyrics has been written by our old singer and two of that, that are on the cd, has been written by me. The lyrics talking about social themes like the difficult to find a job in our land, the love for our island, the distorted vision given by media about our scene etc but we are not always serious and talking about beer and fun too.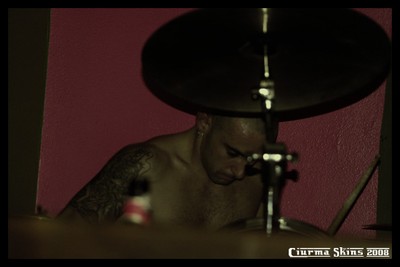 6.You came from Sardinia, Italy, is it there more Oi! bands then yours? Can you tell us something about your scene, pubs, clubs etc..

In Sardinia we have some good bands in each side of street music, oi!, hardcore, punk, mod etc. About the oi! bands Roll Call from Sassari in the north of the island and Sezione Ribalta from the south like us are secure the best, search and listen on the web strongly recommended. About the other genres To ed Gein from Olbia are one of the best HC band from Sardinia ever, Gods of Gamble kick your ass with their explosive mixture of punk and rock'n'roll in Social Distortion style and I can make you a lot of other names to talking about for hours. About our scene we have a little but strong scene where united and respect are the most important words, the pubs and clubs where play our music are just a few but we working hard in this places to give voice to our bands, I'm proud of my scene.

7. Italian are known as very good football players and fans, so are you supporting some local club, and are you part of some hooligan/ultra mob?

We are not part of any mob, we support when is possible our local football team Cagliari and go sometimes to the stadium to see them.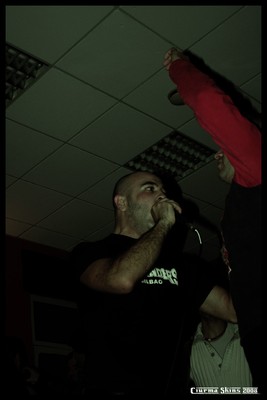 8. Do you know anything about Czech scene? Do you cooperate with 4subculture? or you try to do something with them?

I know few bands from Czech republic, I was in contact with Pilsner Oiquell and trade our cd with their first production, but I don't know some other bands. We make a cd trade with our label HOSREC and them and hope to continue to stay in contact in the future.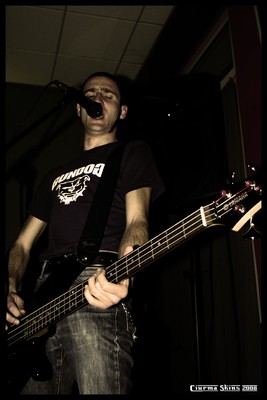 9.Plans for the future?

In the near future we have a 10 days tour on December and the first gig is in Prague, the second in Wien and after 8 shows along Germany. We are very excited for this thing, this is the first time that we make a so long tour and we working hard to make great shows in each town where we gonna play. Another plan is the realization of our second album, we'll working on new songs and we hope to record that on april may of 2009.

10.Words on the end?

A great thank another time for your interview, I'll hope to see you in Prague and to drink some beers together. Greetings to everybody from all the crew. Support your scene.