Code 1

1. So can you briefly introduce band history, members and how you know each other?

The band history is that Jason (singer), Steve( guitarist), Loiuse(guitarist) always met up at punk and oi! gigs. Jason was talking about forming a band as he was in one before and the others were interested. Cherry (drummer)was introduced to Jason and then they only needed a bass player, Sid from Section 5 started with them but did not want to play for Code1. I bumped into Jason at work and he asked me(Glenn) if I fancied playing bass I jumped at the chance. We started gigging and travelling all over the place Germany ,France,Belguim,Finland, Spain and then Steve found it hard to make the commitment, so we needed a guitarist and we were already friends with Dave from the Straps a very well known punk band and he said he would play for us .

2. When and why did you founded Code1 and why did you chose this name? Have any other of your members any experience with playing in different band? Who is making the lyrics and music?

The band was formed to make good old fashioned OI!. Jason was a singer for a punk band Stress and Dave played in the Straps. The name comes from Jason and Glenn's work if I told you what we did I would have to kill you!!! HA HA. Jason writes all the lyrics and my wife helped out with one song. Steve writes all the music.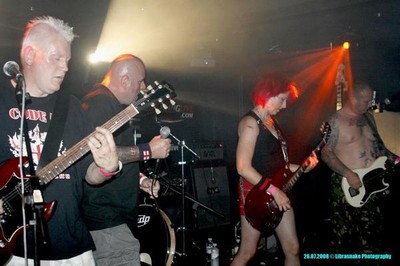 3. You speak the truth in your lyrics and you sing against PC, have you got any problems with this fact?

We have no problems with that, but other people do. I thought punk and oi! is for people with bollocks who said what they thought. If people don't like what we say fuck em. We are all aloud to say what we think that is democracy.

4. Your album was relased on 84 Records, how are you satisfied with the label, sound etc..?

We are happy with the sound except we recorded it in two halves with a year gap between, we went on the piss. 84 records are really great, helped us all the way through and took a chance on us thanks Tony.

5.How often do you played gigs in your country or abroad? Do you like it?

Last year we had a busy year, this year it has been quiet so far could be the recession most of our gigs are in this country we have one in Belguim. We love going abroad meeting skins all over the world is great.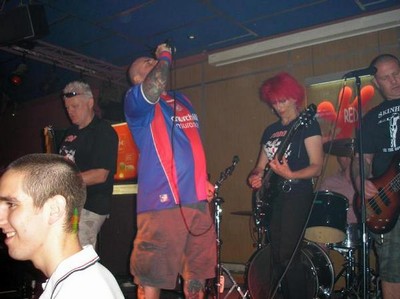 6.What bands do you like to listen and what are your musical influences?

The 4 skins,condemned 84, control ex beerzone, retaliator,uk subs,the warriors,TMF, Last resort,these are the bands we played with as well

7.Can you tell us something about new breed British Oi! bands?

There are not many new bands Skinful are good and very young. 8. Are you supporting some football team?

No I support Millwall, Dave supports Chelsea and Jason Crystal palace.

9.Do you know anything about Czech scene?

I know nothing about the czech scene but I would like to got a mate who lived in Prague.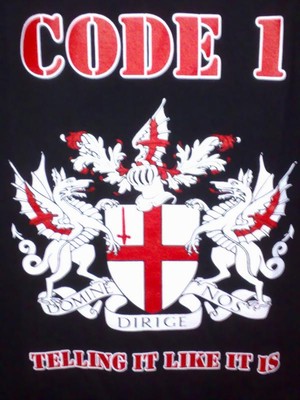 10. When could we get your stuff like T-shirts, CD..etc? What are yourrequirements for the gig?

T-shirts from Ascalon records.Cd's from Step 1 records. WE require flight and accommodation and we will play anywhere.

11.Plans for the future?

We would like to headline some big events and make another CD. I would like to say we play for every working class person who says what they want and does what they want and I would like to meet you all for a beer or three.