Discharger

1. Cheers can you introduce the band, members and how you know each other?

Hi I'm Tim (23) I'm lead singer and guitar player,Olle (24) is our drummer,we grew up in the same neighborhood.Peter (22) is our rhytm guitar player.I met him about a year ago.Henry (26) is our bass guitar player we know each other for about seven years and this is the second band we are in together.



2. When and why came decision to start Discharger? Have members experience with some other bands?

Well Olle and I always wanted to play but we did'nt had any songs and we did'nt had a bass guitar player.I was arrested in 2004 and I had to spend some time in prison, that gave me some time to write songs, when they released me I started looking for a bass guitar player. And thats how it all started.

3.I know you have 2 CD/Lp´s. How was the recording and cooperation with the label? I think that Rebellion is one of the best labels nowadays .

Yes, we are very pleased with the label . We payed for the time in studio and Rebellion payed the rest.And Rebellion did a very good job in promoting the album.



4.What about the gigs in Holland? Is it difficult to find a place for oi/punk band to have a gig??

Yes it's very hard to find a gig in Holland,because of political problems a lot of shows and up in violence.And so oi and punk music don't get a fair chance to survive.

5.How often do yo play gigs in Holland or abroad? Do you like it? Can you describe the best and the worst gig ever? I really like your sound, whuch bands influence you?

Well its hard to tell witch was the best, we had a lot of shows were the sound was lousy but the crowd's responds was great.And sometimes we also had it the other way around.And our influences? We´re trying to avoid that. We're trying to create our own sound.

6.Can you describe the Dutch scene? I know many good bands like discipline, close combat, offside, badlands, banner of thugs etc.

The dutch scene is a very small scene, but it's growing . It's poluted by techno kids (drugs users who wear the same clothes as skinheads).Razorblade made a statement against those people on their second album. Visit www.myspace.com/dischargerholland we have some bands in friends.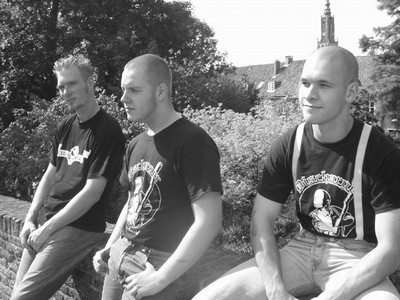 7.What is your opinion on political extrems in scene? Have you got problems with those wankers? Also Holland is famous for very liberal drugs politics, what do you thing about that?

You shouldn´t mix music with politics it can only make things worse, and I think drugs is for the weaker minded and I think we should strike down those who sell it on the streets.

8.What about football? Are you interested in fans/hools/ultra thing? I'm not interested in football, but I like to watch boxing or kickboxing.

9.Where can we contact your band and what should we do to make your gig? Where we get some of your stuff like T-shirts, cd´s etc?

You can email to tim_discharger@hotmail.com or visit www.myspace.com/dischargerholland for t-shirts and cd's. If you would like to get a gig just give us a date and a place and we'll decide if we can make it.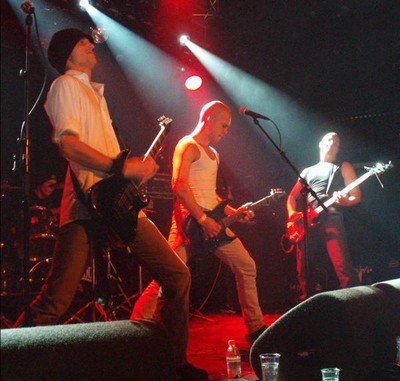 10.Do you know anything about Czech Scene??

No we have'nt been there yet but in December we'll be there with Perkele, so maybe we'll meet face to face.

11. Plans for the future?

Well, we're already working on our third album, and we're trying to do as much shows as we can.And off course we're making new merchandise.

12.Words on the end?

I hope the Czech scene is offering us a lot of new oppertunity's in the future. Thanx for the interview,and cheers to all readers!