Fear City

1. Can you introduce the band, the members and how you got to know each other?

The current line up of the band is Me(Tom Nupe) lead singer, Grant on drums, Phil on lead guitar, Nick on Bass, and Drew on 2nd guitar. I'm the oldest in the band by about 5 years on everyone, so I was friends with Nick and Drew's brothers. And I've know Grant for about 6 or 7 years, since he was a punk kind hahaha. And Phil I've seen him around before but never really hung out with him till the band started. But since we all live in the same town and went to shows we pretty much knew eachother for awhile anyways. But Grant our drummer is going to Korea, cause he is in the army so, as of now we are looking at some drummers to fill in till he gets back.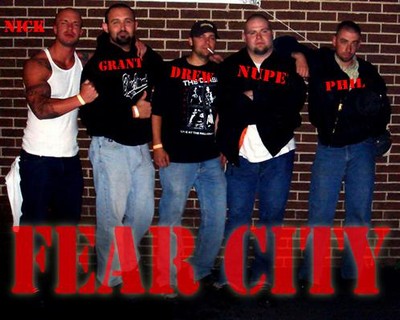 2. When and why we came to the decision to start Fear City? Did you have some expeirences with playing in other bands? Who makes the music and writes the lyrics? What bands influenced you?

Fear City has been around for a little over 2 and half years now. I've always wanted to be in a band since I was about 16 just getting into the skinhead scene. But for some reason it never worked out for me. In about December of 2004 our old bass player came home from the Navy, and one night out a bar we were talking about it. Then one day I came to a practice and we started from there. The first couple of weeks were pretty bad, we were doing covers of some Oi! bands. Trying to write some origianl songs. Since this was my first band ever it was kind of hard for me to get the timing down on the songs. But we practiced everyday, and I finally got the hang of it. We did our first show in our practice spot, and everyone there said that we had the talent make a name for ourselves in the Oi! scene. After that we were doing shows almost every weekend. And we started to get a pretty good following. About a year into the band is when Nick came in on 2nd guitar. We did one or two shows with him on guitar and then Dave our bass player quit. Nick moved to bass and we did a couple more shows, and we thought the sound was better with two guitar. So we picked up Drew. As for playing in other bands, everyone in the band were in a band or bands before, except for me. This is my first band. The bands they were in was just some local punk and hardcore bands. While most of the bands they were in were pretty good, nothing really took off for them like Fear City has. As for writing the songs and lyrics, it's pretty much me and Grant that does all the writing. The main bands that influenced us are so many. The 4 Skins, The Last Resort, Combat 84, Stars and Strips, Youth Defense Leauge, and some American Hardcore bands.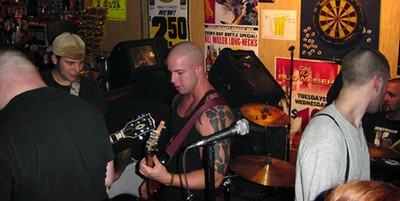 3. Do you have any cds/ep/demo? How was the recording and cooperation with the studio/label?

As of now we have a self released cd out. We put up all the money and did all the work. We put out about 1000 and as of now we don't have any left. We are in the process of maybe getting more done, but you know how it is. The money is a problem, we all have bills and rent and family life so it's pretty hard to alot of the self funding stuff. The recording went great, it was done by a friend of ours that was in a local band. He took care of us well. The sound could have been better, but still for what he had and did, we couldn't ask for any thing more! We are on a comp with United Riot Records, and a comp from the studio that did our recording
http://www.unitedriotrecords.com
"No One Gets Out Alive" compilation
http://www.earwaxfactory.com
"Hard Music for Hard Times" comp.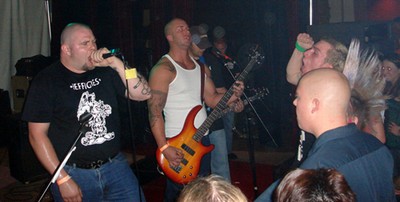 4. What about gigs in USA? Is it difficult for an oi band to find a place for playing? What about the US law, like no smoking in pubs/clubs or no drinking on the streets? Is it strict or is it ignored?

It's not really that hard for an Oi band to play in the US. For awhile it was but now there are starting to be more and more shows. Fear City can pretty much get a show in the South side side of Chicago when ever we want. As of the rest of the city, we really don't want to play anywhere else. We play were we are comfortable at. We've played in some other cities but it's real hard for us to tour because we all have good paying jobs and it's hard for us to get off all at the same time. So we play out of town shows only when we can. The no smoking law does kind of suck. Alot of cities across the US are starting it, and it's fucking shitty. But in Chicago on the South side of town, were we are from it isn't really in effect. But we have played at shows were you couldn't smoke. As a smoker it's a pain in the ass.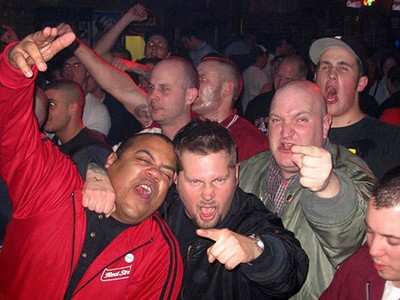 5. Do you like playing gigs? What bands have you played with?

Hell yeah! I love playing gigs. It's great to go out to the show drink free beer and be with your mates. Sometimes it can be a problem. There has been times that our shows have gotten out of hand, and some fights have broke out. But oh well what do you expect when you have about 100 drunken skinheads in one place.hahaha But it can be a pain in the ass dealing with promoters and other bands. We were going to play a show in St. Louis USA with the Templars and some other bands, but the night before at a pre party we got into real big fight and got kicked off the bill. I can see us getting kicked off the bill, but the mother fucker in one of the bands that was putting the show on lied to us and gave us some bull shit. It's shit like that, that is one of the only things about doing shows. We've played with some good bands like Murphy's Law, The Lager Ladds, The Effigies, we just recently played with the Business, also so many local bands to name.

6. What about some oi/punk/hc bands in your area? Can you describe the scene in your area?
www.effigies.com an old school Chicago punk band
www.myspace.com/pkdores an all spanish Oi band
www.myspace.com/squaredoff Chicago working class punk
www.myspace.com/thekillerhc our hardcore boys
www.myspace.com/longshot a good punk band with some young kids
that's some good one's there are others just can't remember them all.

As for the scene here? Where do I start? The city of Chicago is pretty much split in two, with the South side(where we are from) and the North side. We have our Crew F.C.S stands for Fear City Skinheads, that's were we got the band name from. It's really all the skins on the south side. The north side of the city doesn't really have any crews to talk about. The north side skins are pretty much just some trendy skins who like to talk shit on the internet. Kids that dont' know anything about the true skin. You know the ones that live at home with mommy and daddy and don't have any bills or real jobs. Not all north siders are like that, we have some good people up there, but most are just fucking pussy's.
As you can tell by our songs we are proud of where we are from and what we are. We write our songs about our life on the south side of Chicago. Being proud of our woking class roots. All of us came from hard working class families. We look at the North side skins as pretty boys who are just in it for the look. While we are on the South Side of Chicago putting in work, drinking and fighting and just doing are thing the way it should be. The Chicago skins have always been hard, ever since I was a young fresh cut. We don't take any shit from outsiders who want to come in. We are very cautious when it comes to outsiders coming around our crew. Not because we are just a bunch of assholes, but most of us grew up together, we all know eachothers family's. We go to friends kids party's and family outings. That's how we are. Friends and family first, skinheads second. That's why we are so close.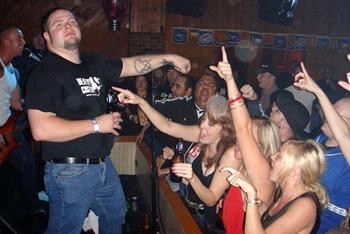 7. What about the politics in the scence? What do you think about it?

Politics are a touchy subject. I try not to let my personal politics in our music. F.C.S. trys not to get involved in other peoples politics. It can be hard sometimes. There are so many of us in our crew that we even have different political views, nothing to extreme though. But as for politics in the skinhead scene in general, it's kind of a joke I think. I mean there are alot of people out there that thinks if you against communism you are a racist. And if you are anti racist you are labeled as a commie. I think that's bullshit. What happened to just being a skinhead. We have too many other people out there that don't like us just for being skinheads to be fighting eachother. In the US we have many kinds of political skins, which I think is bullshit. How can one be a commie when the US fought communism for years. And how can one be a nazi when our grandfathers fought against them in WWII. That's just how I feel, sometimes I like to say that Fear City is an anti racist R.A.C. band, and we just piss off everybody hahaha.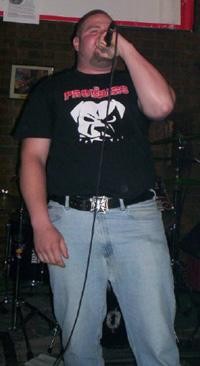 8. Are you interested in some sports? In Europe we all like soccer, what about in the US? Is it something like hooligans/ultras in some kind of sport?

I love sports here in the US, I'm big into American Football, and Baseball. Soccer in the US is starting to take off big. We have our own leauge called the Major Soccer Leauge. And Chicago has a team called the Fire. There are some "hooligans/ultras", but nothing like how it is in Europe, man you fucking guys are crazy over there about soccer. I think it's great.

9. Do you know anything about the Czech scene? I know Chicago is one of the biggest Czech minorities in the USA?

I don't really know too much about the Czech scene, but I do like the band Pilsner Oiquell from Pilsn, they are pretty good. Chicago has a real big Eastern European population, don't really any know any Czech people, but I did eat a Czech resturant, and I must say very fucking good! If you email some bands to check out, I'll be sure to do that.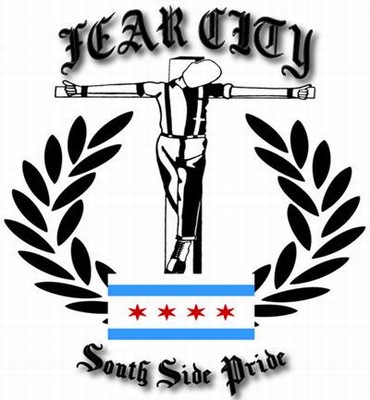 10. Plans for the future?

As of now we are going to get a new drummer to fill in for Grant. And we are writing new stuff. We will probally release some 7 inches out for now, maybe another cd. We are talking to some labels, and hopefully they will pick us up so we don't have to put up the money for our cds. Then maybe we might do a mini summer tour.

11. Words on the end?
Thanks alot for the interview, you have a great site. It's good that there is people like you who gets shit out there. We need more people like you, so that the Oi! skinhead scene can get out to different people around the world. Cheers and Beers from the South Side of Chicago. And if you ever come out this way, just drop me a line and we will good and drunk. check us out .

www.fearcityoi.com
www.myspace.com/fearcity