Operace Artaban

1.Cheers, so everybody knows you, but can you introduce the band, members and can you say how you meet each other? Do you play in any other bands before Operace Artaban?

K: Cheers, I am Kabanos, and I am 33 years old. I play bass and sometimes I sing. We met each other on the streets, in clubs and pubs. As a youngster I used to play in two bands, so I have some experience. Operace Artban is also big experience :-)
- Iggy (24) sings
- first guitar is Fanule (22)
- and new second guitarist is Stréc (22)
M: Hi, I am Miloš, or Milošek if you want. Before OA I used to play is some bands, from which is most known 1000 let od ráje. Instead of OA I recorded solo studio project Svornost..

2.You have 3 albums out + split CD with Začiatok Konca. Two of them were released on Bass Riot Records and two on Rabiát Records which is owned by Kabanos. How was the recording. You have also 2 videoclips out, so have you got any funny stories from the shooting?

M-So recording is sometimes very difficult, because man realize, that he have to train and train.
K: Recording is always mirror to your abilities, mainly to those who are lazy to go to rehersals. It means that we sometimes very annoy ourselves. About the stories from the shooting, I think that the videoclip is funny in itself.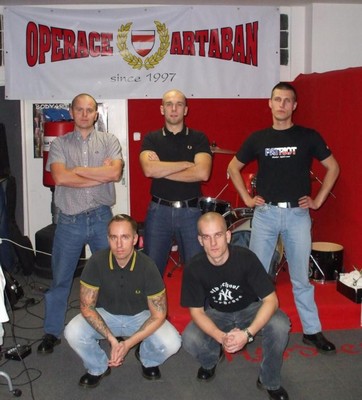 Now question for Milošek, how does it look with your project Svornost, is it RIP or do you plan to release second album?

M-Yes I like to release something, but… It depends on many things and the main thing is money. When I want to do something like that, it has to worth it and I have to go for it. First presumption is good studio and good quality musicians and the result have to be the best. And all those things cost too much money. I won´t make release only for releasing, that´s not my style. Almost all people bless this project and they asking me about next album, saleability is not so good and one of the publishers is in debt becaues of this. So if we don´t get back some part of expenses from first CD or if I won´t become rich in some wonderful way, I don´t know if some second CD will be released.

3.What about gigs? In Czech or in Slovak country you play very often,almost every weekend. What about abroad gigs, is here any difference between czech/slovak crowd and abroad crowd? What about your best and worse gig?

K: There is difference between states and also between cities. Sometimes in cold Germany we make people dance and sometimes wild Italians doesn´t turn a hair. I don´t remember the best and the worse gig. We have, thanks to satan :-) good response from the crowd, for which we are glad.
M- Every gig, on which are satisfied people and we make good show is great.

4.Have you got any music idols or band which you want to play with? Who is responsible for lyrics and music? Instead of playing in band you are very active in scene, like Rabiat Records, Hardset clothing etc..have you got time on everything at all?

K: So I listen, used to listen and maybe I am under influence of: Rabauken, Oi Melz, Blitz, 13.století, Verlorene Jungs, Kritická Situace, Perkele ……I don´t want to write all bands. Lyrics and music are from 90% my work. Sometimes I am fed up with all this stuff, but this is the thing whic I like and only whip above me is me, not any chief.
M-So I have no music idols, but I like bands like: Pride, Skrewdriver, Banda Bassotti, Slobodna Europa, XIII.Stoleti, Division 250, Damned, Sverak-Uhlir etc. I want to play with Pride, they are genius band. Lyrics is mostly done by Kabanos, something is done by me or by the boys.

5.Brno is city with great skinhead scene, can you describe it? What about some other bands from your area, can you recomend any of them to us?

K: So what can I say. In our city is a lot of new young blood, which are into scene. In Brno, there is no other skinband. But in our area we´ve got The Riot an Oi!punk Glejt.
M-Since of middle 90´s, thre is strong scene and now come the other generation and that´s great. Brno is simply Brno.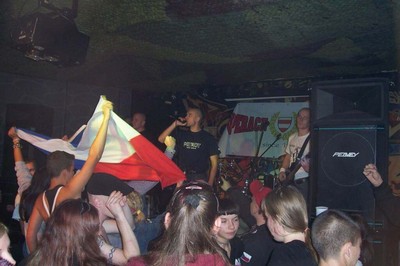 6.What about football or hockey? Brno play 1st league in both sports, so are you visiting the matches?

K: Now we have made song for our hockey team. We are visiting hockey matches, I hope they don´t make us angry like on football. Hockey is 1st league, and it is under Extra league, so it is 2nd league. On football team Zbrojovka I will go, when they come back to their stadium Za Lužánky.
M-I prefer hockey team Kometa, it is 2nd league, but the atosphere is greatest in Czech republic. Always great pleasure. On Zbrojovka I was on autumn, when we lost a match with Pilsen. Now they play good, so I will go to see them on spring. I don´t want to say that the results are the most important thing, for me is important atmosphere on stadium. The current stadium is very bad, so people aren´t coming. I remember 50000 people on stadium Lužánky, so I belive that one day we will come back home.. Za Lužánky.

7.What do you think about politics in scene?Do you have some problems as nonpolitical band?

K: Politics is for dumbasses and for children in every scene. It dividing and destroying the scene. Problems are mainly on web and some cancelled gigs. So it is cowardly/mean war.
M-It is about concrete people, different people have different opinions, but when somebody don´t pushing it to me, I don´t have a problem with it. ,Problem begins, when somebody don´t see anything different than his political view. He don´t see neither left nor right,and don´t respecting other opinions. Those people destroying the scene and also other things. I don´t blame politics itself, I am interested in politics, but I blame fanatic people who think that politics is more than personal character.

8.How can we order your stuff and contact you for a gig?

K: So we play for around about one million, but when somebody write me an email, I will tell him more. Contact is rabiatrecords@seznam.cz. Web pages with our stuff are www.rabiatrecords.com, www.hardsetshop.com, www.hardset.cz.
M-Some of out t-shirts are also on www.revoltwear.com and my side project is on www.svornost.wz.cz.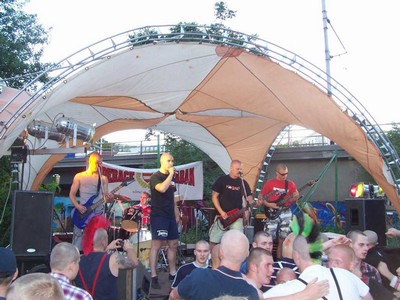 9.Plans for the future?

K: I have many plans. Now I am planing gigs itill the end of year in Brno. And I want to be satisfied.
M-Record some new good stuff. Plans aren´t wishes. :-)

10.Words on the end:

K:Thanks for your interest and see you on some gig.
M-Thanks for interview and good luck with the web. Cheers to all friends.Stay rebel!