Paris Violence

1. Cheers, could you shortly introduce your band? members, how you know each other?

Hi mate! Paris Violence started in 1994 as a 3-members band, I was already on vocals, guitars, keyboards, programming and songwritting; we released 4 demo tapes and our first official releases (1998) this way; around 1999 the two other guys left the band, they had to move far from Paris and it was quite hard to play music this way, we didn't work with internet and all the stuff yet... But I wanted to go on with PV so it became a one-man-band, I was playing all instruments, which was not current at all in the french scene since the early 80's with experimental punk bands like Mopo Mogo. When I released the "rayé de la carte" 7' ep I needed a sound ingeneer to get a good mastering, and Ben Une vie pour rien/Lutece Borgia told me to see with Molodo?'s ex-guitarist Spirou; he mastered the ep, mixed and mastered the following album, then joined me as a second guitarist. But he couldn't play on our latest ep so I asked three friends of mine who already well knew the band, and so was born a new line up. As you can see many people played in the band, so each record has its own touch... Now there's a new member, Tony from Chaos 83, a great streetpunk/oi! band from northern France.

2. When and why came the decission to start the band?

It came very early, around 1992 when I started listening to this kind of music, but I think I was too young to make any listenable work... So I had to work two years more to be able to play things similar as the sounds I liked. I was kind on british bands like The Blood, Peter and TTB, Angelic Upsarts, Anti-Nowhere-League, oi! Samplers like This is Oi, french early 80's bands like Komintern Sect, Collabos, Camera Silens... and some new-wave, too. I wanted to mix all these influences to get a new streetpunk sound with a cold and depressive touch, but it wasn't very easy and it took years to get the sound I was looking for. Overall I loved collecting records since I was 15 or 16 and I was impatient to release some with my own band! And in the case it was the only solution, to release it myself. I was so glad when our first releases were pressed I decided to go on anyway, even if our very first ep had a crap sound with a speed problem due to a factory error (but very few people noticed it!).

3. What about your dicography? How many cd/lp/ep ´s you got and what label relased it?

We released 4 albums, 5 eps and 1 mini album:
" humeurs noires " ep 1998, rural muzik 2 different sleeves
" violence urbaine " split ep 1998, fraktion provisoire
" temps de crise " cd 1998, lion records/islika prod, lp issue in project cd ltd to 500
" mourir en novembre " cd 2000, dialektik records, lp issue in project
" rayé de la carte " ep 2000, islika prod ltd to 300
" l'âge de glace " cd/lp 2001, fraktion provisoire/trauma social
" ni fleurs ni couronnes " 10'mlp 2 issues, 2001, rural muzik/dialektik/islika, cd issue true force 2005 picture disc issue ltd to 300
" cauchemar abyssal " ep 2002, rural muzik
" en attendant l'apocalypse ", cd/lp 2003, dialektik rds, reissue combat rock/trooper rds 2006
" les mondes flottants ", ep 2005, trooper rds 3 different sleeves
There is a CD with our two first demo tapes too, and a volume two with demos 3 and 4 will be out very soon. We also appeared on various samplers.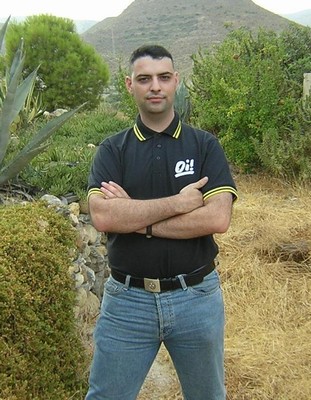 4. Do you played often gigs in your country or outside? What bands you played with?

We never played any gigs at all, in more than 12 years of existence! Our main project was an exclusive experimental studio work, the way West Side Boys had followed some years before, for example. And it came even more difficult to think about live performances in this long period I managed all instruments and sound ingeneering myself! I still have lots of stuff to do this year so I can't plan things now, but the idea is still present to start making gigs. If we do so, be sure that central and eastern Europe will se us live!

5. In your music I can feel not only Oi/punk influences, when you take inspiration to write theese kind of music?

Yeah I listen to various kinds of music, Paris Violence is overall a oi! Band, but all these influences are mixed to get a sound as original as possible: heavy metal, symphonic black metal, new-wave, cold-wave... it's often easier to manage this kind of experiment when you use keyboards, so you can get more complex sounds; that's why we used it since the beginning, even if it was not considered as a classical punk/oi! attitude. We have some dark/ambient parts too, for example in intros and outros, and some industrial influences in several tracks. The metal influences essentialy appear in the guitars and symphonic synth parts. I'll try to experiment other new sounds too, but always keeping globally in a streetpunk concept.

6. You have got very nice official website, (paris.violence.free.fr/) who made it and when he took the idea to make it in this style?

Thanx! I designed it... first I was planning to design a classical oi! Site with bleachers and camouflage and everything, but I thought it was more interesting to get something more unusual and closer to PV's spirit. So I tried to make a 1900/decadent artwork, with a different atmosphere on each page, corresponding to several PV's themes: literature, war, sex, history, monsters... If I had enought time I should add new pages and make an international version. We have a myspace page, too, but you can't do many things with this. Anyway it's a very good way to meet people from everywhere and get in touch with bands worldwide.

7. What do you thing about politics in scene? (right/left wing scum)? do you have problems with it?

I absolutely hate politics, and everyone knows this is the main problem in the skinhead scene since more than 20 years... we are proud to be an absolutely non political band, and of course many people don't like this - rightwing people considers you as a commie, and leftwing as a fascist. But I don't fucking care about all those bastards who don't mind at all about music and only use it as a way of propaganda for their crap ideas. In the mid 80's and 90's, french skins were mainly rightwing, then came many redskins in the 2000's; the only period without any political bullshit was the early 80's I think, but I was too young! Anyway I don't care what people think, I will always go on, cos the only thing I love is music and I think I am not the only one!

8. can you shortly describe French scene? i know you have big scene full of good bands like Warboots, Charge69, Janitors, P38 , and old ones from 80´s which became cult.

There were many good oi! bands in the 80's: komintern sect, collabos, reich orgasm, snix, l'infanterie sauvage, camera silens... in the late 80's and 90's the scene was not so good, cos lots of skins came into politics, and punks too thru anti fascism, as a reaction to the oi! rightwing scene. But there were still some great bands like west side boys or plastic gangsters (we have a cover of them). New bands started in the late 90's, but they often just tried to sound like 80's bands and so much of them didn't sound very original. But a band like charge 69, which is more a punk band than a oi! band in my opinion, becomes cult now, they have very good sales for an underground band, and that's very nice. It reminds me of molodo? which had a very large public.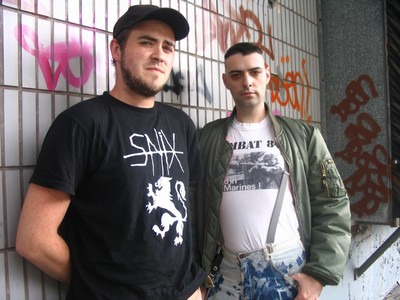 9. do you know anything about czech scene?

Yeah I discovered oi! music with french bands, british bands and czech bands in the same time. I got orlik's albums in the 90's, I think it's one of the fisrt foreign bands I listened to, even if I still can't understand if they were an apolitical band or a rightwing band; I could give you various other band names, but the matter is that I can't understand a world in the lyrics, and I don't want to promote political bands; I have a Tri Sestry lp since many years too, and various samplers... anyway I think that the best oi! sound of today comes from the eastern/central european scene and from the japanese scene. Most of the recent bands I listen to come from these two areas.

10. what are your lyrics about?

Our lyrics are quite dark and depressive, they talk about life in Paris and big cities, despair, war, history (first world war, cold war, japanese history, french history)... our first and second albums, "temps de crise" (crisis times) and "mourir en novembre" (dying in november) were almost talking about Paris, its districts and its subburbs; "l'âge de glace" (ice age) is mostly influence by the decline and deshumanization of our modern civilization; "en attendant l'apocalypse" is a late 19th century concept album, with decadent themes like aestheticism, dandysm, elegance, opium, morbid obsessions... "cauchemar abyssal" (abyssal nightmare) is an oniric and neurotic trip to the oceanic depths. "les mondes flottants" (flowing worlds) is dedicated to ancient japan and samura? spirit.

11. plans for the future?

Yeah, many ones! volume 2 of our demos (1997-1998) on CD, split 7' with foreign legion, split 10' with the spanish band hetairoi, new ep for 2007, and of course a new album; it was planned for 2004 but there were many delays and we had to wait a lot before starting the release, but at last it's on the way, so I think we'll get it for 2007 too! We will also re-release some sold out items like the first and second albums, if possible in both lp and cd; one day we should release a singles collection too, cos most of our eps are sold out for long!

12. words on the end

thanx a lot for your inti, kind regards from France to all czech punks, skins and bootboys… get your strenght thru oi !