Patriot

1.Give us a brief history of your first band, Patriot

Patriot formed in October of 1990 in Chapel Hill, North Carolina. The line up was (me) Eddie on vocals, Gordon on guitar, John McNeal on bass and Joey Osment on drums. We survived several line up changes and have to date released 3 studio albums, 2 live albums and in addition to 3 EP's, have been featured on approximately 25 compilations. Gordon and I (Eddie) are currently working on a new album with Patriot's new and recently reformed line-up: Eddie on vocals, Gordon on lead guitar, Jason (the Louts) on guitar, Nate (No Holds Barred and Terminus City) on bass and Davis (the Louts) on drums.

2.Eddie, so Patriot is back from the dead - good news! Why did you decide to reform the band?

We're back! There was still so much that we felt we wanted to say and do. There was such a hole in my life from not having Patriot and the relationships that we as band members shared. I needed to have that "outlet" in my life.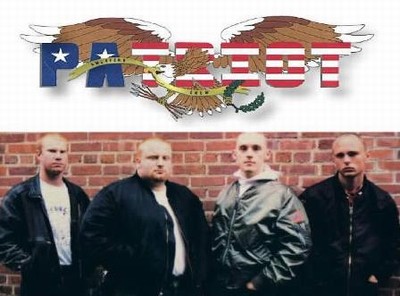 3.Who's in Patriot now?

Me (Eddie) on vocals, Gordon on L. guitar, Jason (the Louts) on guitar, Nate (No Holds Barred / Terminus City) on bass and Davis (the Louts) on drums. It's the best line-up we've ever had and so far it's been great.

4.Why did you break up the first time?

Really creative differences. We all started to pull in different directions. It became counter productive. Despite Patriot reforming, there are no hard feelings with former members for the most part and we wish them all the best!

5.How was the scene back then in Chapel Hill, NC?

You know, in retrospect I really miss what we had. I live in a much bigger city now (Atlanta, GA.) and believe it or not, the scene is smaller and more fractured. Less unity and more attitude and drama. It's too bad. None the less there are a lot of good things and the potential for good things here in Atlanta.

6.Why did you decide to move to Atlanta?

Work for the most part. I am a tattooist, and there is much more work here. Also, at the time I was playing rhythm guitar for No Holds Barred, so that was a factor as well. It was time for a change and I needed to put North Carolina behind me for a while.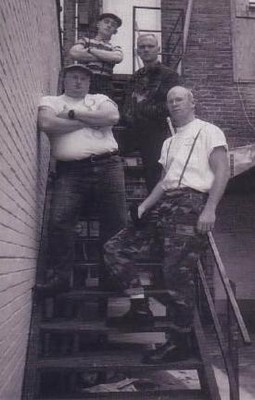 7.How many gigs did you play if you can remember?

I can't remember. Over 600 in the first ten years I think. There are too many to try and remember. We travelled and toured more than most Oi / street punk bands back then.

8.Best and worst?

That's hard to say. Germany in 1997 was of course great and all the people that we met and became friends with from Germany and France were fantastic. All the Beer Olympics we played were a lot of fun too. The mid west Oi fest (1999) in Kansas City was a blast too.

9.Do you think there's a difference between the early 90's scene and now?

I do to a certain sense. Everything now is so common and accepted now. With the popularity of punk rock, what we have is taken for granted more these days. People in the scene don't work as hard to make the scene happen and when good things are happening in the scene, more people these days don't appreciate it or they ruin it with selfish drama.

10.When did you first turn skin?

I first started hanging out and shaving my head, wearing boots and braces in the summer of 1986.

11.Why did you take this "direction"? Why not punk, HC...

For me, I related to the skinhead scene more. I am from a poor but proud working class background and when I got into the skinhead scene, the only thing about me that changed was my haircut and clothing. I always had the beliefs and convictions of a skinhead. That was how I grew up. Back then, we all listened to punk, hardcore and ska / reggae, so there wasn't nearly as big a distinction in the scene. Everybody hung out together.

12.Any new US Oi! bands that you can recommend us?

Incendiary Stiff (my other band), The Louts, The Ivey League, The Fragments, and The Vaticans to name just a few.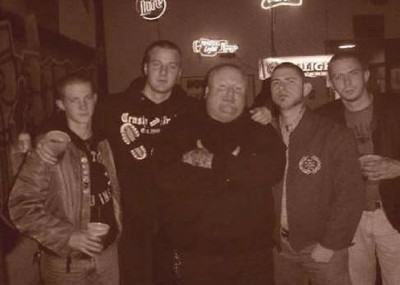 13.How's life in Atlanta? How's the scene? (venues, shops, shows...)

It's okay, but we need more for sure. Frank still has Crash and Burn here in Atlanta and that's always been a great shop. We really need a new DIY venue for more shows.

14.What about the European scene? What do you think of it?

I love it! Things are happening so much bigger and better in parts of Europe. I think we here in America need to watch and learn something from you guys.

15.You played with the almighty Bruisers (back in the days). Can you tell us something about them?

They are absolutely great guys and an awesome band! We all became great friends back in the day and I am proud to say remain so today.

16.What do you think of Al Barr's career with DKM?

I am very happy for him. He has worked so hard and contributed so much to the scene. He deserves all the success he's had. The Murphy's are a great band and also have worked so hard to be where they are. I truly support them and wish them well. They have paid their dues and earned everything that they have!

17.You told me you're also playing in a new band, Incendiary Stiff. Tell us who's in this band, when you formed, etc...?

We formed in April 2004 here in Atlanta. Our line-up is: (me) Eddie on vocals, Jason (the Loose Skrews) on guitar, Warner (the Vaticans) on guitar, Josh (Dogs of War) on bass and Andrew (the Vaticans) on drums. These guys are fantastic. A real pleasure -most of the time - to work with. They all have a lot of talent, drive and focus. I'm really happy being a member of this band.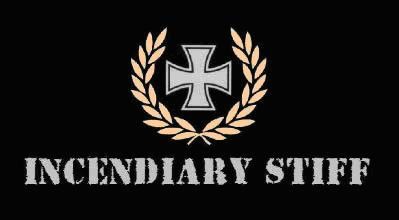 18.How would you describe the Incendiary Stiff's sound?

A lot like Bonecrusher meets the Wretched Ones with a big Rose Tattoo influence with some Clash and Motorhead thrown in. We are influenced by a lot of different bands for sure.

19.How many gigs so far?

25-30 I think. We are trying to play out as much as possible.

20.Any releases? If not, do you plan to put out anything in the near future?

We have a demo on the verge of coming out with both an EP and a full length being planned also.

21.Do you have enough time to play with both bands?

It's not easy sometimes. I have to juggle a lot of things from time to time. Right now, Patriot isn't doing a lot because we all live in three different states. I am writing and performing with Incendiary Stiff much more right now. And then I also work full-time as a tattooist at Holy Mother Tattoos in Atlanta, GA. and that's great. A great crew to work with and to work for. I also am getting married in august to a great lady, Elizabeth. She has my heart and I love her.

22.Best and worst memories with Patriot?

For me, the best would be all the shows and time we spent together on the road. Sure there were some hard times but all the friendship, the clowning and joking around and all the pranks and practical jokes we all shared is the best. The worst would be the break up in October of 2000. For a time, it was pretty tense and there were a lot of hurt feelings and mistakes made by us all in how we dealt with each other. I am really glad that the negative feelings have healed over and we are all still friends.

23.Future plans for Patriot and Incendiary Stiff?

Both bands hope and are planning to keep writing, releasing and performing new (and old) material. Patriot is writing and working on a new record slowly and the Stiffs are doing likewise. I'll keep you posted.

24.Final words...What do you want to say?

Thanks so much to you, Thomas for the interview and to everybody that has supported Patriot over the years. We really appreciate you keeping the faith. Look (and listen) for Incendiary Stiff too. Cheers and beers!
Eddie Bastard

http://www.myspace.com/incendiarystiff