Ray Lennox (ray.streetpunk.cz)

1.Hi Ray, so at first something about you, so can you introduce you a little bit? Age, work, hobbies etc..

Of course, so to may I am 33, I work as piercer, tattoo artist and grapfic – all freelance on my business and hobbies: gigs sometimes, drunk sometimes, robbery, fencewalk, bashing the emo cunts, political incorrectness, sleeping...

2.How did you get into Oi! music and skinheads? What people influence you?

Well I donīt know. It is too long to the past and I donīt thing that someone really influence me, maybe magazine Bravo around about 1988. In that issue feautured photos of youth subcultures in Germany and on one of the photo stood young lad with black T-shirt without sleeves and he was showing middle finger to cops near water cannon. Under the photo was sign Ausländerfeindliche skinheads, hehe. (I used to carry this picture on my ID(Obcansky prukaz) whre were only letters Občas ukaž(Show sometimes) and once upon a time some humorous cops stole me this id so I appeal on them to get it back to me, because it is rare thing and has got very big financial value..I am thinking about consultation with my lawyer and puting a suit against Police of Slovakia). I used to be into metal thing in this times, so I donīt know about it so much but then I saw poster of 4 skins on my friendīs wall and I record on cassette Kahlkopf. And then I pass the evolution in metal-punk-riot girl-oi-emo style....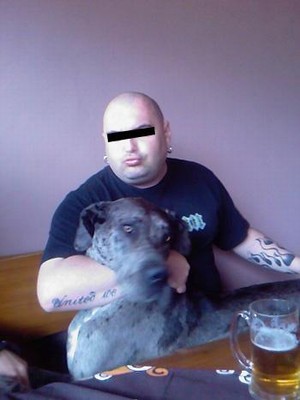 3.You are doing internet site ray.streetpunk.cz? How long and why dissapear domain skinhead.sk(was it caused by web radio.skinhead.sk)? Why do you choose the internet form of your zine?

Yes yes, I do this website, but important is that I didnīt care about it so much last time, because of work. It is going since 2005 I think I wrote it to thin on web and I canīt read it very well. Skinhead.sk goes down because of cops who seized my friends server and he got some interesting thing on it and thanks to the radio.skinhead he received condition from the judge for propagation. I had it also in old times and I was dropped out of grammar school because of this and I had to make the final exams on diffent school so I understand what does it mean for him and for next works so I underrstand that he put the domain down. I did some zines before it but it was crap from graphic and also from content side. Man puts energy and money into it and there is no back coupling from readers. There is no qualified discussions on my web(thanks to god) but I think it is more continual to have it in web form.

4.What zines or people influent you in theese times?

I donīt know. People canīt influente me to much, except naked fans who wants my autograph on her tits. This is really the biggest reason why I am doing this. Another potential fans who will wants my telephone number...just write me on my email:o).

5. On your websites are many articles and interviews from all fractions of skinhead movement..so was it difficult to find this old articles? You are alse interested in casual clothing, mode, tattooes, so how are you choosing the articles for the web?

Many things I have from internet(who search also finds) and I only translate them, because I am lucky that I know some foreign languages(except mine after 1,37 of aclohol) and some of them I have directly from people who have something to do with it when the article was originated. Choice is easy, If I like it and if the article has got spirit, it goes on web. Mode and tattooes belong to this style(tattooes because of my job) and mode is my personal deviation, mainly the street and the casual one.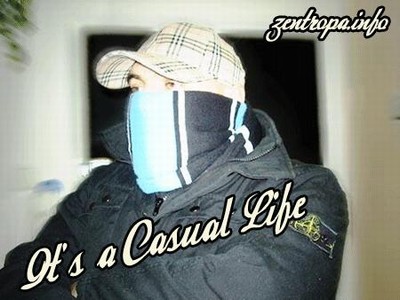 6.How do you look on current Oi!/streetpunk scene on Slovakia(or Czech) and her evolution?(you can write about concrete cities…)

Well I didnīt care too much about scene but there are some exceptions. I donīt know much more bands then Operace Artaban, The Riot and so called Disdainful. Or I know them but I didnīt have feeling of visiting their gigs or collect their rare singels. I canīt forget Kratky Proces which is together with No name and Desmod one of best Slovak bands and who donīt belive to it, he lies to himself. Also Ewa Farna has to be mencioned, and I want to tell her, that money for aliments will be in february so I hope that she will wait for it. On CZ/SK scene I hate politics, and I donīt thing that politics and all bullshit belong to her is something important in foreign scenes.

7.Do you like more old or new breed bands? What bands are in your actual top ten playlist?

I prefer old ones because I thing that they are more sincere. My actual to ten..well I donīt know I have to look into winamp history what I am listenig to in last times.So without rating:

Atria
Audio Bullys
Barking Dogs
Bully Boys
Korpiklaani
Malnat
Skinflicks
The Streets
The Sounds
Whiskey Rebels

8.Plans to the future with the web?

Makeīem wider? :o)

9.Words on the end, messages, greetings?

I really love this question and I really enjoy it. So cheers to whole Disdainful, Operace Artaban, Dan, from Slovakia Street Style Shop, Gladiator, Portus, Division DL, bartenders, biletars, security guys and all true/pure/aggro/hool/etc people who did they hobbies sincerely from the heart and who are black-eyed every week hehe. Ferencváros CUNTS :D