Retaliator

1.Can you introduce band, members and how you know each other?

IAN - VOCALS, PETE - BASS, JOHN - GUITAR, MARK - DRUMS. WE'VE KNOWN EACH OTHER FOR MANY YEARS BEING INVOLVED IN THE SCENE IN ONE WAY OR ANOTHER

2.When and why came the decision to start Retaliator? Did you have some experiences with playing in other bands (I know only about Condemned 84)? Who make lyrics and music?

THE BAND FORMED OVER 10 YEARS AGO BECAUSE WE WERE BORED AND WANTED TO PUT SOMETHING BACK INTO THE SCENE. YEAH, SOME MEMBERS HAVE PLAYED IN OTHER BANDS SUCH AS C.84 AND SPECIAL DUTIES. AND A COUPLE OF SMALLER Oi! BANDS. MOST OF THE MUSIC AND LYRICS ARE WRITTEN BY PETE, BUT WE ALL HAVE SOME INPUT

3. I know you have out a lot of records, can you tell us something about cooperation with the labels if it is good..etc?

YES WE'VE USED CAMDEN TOWN (SPAIN) IN COOPERATION WITH GUILTY RECORDS AND BORDES DE SEINE (FRANCE) FOR OUR SINGLES. ALBUMS HAVE BEEN ON PURE IMPACT (BELGIUM) AND WE'VE RELEASED A COUPLE OF ITEMS ON BLIND BEGGAR OF (GERMANY). WE'VE HAD GOOD RELATIONSHIPS WITH ALL THESE LABELS.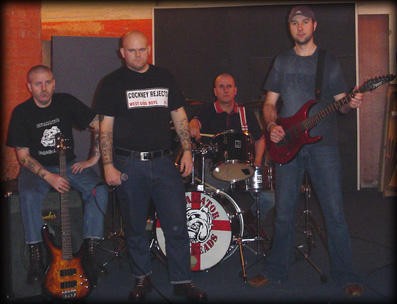 4.What about the gigs in Britain? Is it difficult for oi band to find a place for playing? Can you describe the difference between nowadays gigs and gigs in 90´s or 80´s?

IF YOU'RE A POLITICALLY CORRECT BAND THAT LIKES TO SING ABOUT HAVING FUN AND DRINKING THEN IT'S EASY. BUT FOR A BAND LIKE US IT'S A LITTLE MORE DIFFICULT. PROMOTERS DON'T WANT THE TROUBLE AND THE PC BANDS ARE SO DESPERATE TO BE FAMOUS THAT THEY DON'T WANT THEIR NAME TARNISHED. THE ONLY REAL DIFFERENCE BETWEEN NOW AND THEN IS THE AMOUNT OF PEOPLE ATTENDING THE GIGS.

5.Do yo like playing gigs? Can you describe the best and the worst one? Are there some differences between gigs in Britain or abroad?

YEAH, WE LOVE PLAYING LIVE. WE'VE PLAYED MANY GOOD ONES, HITS FESTIVAL IN MORECAMBE 2001 WHICH ALSO HAD CONDEMNED 84, COCK SPARRER & THE COCKNEY REJECTS ON THE BILL. AND THE NORTHFLEET FESTIVAL ABOUT 5 YEARS AGO WITH C.84, SECTION 5, ON FILE, BAKERS DOZEN, LOYALTY AND LOADS MORE.... WE'VE ENJOYED ALL OUR GIGS! THE ATTENDANCE AT BRITISH GIGS IS NOW MUCH SMALLER THAN ABROAD.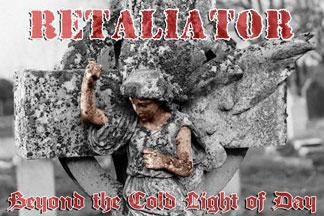 6.What about some new breed oi! bands from UK?? I know Loyalty, Bottlejob, Bakers Dozen, On File, can you tell us about some new bands?

YEAH, CHECK OUT CODE 1 FROM SOUTH LONDON (www.myspace.com/code1234) SCUM FROM YORKSHIRE (www.myspace.com/northernscum) AND CHURCHILL (www.myspace.com/oichurchill)

7.What about the politics in scene? What do you thing about it?

WE TRY TO AVOID IT, BUT UNFORTUNATELY POLITICS IS LIFE AND WE SING ABOUT LIFE. WE ARE 4 INDIVIDUALS EACH WITH OUR OWN DIFFERENT VIEWS. WE'RE NOT INTERESTED IN TELLING PEOPLE WHAT TO THINK, WE DEFEND FREEDOM OF SPEECH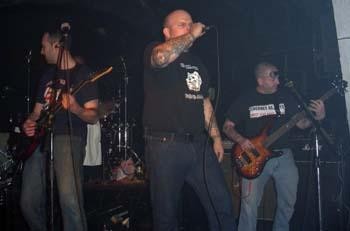 8.Are you interested in football and all the stuff like hooligans/ultras? Which team do you support? I have one question, when England supporters go outside to Europe, they had got many flags on stadium, but for example in matches in Premiere League there is no flags, why? Is it forbidden?

YEAH WE LOVE FOOTBALL, ALL 4 OF US SUPPORT DIFFERENT TEAMS THOUGH: IPSWICH TOWN, CRYSTAL PALACE, COLCHESTER UTD, SPURS AND OF COURSE WE FOLLOW ENGLAND. NO, THE FLAGS ARE NOT FORBIDDEN IN PREMIER LEAGUE, SO I HAVE NO IDEA WHY THAT IS. YOU SEEM TO GET MORE FOR LOCAL DERBY CLASHES.

9.Do you know anything about czech scene?

SORRY, DON'T KNOW TOO MUCH! IT'S ONE OF THE FEW EUROPEAN COUNTRIES WE'VE NOT PLAYED.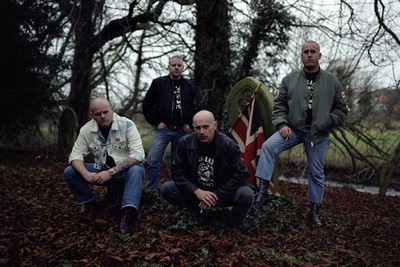 10.How can we contact you for the gig or the stuff? You have got also well designed webpage, who make it?

THROUGH OUR WEBSITE (WHEN IT'S WORKING AGAIN!) AT www.retaliator-england.co.uk OR VIA OUR MYSPACE PAGE www.myspace.com/retaliator THE GRAPHICS ON THE WEBSITE ARE MADE BY IAN BUT THW WEBSITE IS DESIGNED AND PUT TOGETHER BY PETE.

11. Plans for the future?

OUR 10th ANNIVERSARY SHOULD BE OUT BY NOW. ALSO A MINI-CONCEPT CD CALLED "BEYOND THE COLD LIGHT OF DAY" EARLY NEXT YEAR. OUR NEXT GIG BOOKED IS AT THE CONCRETE JUNGLE FESTIVAL (www.myspace.com/jacktheladpromotions) IF WE RESOLVE OUR GUITARIST SITUATION!

12. Words on the end?

THANKS FOR SHOWING INTEREST IN RETALIATOR, HOPE TO SEE YOU IN THE CZECH REPUBLIC ONE DAY. KEEP THE FAITH!