"I think that everyone knows what role played Skrewdriver in WP scene. But this interview with drummer Grinny is about the punk age of the band and relationship between Punks, Teds and Skins. This interview isn´t here for spreading political bullshit or any other crap."

BETTER OFF CRAZY:
AN INTERVIEW WITH GRINNY FROM SKREWDRIVER

AG: Alex Gottschalk
G: John "Grinny" Grinton.

AG: Here's a question you must get tired of. How did you get your nickname? Do people still use it?

G: My nickname "Grinny" comes from my surname, Grinton. I have been called Grinny for as long as I can remember, and yes people still call me that all the time.

AG: Was the first band you were in "Warlock" (a teenage rock band Grinny was in just prior to Tumbling Dice who became Skrewdriver-AR) or did you play music before then?

G: The first actual band I played in was Warlock. But before that I played at hotel, clubs and pubs, usually with just a keyboard player. We would usually play the popular tunes of the day and old stuff like waltzes and quicksteps. This obviously was not the thing I wanted to do, but it paid well and gave me experience.

AG: How did Tumbling Dice come to exist? I heard you had a deal with Chiswick under this name but it fell through before the band could record anything.

G: Tumbling Dice came out of the remains of Warlock, while Warlock were playing. Ian had asked me to ask Phil Walmsley, the Warlock guitarist, if he would teach him guitar. So Phil was teaching Ian, who was writing songs at the time. Ian in turn got Kev and Sean McKay, twins who had been friends for years, to learn guitar. They were both good pianists and picked up guitar quite quickly. When Warlock split up in 1975 it was logical for Ian to ask if me and Phil would join him, Kev and Sean to make a band. We agreed and started to rehearse at Ian's Dad's factory every Saturday and Sunday afternoon. Tumbling Dice did get a chance to record with Chiswick. I continued to play with in Tumbling Dice for about seven months then I had a break up with a girlfriend and hit the bottle, which ended up with me getting sacked and being replaced by a guy named Steve Gaulter. I went back to occasional gigs with Warlock, with a new guitarist, Huw Melt. Ian continued working hard for Tumbling Dice, rehearsing, sending tapes to record company's etc. He got them regular gigs on the Northern circuit with an agency. Finally, great joy, the chance of a record deal with Chiswick. Ian got the band together and proudly told them they had a record deal with Chiswick and would have to move to London. When the band heard this Sean said "I'm not moving to London, I'm going to University". Then Steve said he would not move because he had a job and a girlfriend. Ian went mad and broke up the band. Not much point having a band that does not want to leave home. Ian came round to my house the next day and said "Them wankers had a record deal would not move to London so I have broke up the band". Then he said to me "You would have gone, wouldn't you?" and I said "Yes, course I would".

AG: Where did you know the rest of the band from, as you didn't go to Baines Grammar with them?

G: I knew Ian from the age of one since he was my next door neighbor. I knew Kev from the age of six as we all went to the local Carleton C of E primary school (pre-eleven years). At eleven you took an exam the eleven plus. If you passed you went to the local grammar school "Baines". If you failed, as I did, you went to the Hodgson High School, which was mixed. They were both in the town of Poulton-le-Fylde, about a mile and a half apart. So most of the pupils at the schools knew each other. I met Phil when I was about thirteen when we played football against each other.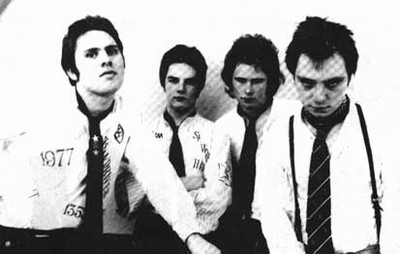 AG: Prior to punk, what music did you listen to? Any particular influences?

G: I listened to and liked most types of music. Particular influences were THE ROLLING STONES, VAN MORRISON, FREE CANNED HEAT, LED ZEPPELIN and THE BYRDS.

AG: Did you have any formal drum training or was it something you learned as you went along?

G: I did have some formal training. My family is all very musical and my dad had his own jazz band. When I wanted to learn drums, my dad said he would get me some but I had to learn them properly. I went to a teacher named Ted Hardy for two years. Then another, Bill Scott for six months. And finally, in 1977 when we were in London I had lessons off an Irish lad, Gerry McAlduff, who played drums on the first PRETENDERS single "Stop Your Sobbing"

AG: What did you think of punk when it first came out?

G: I liked punk. It was going back to the basics; drums, guitar, vocals played live in small venues. Up until '76-'77 most bands struggled against DJ's and the discos. There was not the work, most places just hired a DJ for the night and that was very bad for live bands at the time.

AG: Is it true the band had no name when you sent your punk demo to Chiswick and that the label named you?

G: We didn't have a name when we sent the demo. I'm not too sure if we had a name when we played our first gig as a punk band at Manchester Polytechnic in January '77 supporting LITTLE BOB STORY, another Chiswick band from France. I think we got the name off a list of possibles that Chiswick supplied. The boss of Chiswick, Ted Carroll, wanted to call us "The Nervous Wrecks". We didn't like that, but we settled on Skrewdriver.

AG: Was the band a "democratic" organization or as frontman did Ian have the most say?

G: Ian, as leader, had almost all the say. There are many stories of things photographers, producers and managers wanted us to do but…Ian would not do some of them all down to cool and street cred. Ian could most certainly be stubborn when he wanted to be.

AG: Do you recall your first few gigs as Skrewdriver?

G: Yes, I remember the first gigs. The first, as I said, was at Manchester Polytechnic. The first gig in London was at The Roxy in about March of '77, supporting JOHNNY MOPED. I remember this gig well. The day before the gig on a Friday I was at work as a sheetmetal worker, when I cut my hand on a piece of metal. I had to go to the hospital and had four stitches put in the wound, which was across the palm of my right hand. As soon as I got home Ian came running round and said: "Shit, what have you done to your hand?" I told him I'd cut it. He said:" We've got a gig tomorrow at The Roxy". I said: "Don't worry, I'll tape it up". So we hired a van, loaded it with equipment and off we went to London in good spirits. Trouble was, when we got to about 40 mph the drive shaft on the van started squeaking loudly so it drove us mad all the way there. The gig went well and I got my minute of fame by getting my picture in New Musical Express. The picture was taken in the grotty dressing room with me all sweaty and the drumstick taped into my hand. The picture had the headline "Whose Skrewing you, John?"

AG: Locally, as punks, did you get a lot of abuse or were the people in Blackpool somewhat tolerant? Were you the first punks in the area? What this situation even worse when you went skinhead?

G: As punks we really did not get a lot of abuse, though I was banned from two local pubs, The Bull and the Thatched House in Poulton for my dress sense. Most of it was funny looks, but as we knew most people and those others didn't fancy a punch up with the band and our friends, we were welcomed. Especially when we moved to London, we had a good fan base at home. As for the skinhead image, probably even less trouble and looks at home, but it became a lot harder to get gigs.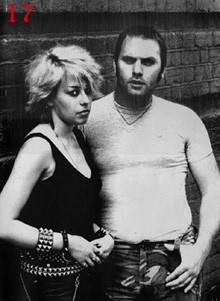 AG: What punk bands of the time did you like?

G: My favorite punk bands to see live were SIOUXSIE & THE BANSHEES, 999, THE JAM, SEX PISTOLS and DR. FEELGOOD.

AG: How were the gigs in London at the time?

G: The gigs were good in 1977. There were plenty of them to go to, and they weren't expensive to get in. You could see good bands down the road at the local, "The Brecknock" in Tufnell Park. Or travel fifteen minutes to The Roxy or the Music Machine in Kentish Town. There would be two, sometimes four bands on.

AG: Famously, some Teds attacked you guys after a gig and you lost some teeth. Did you ever get revenge? Was the Punk vs. Ted rivalry as bad as some people say it was?

G: Yes, we had a punch up with the Teds after a gig at the "Railway" in Putney. We were support to THE POLICE before they were famous, Sting etcetera, not the law. All night at the gig people were talking about the Teds coming down from a nearby Ted gig featuring SHAKING STEVEN & THE SUNSETS. Near the end of the night punks and THE POLICE began to disappear rather quickly. We hung about packing away gear. We started loading the van up when we heard this noise, I looked up and there was this gang of about twenty Teds coming towards us shouting, "Get the bastards!" I was at the back of the van, outside it with the back doors open. I thought, well, I'm not going to run as I grabbed a cymbal stand and decided to battle it out. I saw one Ted approach and I swung the stand at him. I caught him somewhere high on the arm. But next thing I knew I was surrounded by Teds, one of them picked up a mic stand--It was one of those heavy ones with the cast iron feet--and wham! Straight in the mouth. I saw flashes and stars and ended on the floor in the middle of the road. My head was spinning and everything was going in and out of focus. I could not pick myself up. Next thing I remember was Police and Ambulance men picking me up and putting me in an ambulance. I was taken to Queen Mary Hospital in Roehampton where I had 36 stitches put in my mouth. Two of my teeth had been knocked straight out, never to be found again. Revenge came quickly, though not from me. I was patched up and leaving the hospital with Effie, our manager at the time, when I saw a Teddy Boy coming in on a stretcher with facial wounds. Apparently, after I had been taken to the hospital, the band all got back in the van, minus it's windows. Kev was driving, Ian was next to him in front, then there was Phil and Kev's brother Sean, who had come down from Blackpool to see the gig. As they were driving back Ian spotted a group of Teds walking on the pavement towards the van. He told Kev to get close to the pavement and then put his foot down. The van had sliding doors, so as they got near, Ian slid open the doors and went whack! with a mic stand. A couple of things came out of this. The van was later nicked in Covent Garden with all the gear in. And Ian's constant piss-take out of Phil for running away and hiding behind some dust bins when we were attacked. Phil, whose not used stage name was "Ronnie Volume" had to listen to Ian playing the guitar and singing the song "Working Class Hero" by John Lennon. The words became "Ronnie, Ron runaway, where have you been, hiding behind the bins from the Teddy boy's boots". Also, a couple of days after the attack we were interviewed by Janet Street Porter for a TV program. The interview went along the lines of a rant from Ian about what the punks were going to do to the Teds. The interview was shown a few months later, when all the trouble had calmed down. This set it all off again and Skrewdriver became Public Enemy #1. The Punk vs. Ted rivalry could be bad if you were in the wrong place at the wrong time. There was definitely trouble between the two.

AG: Why did you switch to the skinhead image? Was it important to you or just something you felt like doing?

G: All of us had grown up with the skinhead, suedehead and bootboy fashions of the early '70's. I decided in 1977 that I had always been happier with the skinhead thing than the punk thing. So I got my haircut, boots, Levi jeans and jacket and away I went. Later, when Ian saw me--this was the time between Phil leaving and Ronnie joining--he decided the band should become a skinhead band. Ian was always well into the skinhead thing, he loved the violence. Kev was not too keen but went along with it.

AG: What was your favorite Skrewdriver song of the time? How did you feel about the quality of your recorded product? Did you feel "All Skrewed Up" and the two singles were good representations of the band?

G: My favorite Skrewdriver song, and funny enough it is my two daughters favorite Hannah 16 and Rebecca 12, is "Too Much Confusion". All of the band thought that "All Skrewed Up" could have been done better. It was commonly thought that Chiswick always did things on the cheap as far as recording, advertising, etc. went. The album was recorded over a few days, it is virtually live, there were just a few overdubs on vocals and guitar. Trouble was all the tracks were over in 2-3 minutes. I'm no technician, I don't know why the album came out at 45 rpm. The songs on it were what we played live, so it was a good representation of the band. But we all felt the sound was a little tinny.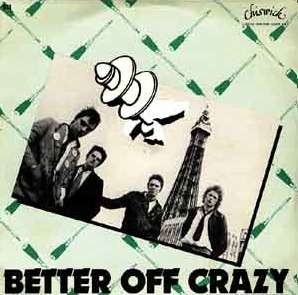 AG: Do you think Chiswick was a good label? Were they fair to the band? Did you listen to any of the other bands on the label? And weren't they planning a single release of the song "Streetfight"?

G: As I said, the feeling was that the label did things on the cheap. When "All Skrewed Up" came out Chiswick only pressed a few hundred copies to put in shops. They sold well and ran out, and we had to wait for more copies. By that time we had lost momentum. We did listen to other bands on the label. We always liked MOTORHEAD the best, LITTLE BOB STORY were always good to work with. I think Chiswick was going to release "Streetfight" but we went our different ways. I was sorry that they didn't.

AG: What was your relationship with the band like? Did you guys all hang out together or go your separate ways offstage?

G: The relationship with the band was always good. Me and Ian and Kev had all grown up together, been through school, cub scouts, holidays, parties, piss up, girlfriends and fights together. Life was really one big piss take.

AG: Did you have any political views at the time? Chiswick head Roger Armstrong has mentioned that you came from a "Northern Socialist" background.

G: The political thing really did not come to the front until probably about 1979. Up until then Ian had always held racist views although he did not discover the National Front (NF) until maybe '79 or '80. That was when I heard of the NF. My family has always been interested in politics. My dad stood for Labour in local elections, I used to help on these as I grew up with politics. I voted for them in 1979 in the general election when they lost. Then I started to look closely at the party and I realized that their views did not match mine. So in 1980 I went in a different direction for politics. I used to talk to Roger and he was a Labour supporter. But I think he got this romantic idea that all Northern bands were working class, flat capped whippet owning Labour supporters. This just was not true.

AG: The band later reverted back to a punky image again. Did all this changing around annoy you? And here's a frivolous question: did you prefer one look to the other?

G: The band did change image, but I think we were always closest to the skinhead thing. A lot of the reason for the change was that as a skinhead band we found it impossible to get gigs, because of the violence. We enjoyed the atmosphere, but we definitely lost tours and gigs because of the image.

AG: Did you read Radio One DJ Mark Radcliffe's book?

G: No, I have not read the book, but I would like to get a copy. I bumped into Ronnie Hartely about 12 months ago and he had read the book and liked it. I have not met Mark Radcliffe, he stood in for me when I could not make a tour in '79. He borrowed my drum kit for the tour, which came back minus the Zildjian cymbals, so he owes me two 14" hi hats, a 20" ride cymbal and an 18" crash cymbal. (Mark: If you are reading this, pay up. Alex).

AG: Kev and Ian later formed a Manchester version of the band. Were you any part of that?

G: Yes, I played in that band, I can only remember doing one gig. MOTORHEAD at Queen Marys Hall in Blackburn. We lived in a rented house in Longsight, Manchester. I think this line-up was with Phil back and Chris Cumming joiningoining in on guitar. That was the best line up we had. Ian wrote some good songs and we made some tapes but Chiswick did not like the change of direction. (Around this period the band recorded the single "Built Up, Knocked Down" for TJM which was to be their last material until the NF era of the '80's. Alex)

AG: What was playing with The Nips like? Any impressions of the young Shane McGowan? Any other personalities of the period you remember?

G: Playing with THE NIPS was great. Shane was good fun and we both liked to drink. We all lived in a squat in Burton St. near Euston. A little while later Ian and Ronnie moved in. We played with THE JAM, who were friends of Shane's, and I met plenty of interesting people.

AG: After the band split did you keep up with Punk at all? Did you listen to the later Oi bands, many of which claimed you as an influence?

G: Yes, I have always followed new music and I listened to the Oi bands. I have quite a lot of tapes and CD's of Nationalist bands. They are very good. My favourite Nationalist band is NO REMORSE, I love the track "The Winning Hand".

AG: When Ian reformed the band in London, did he invite you? Were you annoyed that he used the name again? How about the other members like Phil, Kev and Ron?

G: When Ian reformed Skrewdriver, I was glad he had. I saw Ian regularly and knew his plans. I would have liked to join him but I had a steady job and was engaged, so it was not practical at the time. Kev had a successful glass business and we did not know where Phil was. Ian always kept in touch, he used to send me CD's and t-shirts. Whenever he came home we would visit and tell me what was going on with the band.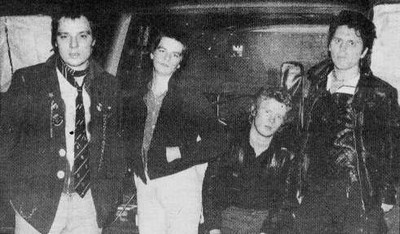 AG: Did it bother you that the new version kept the name but became NF involved and political?

G: No. It didn't bother me at all. Me and Ian both became members of the NF in 1980. The trouble was again the bad publicity and being unable to get gigs. But Ian made his decision to go political and it was what he believed in right until the end.

AG: Did you keep in touch with Ian? Did you know any of the line-up besides him?

G: Yes, we kept in touch. I last saw him on his last visit home. He came around and I had a wife and two daughters by then. He told me all about the band and going to prison and what it was like in Heanor. I have met and seen perform "Stigger" the guitarist in the last line up of Skrewdriver.He's very good, and still making good music.

AG: Were you active in the '80's skinhead scene?

G: Yes, I was involved in the scene from 1980-1984. It had a re-emergence then, probably due to the NF.

AG: Did you play with any more bands or had you lost interest by then?

G: Yes, I played with a few bands locally. One of them was called TWO WAY SPLIT. It was just for fun. I haven't played since 1987.

AG: What was Ian Stuart really like? Did politics have any effect on your friendships in the band?

G: What was Ian really like. Hell! I could write a book on Ian. There are many stories connected with Ian, coupled with the fact that we grew up together. Ian was funny to be around, he as a piss taker. Where we lived, even now, people who knew Ian nearly all had nicknames that have stuck, that were made up by Ian. He was always very focused on on what he was doing. And anyone who has ever met him will tell you that he could talk anyone round to his point of view. He was definitely charismatic and once you met him you didn't forget him. There is a good book about Ian called "Nazi Rock Star" by Paul London, which I helped with, and also one more in the pipeline. As a group we usually saw eye to eye. Ian and Phil had a good bust up about who was credited with writing material for "All Skrewed Up". Also Kev, or more so his girlfriend, did not like the idea of turning skinhead. "You look ridiculous" was his girlfriend Kathy's comment. Politically, Ken, Phil and Ronnie were never really interested. But me and Ian were. It never affected our friendships. But it did stop Skrewdriver from making it on a commercial level.

AG: What kinds of things have you been doing over the last few decades?

G: Since I finished music I have worked as a bricklayer, undertaker and at present I am a postman working in Poulton. A great job, though not very rock and roll! But it pays the bills.

AG: Earlier you mentioned your daughters. Ever let them listed to the old records? Do they like them? Do they like punk? Do you ever see young punks or skinheads and feel like telling them the old war stories. Ever run into anyone from the band?

G: My daughters both listen to Skrewdriver and like punk. They laugh at the old pictures of the band but are very proud of the fact their dad was in a band, especially at the moment as there seems to be a lot of interest in the band. I do get to see a lot of young people through my daughters and there is a lot of interest. I see Ronnie quite a bit, he still lives locally. Kev I used to see but he has now moved to Canada where his brother has lived for years. I still see his Mum and Dad. Phil I have not seen for years, but I have heard he lives in Manchester and is still playing the guitar in a good Blues band.

AG: Are you surprised at how sought after andm expensive the Chiswick records are these days? Do people approach you about the band? Does anyone give you any problems about it because of the later activities of the band?

G: Yes, I am surprised at how sought after Skrewdriver things are. I have just been sent a good new t-shirt of "Antisocial" and some bootleg tapes of Skrewdriver gigs from a guy named Sean from Dunn Loring, VA. He also sent me a CD of his band, THE SUSPECTS, which is good. People still approach me about the band. I never have had any problems, though of course Ian had plenty. Ending up in jail and finally having to leave London and move to Heanor because of the constant trouble. I meet Skrewdriver fans at the "Red, White & Blue" festival that the BNP (British National Party) annual get together at Clitheroe in Lancashire. While I was there I met loads of fans and they told me that there were tribute concerts to Ian, usually near the anniversary of his death. Also, the main band at the event played "Too Much Confusion" and "Antisocial" and played them very well.

AG: If you could have done something differently, would you have? Famous last words or closing comments?

G: I have enjoyed doing this and I am glad that there is still interest. I hope it has been of some help. I often wonder that if we had stayed a punk band, and Phil would not have left after the album was released. With good publicity from Chiswick could we have made it as a mainstream punk band? But, on the other hand, Skrewdriver are known for what they did so I am happy with that. Also, I should have ducked quicker and saved my teeth in Putney!