Slut (Skinread zine)

1.Hi Slut so we begin from you, so can you introduce yourself? Age, work, hobbies etc..

Oi!mates. So things I want to do are countless. And because I am proud parent I haven´t got so much free time. I am older then quater of century, I am working in factory(half by head, half by feet and sometimes by hands). I won´t say more because of my lovely "monitoring"?. Hobbies:music, bike riding(30km per day in season), I used to do kung-fu but two years ago I change it into taekwon-do, sometimes fitnees and also beer, exotic porn and tattooes. I didn´t say making of zine because it isn´t hobby but adiction, something like drugs…

2.So how do you came into Oi! thing and skinheads? What people influence you?

I have the way a little prepared because of my older brother who used to be into metal and then Oi!punk since Velvet revolution in 89. I listen ito Oi! music since my 8 years. I listen bands like Orlík, Braník and Valašská Liga and I really like it because of it is hard and heavy rock music. I didn´t care about lyrics, only in songs like "Mrdavá"(song about fucking). Then came Hubert Machanì, Na beton adn Suicidal Commando and some other rare bands. In 12 years I made mohawk and I walk the streets in brothers leather jacket which is long to my balls, but I was fucking proud of myself :). Then came the Oi! culture because it is much more sharp and violent. I know about violence, because I used to grow up in grey multiculti suburb. And skinheads iritated me, so I make the older ones as my idols and I want to be the same. Then I lived on my own, I collect newspaper articles about skinheads and then I came to it. In those times there were only two sides, Hammerskins and people around Calix. There were many arguments and bloody fights. People around Calix became weeker(they Patriotic League broke up) and readical right comes to the scene. There were noone you can rely on and in that time I saw document aroun Bulldog Bootboys in TV and I contacted Vlad. I bought Bulldog zine, some cassettes with Oi!, SHARP and streetpunk bands. I didn´t have much friends around but this music let me survive with pride and style. I started to write letters with similar people and because of nazis rising in my area and there were no oposition from patriotic skinheads I became more into SHARP and Redskins bands and music. I was distrustful to them at first but I realised that the leftwing and dictatorship thing isn´t too much hot from them. And today I thank to this attitude of mine, because I can listen to such of music styles(even political profilated) and I didn´t threw CD to the bin becasue of prejudice and "my friends said this is bullshit" sentence.

3.First issue of SKINREAD was released in 2002, how did you came to idea of making a zine? Nowadays it is easier, more things you can solve across internet(it was in that time also but it was different) so can you tell us something closer about your beginnings?

I always feel that I have to fight against stupidity(it is like fighting windmills) and introduce people new things and making their horizonts wider.The agression of young bonehead kinder skins was rising, I have feeling to show people something abou true skins with their "anti" or "non" attitudes. The forerunner of Skinread come out in 200, but it doesn´t matter. I was studying in this time, so I had more time to be active(not only in sex) so I wanted to become a part of this brilliant subculture and helped her with my interviews, views etc. I have internet more than one year and in that times I made it through letters. Things changed and people haven´t got time now. Everyone is bussy and you can solve problems with just clicking by mouse and people are more lazy, bored and tired and it really pisses me of. And for doing paper zine you shoud be a millionaire, because people wanted CD, coloured paper and you have to send it to their homes. "Oldschool" style in this is disapeared. Internet spare our time and money, but it also builds a wall between us. Human contacts are becoming week. Word doesn´t mean so much nowadays…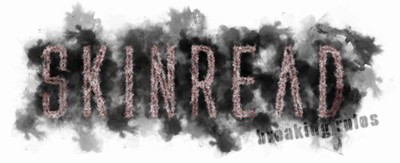 4.What zines influence you in that age? I think, that paper zines are disapearing, for example I am doing the net zine because I haven´t got time and experiences with doing the paper one. What do you thing about that?

Definetly Bulldog zine. Then I came to Anti-Hero, Jezevec, Spartacus and Rytíø. Part of the question I answered before. I want to say cheers to people who runs paper zines so hail to Real Enemy, 4 Subculture, Warrior (RIP), Revoltär (RIP), Silezia and I am not a whore sso also to Boots and Braces ;-).

5.For many people (political or unpolitical) look your zine controversial (like argument in Move Your Ass zine), so how are you choosing the interviewed bands, articles..can you tell us something more?

So the interviewed bands have to pass my criterions. It must be exotic, or hated because their attitudes or I have to known personally their members or like their lyrics and music. Or I just want tto ask them about anything and it became to interview. I want everybody to find something good for him in my zine. It is for Oi!Skinheads, SHARPs, Oi!Punks, Herberts, Hooligans, Mods, Redskins, Calixes and the fact that I am controversial? Maybe, but who is making the borders what is "normal"? I didn´t want to rate my work, but my zine is CONSERVATIVE, INDIVIDUAL and ti was, it is and it will be PROVOCATIVE and ORIGINAL. I want to destroy the walls and myths between "scenes". I don ´t like the prefixes and suffixes near word SKINHEAD. But if it used to make things clear it is OK. Prejudices came from ignorace and I am always near heart attack when people refuse some thing because they didn´t know. They didn want to make their horizonts wider. I am also listening to WP and RAC music and I think I know this scene. I can´t stood against something and didn´t know a word about it. Nowadays WP is more into metal stuff then skinheads which is better. I f I will speak about other side of politics spectre, I also like their music. Majority of redskins bands are great because the´re mixing many styles together (from Oi! across HC, streetpunk, soul, latin, folk, ska and reggae) and I am not stupid and refuse their music just because the red star on the cover. I try to write neutral reviews, be a proffesional. I can´t and I didn´t want to write reviews on melodic well played WP music which are a) standing for the things which I didn´t belive b)supports the things which are AGAINST MY NATION AND MY COUNTRY!! The fact that I wanted to be original has their prize, because someone can´t understand this fact. Tolerance is important. And I am sick of the people who are acting like new inquisition and under the banner of the "right thing" want to brainwash people about things which are right or wrong. It can´t be said that "lefties" are cunts, as I heard for million times from jerks. But it can be said, that cunts used same tools as the people, who are hated by them. Tools of some people are smae as tools of nazis and it is really sad paradox. Fascist is everyone who have different opinion. Hard to say who is responsible for this fact. If boneheads who made our cult dirty or the left side which wanted to be holiest than pope. I didn´t want to be in their "sect". Belive in what you want but before you start shouting some words, just walk through the sity in night…and you will see that REALITY is something different then shouting "anti…" "anti…". If I deny nazi scene because I have to deny also the left scene because it is almost the same. It seems that only solution is unpolitic style, because I bored from discusion and arguemnts between RASH, Redskins, Anarchists and other morons. Fuck it. Individuality of personality is more then this. Noone gives you a shit in life so I don´t want to conform to anyone. Everyone just want to make a profit and destroy the truth. When you didn´t want to be active in some shits, you will be tagged as apathetic but you will live in calm and it worth it. And friendship will stay friendship and it won´t come into political attitude!! And after long time I realized only this.

6.How do you look on current Oi!/streetpunk scene in CZ and her evolution? (you can write about concrete cities …)

I found sad, that people can refuse and damn me just because they somewhere hear that I am "red". I was so tired from all that explanations that i want to quit it all and start some new project, not so profilated and wide. Change my "nick" and throw away everything which was because I always found prejudices, stupidity and hipocrisy. And you Peddy can say, that you can talk to me in a pub near one table and after few minutes you understand that from me you can expect "just" rescpect, tolerance and inteligence. No watchword, no stalinism no blind "ism". But pure skinhead, no prejudices no tolerance to scum and craving for unity and friendship which isn´t about what you have in your CD player. I will fight against totality and systém who will také away from me MY LAND and MY FREEDOM. I don´t belive in nation, but I belive in my land and in my family!!! Our common enemy is systém and his dogs(ACAB), high politics and most of all DRUGS! Kill and harm the dealers and stand against all who wants to také your style away. Why I should be afraid of wearing things I like. Why I shoud be afraid of walking through my city at night. Why should I apologise for my style and way of life? I am working, apying fucking taxes and building things around for my family. And at the end I can´t punch any wanker who offend my pride? NO! I didn´t want to be part of crews which are living outside reality. I want to live free not in some corner with fear. And when we won´t to speak about problems loudly and clearly, this themes will stay in hands of alibists and extremists who cover them into easy and sometimes reylly goord WP music and it will be bad. Political correctness is bullshit and we have to talk about things loudely. It is what streetpunk should be about. Scene except some cities I didn´t know. I like the scene in Prague, Brno, Boskovice, Kolin, Pressburg, Liberec and Ostrava and Budìjovice. I like scene in Pardubice which is small but great. If you want to get back to 90´s just visit Hradec Králové whic I like. Strong scene from HC to punk and Oi! and together with pure patriotism and friendship. But also there came rumours, drugs and hate.But it is still the city which is best for me and I can také part of some Calix piet acts and hail the history, personalities and true patriots who sacrified their lifes in fight against dicatorship and freedom..but they didn´t fight for politcal parties and clima which is in our country nowadays. The systém and the justice has to be cahnged!!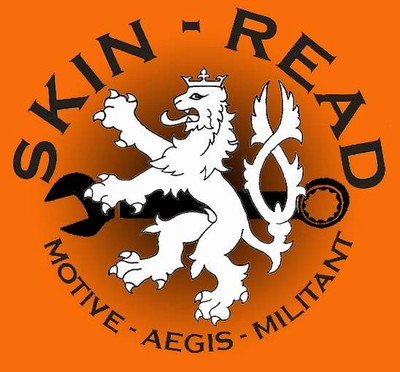 7.Do you like more new breed or old bands? Can you told us your top ten bands of this time?

Surely the new breed. I rexpet all those who started it like Business, Infa-Riot, 4Skins, Last Resort and many more, but I like more some harder music. Tough times needs tough and rough music. Evolution is going on and music didn´t stop in 70´s so I like more new breed stuff. But some exceptions are in my playlist even they are old guys know :-). I like Zona A too much for example. To ten is no problem, I am also listening and monitoring NS music, so it will has its part there, but I will try it without it.:-):

Foreign bands:
Poeblers United – demo tape
Desperta Ferro + Mencer Vermello – Segueu Stran
v/a Skinheads Gegen Rasismus
Roimungstrupp - Dezenium
Discipline – Skinhead and Proud
Madball – Infiltrate the System
Stage Bottles – New Flag
Amon Amarth – Twilights of the Thunder God
Point Blank – Made in China
Razzaparte – all

CZ/SK:
Davová Psychóza – Antropofóbia
Odpad – Útok + Vrùtocká 12°
Operace Artaban – Skinhead Brotherhood
Disdainful – Hated, Proud and…
v/a Fast and Loud – Czechoslovakian Punk Rock
Editor – Svet proti nám
Rozpor – Ilegálna Spravedlnost
Outsider + Lucky Punch + Radix
Cenzúra – Rebel bez príèiny
Last Strike – Dìlnický Rock

8.Plans for the future with SKINREAD?

In summer or autumn 2009 came out the 10th issue and it will be very good I thing.Look forward to interviews with: Hard X Times (France), Templars (U.S.), Anal Skins (Malaysia), The Riot, Hovorkovi Chuligáni, Disdainful, Roimungstrupp (Germany), Marpo (orthodox RAP), Brixton Cats (Francie), KELTOi (Galiza), Núcleo Terco (Basque Country), Stanaz (Slovakia), Cenzúra and many more!! articles: political correctness, NAZI PUNK (real menace or bad joke?), translation of lyrics (which are about something),questionnaire about "Orlík", scene-reports, gig and festival reports(even foreign ones), piet acts, sport, fun..and more then 200 CD and fanzine reviews! What will be after it with Skinread I don´t know. I am not lord of my time and zine wants it. I am thinking about web where will be old issues. But most real is the fact that I will do something like little zine, with few interviews and reviews and some articles for thinking about something. I prepare you for nonpolitical, patriotic and sport zine, just few lists of A4, for little prize or for free. I think about names like Zrazený Lev – 1938(Betrayed Lion – 1938) or OrigináL(OriginaL) or OutsideR but it is just names which are in progress..

9.Words on the end, greetingsetc..?

After this interview I will be crucified again. Radical "antifascists" will not understand my patriotism and tolerance to as thoug nazis. For those is song from German band Roimungstrupp. And to all other skins who has some prejudices against SHARP movement and they didn´t know any can open their eyes and maybe they feel little shame. Everything is about individuality and not about sticker. It is not about what you are wearing, what you have on your head and what is on your jacket. Important is your heart! On the end I have to tell that thanks to my zine I have many coloured, jewish and muslims friends, I know some gypsies(I am not using PC word Romany, because they didn´t use it also), but it doesn´t mean that I should´t talk about things which are happening on the streets every day. All you PC wankers near your monitors who are searching the nazis on myspace and facebooks, try to speak with real people. And you will realise the problem of Czech "racism". Reversed racism isn´t the solution and you just living from our taxes, you are stoned by weed with logo of antiextremist organization behind your back. Insead of printing stupid books and posters of danger of racism try to look at the problem from different angle and there will be no place for populists "nazis"who just generalize problems and making stupid sheeps from themselves, which are prepared to kill for some ideology. And problem of fascism is problem of whole systém not of some small crews.. II am not coming from region and area where the violence and crime is caused by nazis. I live in old fortress of Hammerskins. But after all those fights in the past I still belive that they will understand where is the truth and the fact of skinhead thing and patriotism isn´t about sieg hailing and following the leader! I think I stay here OK because the fact that I was facing the enemy. This fact rates even the strong enemy. They will understand sometimes…and I hope that they didn´t kill each other to that time…it is easy to kill someone then to bring up someone. I am not a hippie, I am realist. Just look where is the hard core of their movement of 90´s..pearcing, metal, drugs, gels, mode, steroids, jails..and ideas? They are forgotten. I am not making easier the problem of growing fascism in youth, but I am not also making camel from mosquito. This the media work which are talking every weekend about some group of nazis who are making gig somwhere. Nothing is black or white and we should lokk at the problem from both sides. Thing about it: Do you risk your lifes in endless fights with boneheads. You will have troubles with ACAB, you will get fired from your job and maybe you end up on wheelchair or lying dead with knife in your stomach or bullet in your head. And the society say just aneother hooligan or idiot is dead. No one is interested in your ideas and your fight against the evil. Everyone wants calm and peace. Even justice. We have to make and radical cut through society and whole systém, which is based on to earn everything on you. And comparing to this fact the fights with "nazis" is a little waste of time.!!! I am skinhead and I am prepared for fight, no problem. But I am not like all those "humanists" or "pacifists" so called friends who talks like:"just také machine gun and shoot´em all without warning." Bullshit, I am sick of this…. ORIGINAL SKINHEADS 4 EVER!!! If everyone wants something just write on Ceskej_lev@centrum.cz. I have some small distro of cheap CD´s and other things..

Defent everything which také your freedom away. But don´t attack firts…everything has got its time!!

Hail the coutry, Glory to Calix, Calm to Guns and Honour to Work!! Oi! Thanks to you Peddy for giving me a place and your interest in my zine. Good luck with your internet skinzine and I wish you strong, proud and endless vocals in Disdainful

SLUT

Beat ´em where you meet´em

Now it is on us to sweep this country clean,
To kick out all that ugly fascist scum!
I´ve gotta make a stand – for fighting friends I seek
There´ll be no easier way, ´cause this system is too weak!

There are too many scumbags spreading hate and lies,
Hiding behind stupid online names.
Always telling stories about people they dont know.
Being famous actors in their stupid little show!

At last a little message to the ANTIFA:
You did forget what your name stands for!
You pretend to fight fascism
But what you really do is fighting everyone
Who doesn´t act like you! FUCK YOU!