Superyob

1.Hi so can you introduce your band, members and how did you know each other?

FRANKY- SUPERYOB WAS FORMED IN 1995, BY ME AND PAT McVICAR, AND HIS BROTHER ROB. WE'VE HAD LINE UP CHANGES AND NOW I'M THE ONLY ORIGINAL MEMBER IN THE BAND, BUT ME AND PAT STILL WRITE SUPERYOB'S SONGS. THE LINE UP NOW IS ME, LEAD VOCALS (AND 12 STRING GUITAR AND KEYBOARDS ON RECORDINGS); DAVE HAYMAN, GUITAR AND BACKING VOCALS; MICKY FAIRBAIRN, DRUMS; AND ANDY NICHOLAS, BASS AND BACKING VOCALS.

2.When and why came decision to start Superyob. You Franky have great musical experiences before Superyob, do you still playing solo(only piano) shows? And did some of your bandmembers play also in other bands?

FRANKY-BEFORE SUPERYOB I WAS IN A BAND CALLED WOODY WOODMANSEY'S U-BOAT (WHICH I FORMED WITH DAVID BOWIE'S DRUMMER) AND THEN AFTER THAT I FORMED MY OWN PUBROCK/PUNK BAND CALLED FRANKY AND THE FLAMES, I GOT INVOLVED WITH OI! MUSIC AND ALSO PLAYED ON LOTS OF OTHER RECORDINGS AND PRODUCED LOTS OF OTHER BANDS FOR THE OI! MOVEMENT.........ANYWAY; -WITH SUPERYOB ,THE DECISION TO FORM THE BAND CAME WHEN PAT AND ROB AND ME GOT TOGETHER AND DECIDED WE WOULD FORM A STREET ROCK GROUP THAT DEALT WITH SOCIAL REALITY.
ME AND PAT COME FROM THE SAME PART OF LONDON AND WE WANTED TO FORM A BAND THAT PLAYED SONGS ABOUT THE WORLD AS WE SEE IT AND ABOUT OUR EXPERIENCES AS URBAN WORKING CLASS PEOPLE.....WE WENT TO THE SAME GIGS , WE LIKED THE SAME BANDS, WE DRANK IN THE SAME PUBS AND WE HAD A LOT IN COMMON. PAT USED TO SEE MY ONE MAN SHOWS, AND I STILL PLAY MANY SOLO SHOWS ALL AROUND THE UK, EUROPE AND SCANDINAVIA, AND THE USA. I AM A PROFESSIONAL MUSICIAN; MUSIC IS MY JOB, AND I LOVE TO WORK IN MUSIC. AS WELL AS WRITING AND COMPOSING FOR SUPERYOB , I HAVE SONGS FOR A FRANKY FLAME SOLO PROJECT. DAVE PLAYS IN THE CONCRETE GODS AS A SIDE PROJECT; ANDY PLAYS BASS IN THE GONADS AS WELL AS SUPERYOB.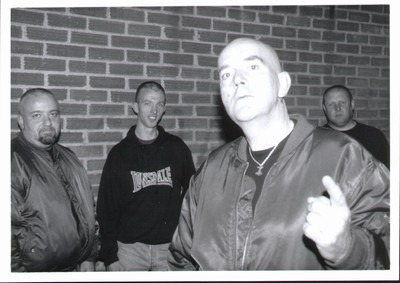 3.The last thing you have out is Quality Street on Randalle Records, how was the cooperation with the label?

FRANKY- I NEGOTIATED THE DEAL FOR OUR ALBUM"QUALITY STREET", AND THE CONTRACT WITH RANDALE RECORDS. THE CO-OPERATION WITH DIANA AND OLI AT RANDALE HAS BEEN VERY GOOD; AND ITS A VERY POSITIVE THING. THEY HAVE WORKED HARD ON PROMOTION FOR THE ALBUM, AND WE TOURED EUROPE IN 2008 TO PROMOTE THE SALES OF "QUALITY STREET". WE LIKE WORKING WITH THEM. GOOD LUCK TO RANDALE RECORDS.

4.How about nowadays gigs in good old Britain? It is difficult for skinhead/oi/punk band to find club for a gig? What about some new breed bands?

FRANKY- THERE ARE SOME GOOD GIGS IN THE UK....OUR SCENE IS FLOURISHING AGAIN, BUT SOME MAINSTREAM CLUBS ARE STILL SCARED TO PUT SKIN/OI!/PUNK BANDS ON. THERE ARE SOME GOOD NEW FACES, - SKINFULL, A GREAT NEW YOUNG SKIN BAND FROM YORKSHIRE; AND THE VAS DEFERENS FROM LONDON, THESE ARE TWO OF THE BEST NEW BANDS IN THE UK.

5.Can you compare the gig atmosphere between 80..s, 90..s and nowadays? What about the differences of gigs in Britain and abroad? You play some times in De Kastelein skinhead pub in Brugge, do you like that place?

FRANKY-WELL....THERE WERE NOT SO MANY PUNK AND SKIN BAND FESTIVALS IN THE 80S, IT WAS DURING THE 90S THE FESTIVAL AND LARGE CONCERT SCENE REALLY STARTED TO HAPPEN.....OTHERWISE THE GIG ATMOSPHERE THEN AND NOW WAS, AND IS, LARGELY THE SAME AS FAR AS I'M CONCERNED. AND YES, WE LIKE PLAYING AT DE KASTELEIN IN BRUGES....DE KASTELEIN HAS BEEN RE-NAMED, IT'S CALLED MOLOKO NOW. ITS A SMALL BUT VERY FAMOUS GIG IN THE SCENE.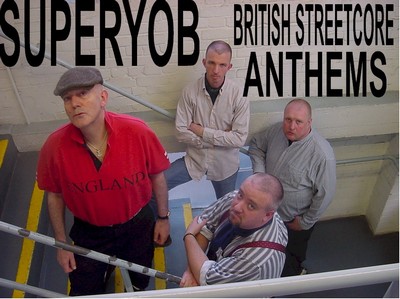 6.You have also Superyob Sweet F.A.project. Is it only one song project or it is going to be officially released?

FRANKY-WE HOPE TO RELEASE "SWEET F.A." WITH OTHER SONGS...PROBABLY THE OTHER SONGS WILL BE RELATED TO FOOTBALL AS WELL, I CAN'T SAY AT THE MOMENT.

7.What do you thing about modern football business? And one more questions, when I watch Premiere League, there are no flags of teams on terraces during the match, but when some team plays out for example Champions League, the flags are there, is it forbidden?

FRANKY-I THINK MODERN FOOTBALL BUSINESS STINKS, ITS ALL A MONEY -GO –ROUND! MONEY AND TRANSFER FEES ARE MORE IMPORTANT THAN THE SPORT AT SOME CLUBS NOW. THE FANS ARE HAVING TO PAY MORE AND MORE EVERY SEASON TO WATCH PREMIER LEAGUE GAMES AT FOOTBALL GROUNDS IN THE UK. FOOTBALL IS THE MOST POPULAR WORKING CLASS SPORT BUT ITS BECOME EXTREMELY EXPENSIVE FOR US TO WATCH.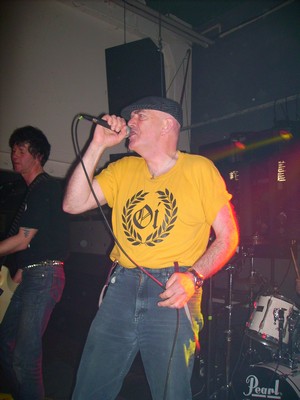 8.I saw you in Bordo Club, when you played in Prague, do you know anything more about Czech skinhead scene?

FRANKY-NOT REALLY, WE ENJOYED PLAYING AT BORDO, BUT WE WERE ONLY IN YOUR COUNTRY FOR TWO DAYS.... SO WE DON'T KNOW VERY MUCH ABOUT THE SCENE IN THE CZECH REPUBLIC; BUT WE'D LIKE TO COME BACK THOUGH. WE HAD A GREAT TIME IN PRAGUE! MAYBE WE'LL SEE YOU AGAIN.

9.What about your stuff like tshirts, cd..s, is it possible to order it across your web? And what we should do to make your gig?

FRANKY- YEAH, JUST SEND A MESSAGE TO ME AT:- WWW.MYSPACE.COM/SUPERYOBLONDONUK THE SITE HAS A MERCHANDISE PHOTO PAGE, WITH OUR SUPERYOB STUFF ON IT. AND YOU CAN ORDER WHATEVER YOU WANT FROM ME ON THERE. OUR PAYPAL ADDRESS IS:- superyob@uk2.net OUR MAIL ADDRESS FOR CHEQUES AND MONEY ORDERS IS:- SUPERYOB, PO BOX 26535, LONDON SE3 9WS, ENGLAND.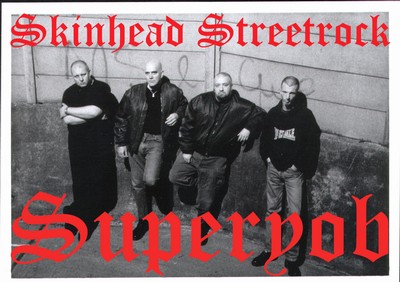 10.Plans for the future?

FRANKY- OUR FUTURE PLANS INCLUDE ANOTHER EUROPEAN TOUR, PLUS FESTIVAL APPEARANCES, ANOTHER USA TOUR, ANOTHER UK TOUR AND OTHER DATES IN THE UK, AND GIGS IN SCANDINAVIA. WE ALSO HAVE MORE MATERIAL TO RECORD FOR OUR NEXT ALBUM PROJECT AND WE WILL PROBABLY ATTEMPT TO MAKE A DVD VIDEO PRODUCT OF OUR LIVE SHOWS. ALSO WE PLAN TO GET OUR STAGE BACKDROP MADE, GET SOME NEW BADGES DONE AND A NEW SUPERYOB T-SHIRT/SWEATSHIRT DESIGN SHOULD HIT THE STREETS IN 2009 AS WELL!

11.Last words, greetings etc....

FRANKY- ALL THE BEST FROM ME AND SUPERYOB TO YOU AND YOUR READERS, HAPPY NEW YEAR.