The Casuals

1. Cheers Zap, can you introduce the band, members and how you know each other?

So, first of all I would like to thank you for your interest on our band. After some line-up changes, The Casuals are now: Zap- Drums and Vocals; Mito- Guitars; Stuart- Bass and Vocals. I know Mito since 1999, and we have played always together also in our previous Band (Calcio Dīinizio), Stuart itīs a quite new Mate, he was a good fan and friend of us and since 2005 is playing with us.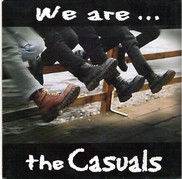 2. When and why came decision to start The Casuals? I know you have also played in Calcio dīInizio, have other members also experience with some other bands?

So the story itīs quite old, 2000 we started Calcio Dīinizio (Kickoff) with Mito (guitar), me (drums) and a couple of old mates (Angelo and Teo: Vocals and Bass). At the end of 2003 we splitted up, because our old singer had some problems with the law and he was the Calcio Dīinizioīs songwriter. After that we wanted to make music and we started with a new drummer and bass-player the new project, which name was(is) The Casuals.

3. I know you have some EP We are The Casuals and CD on Shotgun Records? How was the recording and cooperation with the labels? Are you working on some new stuff now??

Ok the CD on Shotgun Rec. was the second CD of Calcio Dīinizio (the first one was on Pure Impact), that with The Casuals has nothing to do! At the moment we released our first demo CD (4 tracks), of this demo CD (200 copies), thereīs our 1st. EP: Weīre The Casuals and a split EP with our german friends Brachial (i think itīs sold out). At the beginning of June will be out our first Full-Length LP on Skins On Attack (10 Songs on the Lp and 11 Songs on the Cd (the CD will be out after the summer)).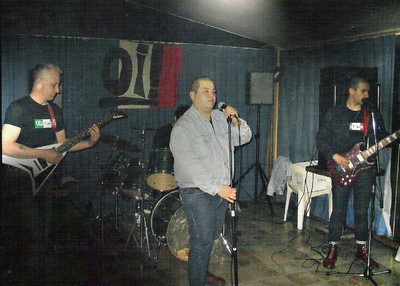 4.What about the gigs in Italy? Is it difficult to find a place for oi/punk band to have a gig?? Now you are living in Germany, can you compare the situation?

In Italy itīs not so simple to play for an oi! Band, if you are not in any political scene, itīs very hard to get gigs. We tried to do our best, and in our region we created one small scene, made by friends! Now iīm living in Germany and in here itīs very different, sometime better, but sometimes too big with a big number of idiots. But in any case i like Germany and here i met a lot of very nice and loyal people.

5.How often do you play gigs in Italy, Germany or abroad? Do you like it?

Ok since iīm living in Germany (more or less 2 years), weīre not playing so many gigs; in the last 2 years we played 5 gigs, but always nice gigs. between 2004 and 2005 we played several gigs in Germany, Iitaly, France and Belgium, and every time we had a lot of fun.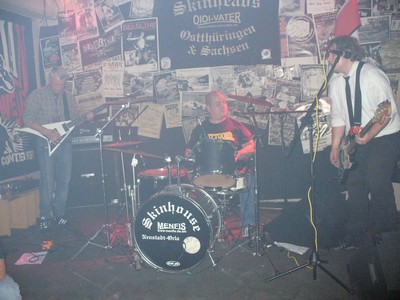 6.Can you describe the Italian scene? I thing there is a lot of extrams in Italian scene from left to right and only few non political bands.

You are not wrong, my friend. Itīs simply so, in Italy there are 2 very big scenes, the WP (with associations such as Hammerskin Nation and Blood&Honour) and the left wing scene (SHARP and RASH). They do their things and with them we have nothing to do. As I said, we are always gone on our way, even if we never played (in Italy) in front of more than 100 people but in any case we had a lot of fun and we didnīt sold us for politicians or people like them.

7.What is your opinion on political extrems in scene? Have you got problems with those wankers?

I think I already said what I think about them, I donīt need them, I can walk my way without them! In the past we had a lot of problems about our position, and of course there was figths (but in the 90īs). Nowadays itīs no more a problem, even if many donīt accept our way of thinking.....we donīt give a shit!

8.What about football? Are you interested in hools/ultra thing? Football: good question! I used to go to see the matches my football team (Padova 3. division), but now I donīt have so much time for that. Our guitar player, Mito still going to the stadium and supports his Team (Vicenza 2. Division). Our Bass Player isnīt interested.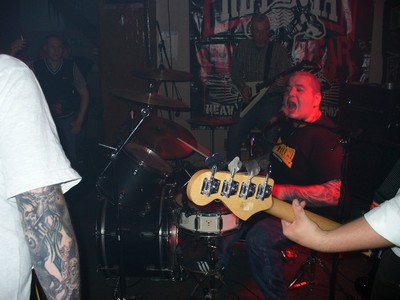 9.Do you know anything about Czech Scene??

Yes I know something about your scene, the first time that I got in touch with Vladimir (all the best mate), was 1999-2000 The Protest were still playing and i liked their cd so much. At home Iīve got some cds from Operace Artaban and Compilations. Last year I got an original LP of Orlik (but I donīt know if I may mention this Name.....hahahahahahha).....and now we know also Disdainful (a great band)....and of course PIVO!

10.Plans for the future?

In july Iīll have 1 month holiday, and weīll write some new songs for an EP or a Split....stay tuned!

11.Words on the end?

Thank you very much for the interview, it was a pleasure give an answer to your questions.....keep on rockin with Disdainful and hope to play soon in your country...Greetings from Italy/Germany.