The Clichés

1)Cheers. Can you introduce the band, members and how you know each other?

The Clichés are: D. Cliché on guitar and vocals, Z. Cliché on bass and backup vocals and T. Cliché on drums and backup vocals. Me (that's D. Cliché) and T. Cliché go way back in bands, we played together in all kinds of groups. Cliché I've known for a long time too, never played live together with before but many drunken nights in the studio.

2) When and why came decision to start The Clichés? Have members experience with some other bands?

I think it was 2003 or 2004 that me (D. Cliché) and K. Cliché (K. Cliché is our fourth member that is away on a long holiday the moment) recorded 3 tracks just for fun, we didn't have any idea what we would call it or anything at the beginning. We just wanted to have some fun in the studio drinking beer and having a laugh making old fashioned Oi!/skinhead rock'n'roll. After writing some of the lyrics we couldn't have another name than The Clichés because it fucking was, haha. Then we started talking to Bandworm Records and we recorded a bit more and released our album " No Justice, Just Us" in early 2005. All the members have experience from lots of other bands like The Clockwork Crew, The Invaders, Act Of Contempt, Chambers Of Dis and other more or less punk or rock'n'roll stuff.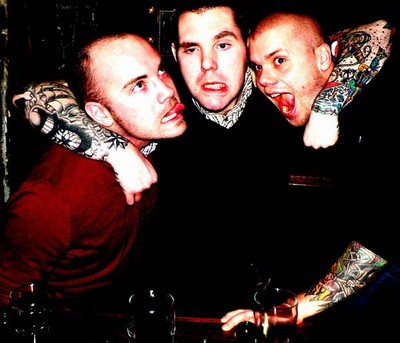 3) I know you have new album out now. How was the recording and cooperation with the label?

We're always a bit lazy and take some time but at the end we get the job done. More important to have fun and a few beers at the studio sessions right? I think the album's got a bit of everything on it, some more poppy stuff, of course some rock'n'roll riffs and some faster songs. The cooperation with Randale Records was/is great! Really nice people (and one of the bosses has got the best laugh in all of Germany, haha)!

4) What about the gigs in Sweden? Is it difficult to find a place for oi/punk band to have a gig?

We have got a few very good organisers, like PST (Pretty Shitty Town) and GBGOi! to name some. They have done a really great job bringing good bands over to Sweden. Not very easy to find gigs but when they come around they're well worth it, better with quality!

5) How often do you play gigs in Sweden or abroad? Do you like it? Can you describe the best and the worst gig ever? Which bands influence you?

We have just recently started gigging actually, did our first gig in Schramberg, Germany last week! I love playing live but we have had some difficulties with members and for a while me and K. Cliché lived on the other side if the planet so it was rather hard, but now we got a really tight setting and some gigs planned. We're gonna play together with Superyob and Gatans Lag in a couple of weeks in Göteborg (that's gonna be great!) and another gig in Norrköping, Sweden 4th of july with Vindicate This. There will (hopefully) be a live video of one of the songs up on myspace, june, from the gig in Göteborg so people can check how we sound live. www.myspace.com/officialcliches It's quite hard to answer the question about influences though, there are so many of them. I grew up listening to all the classic British Oi!/punkrock so of course that's the main influence. + all the other good music around; British 60s and AC/DC/ Rose Tattoo rock'n'roll!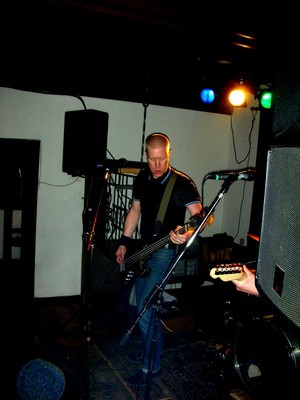 6) Can you describe the Swedish scene? I know many good bands from your country. Can you recommend us some bands do you like play with or new Swedish breed?

At the moment the Swedish scene seems to be really good, just to mention a few: Anti-Pati, Lowlifes, Vindicate This!, Torpedo GBG, Medborgargardet, Gatans Lag (and The Clichés, hehe)

7) What is your opinion on political extrems in scene? Have you got problems with those wankers?

Politics have never interested me at all ( maybe I'm too stupid, haha!). Haven't met many extremes in many years, so not a lot of trouble no.

8) Do you know anything about Czech Scene?

Sorry to say that I don't know much about the scene, want to know more though (so you just recommend me some good bands later on right?). I remember seeing The Protest many years ago. I've been to Praha and had a look around last year, great place! Went to some skinhead shops and did some shopping too. Love the beer!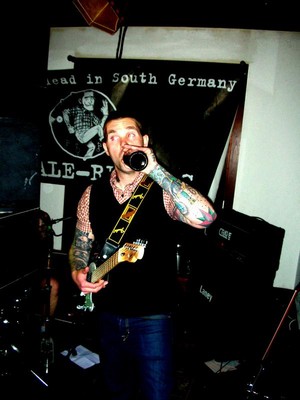 9) Plans for the future?

World domination with The Clichés!!! Ha, only kidding. Hopefully gigging a lot during the year, we're going to be on one or two compilations and an EP out soon I hope. And I think Randale Records have got some good ideas for the future, we'll see.

10) What should we do to organize your gig? What are your requirements?

Just get in contact with us via myspace and I'm sure we can work something out! Besides for 3 hookers each (one dressed as a monkey with a rash, one as the Swedish king and one really ugly (something like David Hasselhoff) ) at penthouse suit in Plaza Hotel we'll play for anything Haha!

11) Words on the end?

Thanks for the interview mate and hope to see you soon in Czech! Cheers! Over and out