The Junkers

1. Cheers can you introduce the band, members and how you know each other?

Syn: We are The Junkers from Szczecin/Poland. We play Oi! music since 2002 year. Our music i based on old oi/punk bands from the end of the 70's and start of the 80's, but we use sometimes HC ,Psycho, Viking Rock or Heavy Metal inspirations too. I think that a good mix of sounds. For us its a great fun.

2. When and why came decision to start Junkers? Have some members experience with other bands? Are still some of your members playing in different band than Junkers?Why the name The Junkers?

Syn: Like i've sad before, we've started in 2002 year. First members was me, Syn - Vocal, Guitar, Krzak - bass guitar and Buciar - drums. Few weeks later Artur changed Krzak on bas guitar, and we've played as trio till Mucha joined us on second vocal. Two years ago Buciar gone to Ireland and his chair took Zenhead, and Max came on second guitar. I'm working in Iceland now, but i think i'm still in a band. Almost all of us are or were playing in others bands. Too much to tell about it. Now Zen is playing in HC band - Final Strike, and ska band - Skambomambo. Max is a member of The Freaks (punk)...Name "Junkers" because "Boiler" was already used, hahaha...

3. You have one cd and one ep i think. How was the recording and cooperation with label?

Syn: That's allmost true, but in january"07 we've recorded our new LP - Nasza WolnoϾ (Our Freedom)...All recording sesions all great parties for us with lot of alcohol and funny stories after...About cooperation with label They 're just our friends and we are very greatfull, that they want to help us with popularisation of our music...Cheers...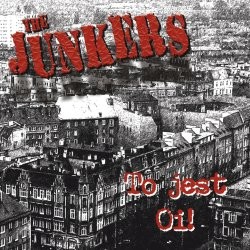 4. What about your music, who writes lyrics and music? What about inluences, you have got some psycho influences like in song Wampiry i krwiopijcy and also i think some viking rock influences?

Syn: All songs are unfortunately mine...We are listening a lot of different kind of music, so you can hear it in our songs...That's still Oi/Punk but we would like to play a little bit different that all traditional oi! bands and that's why we mixing other kinds of sounds to our music...The best way is to hear the records and see how its sounds to you...

5.What about the gigs do you like it? Can you describe it? Poland is famous for hools/ultra/fan scene, aren´t problems on some gigs because of those tryads and friendships between clubs?

Syn: We don't play a lot of gigs, because now i'm abroad and the rest of a band is trying to find someone who can play with them...All of our gigs i remember very good and it was great fun to be there...All of them was different...Very different people are coming to our shows, but we haven't any problems with them. People know that we are playing for fun not for fighting...

6.Also many streetwear marks come from Poland now, like Pretorian, Bulldogs, etc. Can you say something about them?

Mucha: General these streetwear marks are especially for hools and football fans, from my side i can say that these clothes characterized good quality and comfort...

7. You have got woman as a singer, it is not usual in this kind of music, so how Mucha gets into band?

Syn: Normally...She came, she shouted and she stayed ,hehehe...We're know each other long time before we've formed a band...She's more aggressive than a lot of guys and drink the same like we are, so that was a good choice for a band...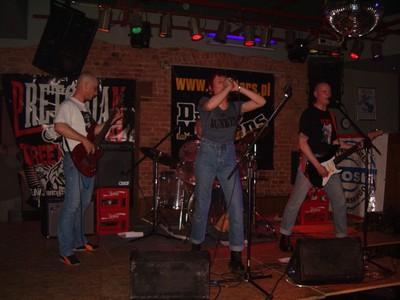 8. Can you tell us something about scene in Szczecin? And can you tell us about some new breed bands? Also many good labels like Olifant, Jimmi Jazz, Racing Rock, is it some new one that is also good?

Syn: Actually, we are not a part of Szczecin punk scene...We are making our gigs ourselves, without any help and it's ok for us now...We don't need to kiss ass of anybody and we can play whenever, wherever and with who we wont...If you're asking about bands from Szczecin, than i can speak about it few years...New bands, which i like it is O.D.C.( I don't know that they still existing now) and The Freaks (Punk band of our guitarist - Max)...Situation is not so good, like you're thinking, if we talking about labels for punx'n skins in Poland...I know a lot of young bands which have a lot of problems to make a record...It's better than it was few years ago, but still it's not a heaven for hooligans here...

9. What is your opinion on political extrems in scene? Have you got problems with those wankers?

Syn: We aren't political band, so like i've said, we have not a lot of problems with political extremists. Ones are taking about us "fascists", others - "commies" and we don't care about it...We've got our way of life and we'll still doing the what we love to do...

10. What about football? You have got song MKS Portowcy, are you interested in fans/hools/ultra thing? Are you going to support national team??

Syn: Most of us, of course likes football. For me football is as important as boxing...That song i've wrote when our team was coming to first polish league, but now it's not the same team...Most of players are not Polish, owner wants that team only for his own business and team is going down...That's how it is, whet in football investing people which don't give a shit about football. Sad but true...We are still with our national team...White-red forever!!!

11. What should we do to make a gig of your band, and can we order somewhere something of your stuff like T-shirts or cds?

Syn: If you want make a gig of our band, you have to contact with us on our website - www.thejunkers.info and you have to be rich or crazy, hehehe...Our records you can order on Olifant rec. or Racing Rock rec. websides and in few other labels...We've made only few t-shirts for ourselves and they are very expensive because they are raritates now, hehehe...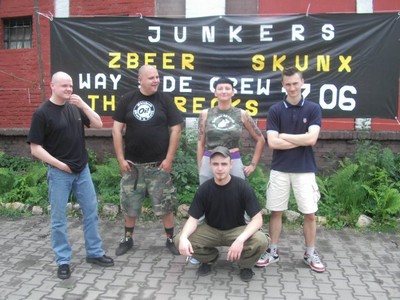 12.Do you know anything about Czech Scene??

Syn: Of course i know a lot of Czech and Slovak bands...Few years ago i was in Praha, when I was playing with The Analogs...It is possible, that I will be on Mightysounds festival in that year if I'll get vacations at work...
Mucha: I love Pilsner Oiquell especially old vocalist, that's my idol for good appearance on scene :D

13. Plans for the future?

Syn: Make more records, play more gigs, drink more vodka, do everything more, hehehe...

14. Words on the end?

Syn: Only two...See You...(Sorry for my english)