Unit Lost

1.Cheers can you introduce the band, members and how you know each other?

Well we are Unit Lost a Swedish band playing a mix of streepunk. hardcore and metal I suppose.We call it Streetcore. The band started with three members 10 years ago but we have also had line-ups with 4 and 5 members. Now we are three members again and those are: Kim-guitar, Timpa-drums and myself (Jugge-bass and lead-vocals.) We met each other through other friends and people.

2.When and why came decision to start Unit Lost? Have members experience with some other bands?

I wanted to start an Oi! band because there wasn't many of those around here in Sweden at that time, and so I did. Before Unit Lost I had played in several smaller bands. Timpa plays guitar in another band beside Unit Lost.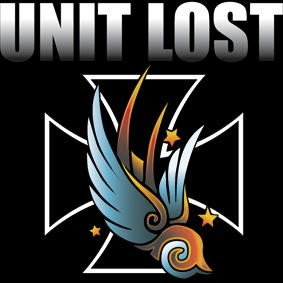 3.I know you have some CD/Lp´s and split cd´s. How was the recording and cooperation with the label?

The recordings have mostly been long party's with to much drinking and hangover. We have had several labels but they are all the same I think, they pay the studio costs and we record.

4.What about the gigs in Sweden? Is it difficult to find a place for oi/punk band to have a gig??

Not anymore, it is a lot better now then it used to be. There's several clubs you can play at.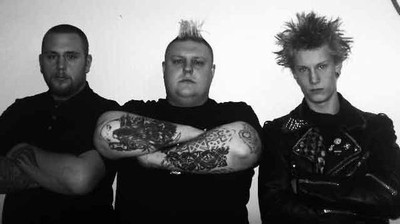 5.How often do you play gigs in Sweden or abroad? Do you like it? Can you describe the best and the worst gig ever? I really like your sound, which bands influence you?

In Sweden we almost never play because we have a bad reputation or because they don't understand that we are some of the best shit there is. Abroad we have played several times and we really like that! The worst gig we did was a couple of years ago at a festival here in Sweden; we were so drunk that we couldn't play almost. Hmm the best gig I think was in Germany last year, we did a hell of a gig there. We have no special influences besides all the stuff we usually to listens to, bands like Exploited, Blood for Blood, Social Distortion, Partisans, Maiden, Bad Religion and many more. It's not our intention to sound like any of those bands however.

6.Scadinavia and especially Sweden is famous for viking rock style? Do you like that style?

I used to listen to Ultima Thule a lot many years ago, before it was even called Viking Rock. These days I don't, I don't know why really.. I think it got boring. Apart from Thule there isn't any band in that genre I like really.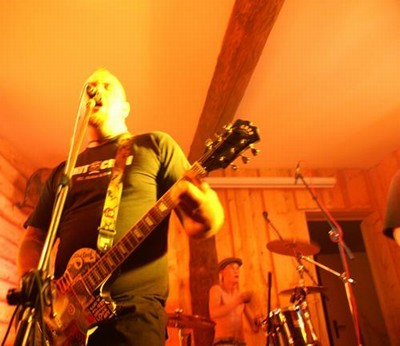 7.Can you describe the swedish scene? I know many good bands like battle scarred, dims rebellion, the pints, righteous, perkele, medborgargardet etc. Can you told us something about some new breed bands and give us the webs or myspace?

Righteous doesn't exist any longer neither does Medborgargardet actually.. They closed down just some weeks ago. Dim´s Rebellion is also put on ice right now. Lately it has been more and more new bands singing in Swedish. Gatans Lag is one of those new bands. Frenzy Four is one of the "newer" bands that plays classic streepunk. Check out both bands at
http://www.myspace.com/gatansslag http://www.myspace.com/frenzyfour

8.What is your opinion on political extrems in scene? Have you got problems with those wankers?

We hate politics and were tired of the whole thing. We are not interested at all. Yes we have some trouble because some of them won't understand that we are not a political band! Thats pretty much why we have a bad reputation in Sweden because some of those idiots claim that we are right wing and some claim the opposite..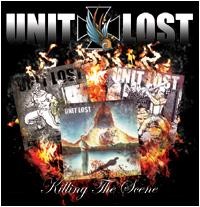 9.What about football? Are you interested in fans/hools/ultra thing?

Yes we are. Mostly the hools thing. Not because we are part of any firm but we think the whole thing is exiting and interesting.

10.Do you know anything about Czech Scene??

Not much sorry..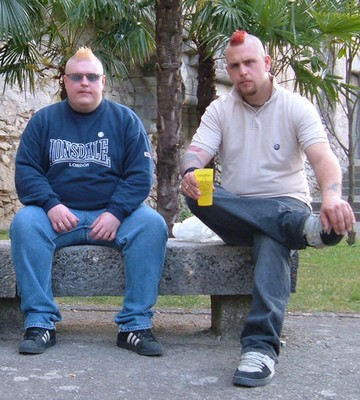 11.Plans for the future?

We will start in a few weeks to record a new album I hope then gigs, hopefully in Czech.

12.Words on the end?

Thanks for the interest in our band! Good luck with the zine! For more info on Unit Lost check out www.unitlost.com