ANOTHER MAN's POISON - The rise and fall
(by ASH)
Early years
Originally founded in winter 1991 but after an amazing number of line-up changes through the following years, only left Charlie, the vocalist, as an original member (Charlie started as the bands Drummer!). There were some experiments in the early years, 2 trumpets made early efforts more SKA than Oi! After the trumpets left and some more line-up changes, the sound began to develop to the unique "street rock 'n' roll" that everyone knows.
The original line-up was: Charlie Hall - Vocals
Jason Hughes - Lead guitar
Dave Childs - rhythm guitar
Alan Swain - Bass guitar
Darren Romain - Drums


In September 1991 they recorded first demo tape 'Get ready to rumble', a must for all collectors! It had 7 tracks and showed early signs of the brilliance that was to become Another Man's Poison. Already in March '92 they went again into the studio and put out their first single 'Now that's what I call' on their own label Tick Town. After numerous gigs with bands like Bad Manners, Lurkers, Straw Dogs, Boisterous, Argy Bargy, Blank Generation, Leatherface, Condemned 84 etc. they were offered to tribute one song of the single for the international 'Oi! It's World League' compilation. Thereupon they got a front page in a English Scooter magazine and even an unplugged live session in the Cambridge Community Radio. The second single was recorded later that year and released in early 1993 again on Tick Town. 'Wallop' was perhaps the song that gave them the recognition they were searching for. After the first trip to Belgium with fellow 'new breed' band 'Boisterous', they were to record 4 tracks for a compilation CD 'Oi! The New Breed'. This featured the cream of new Oi! bands in the U.K. at that time... Argy Bargy, Boisterous, Pressure 28 and Another Man's Poision. By now the line-up had changed, Dave, Jason and Darren left the band and were replaced by 'Big Charlie' on lead guitar, 'George' on rhythm guitar and 'Ash' on drums.
The rise...
1993 saw the definitive line-up created and the first LP 'Howsa' Bout That!' released shortly after on Helen of Oi! Records in mid 1994 it was critically acclaimed in the Oi! scene. It featured 10 working men's anthems and was initially released on coloured vinyl, Red, White, Blue or a combination of all three. Well, if you have the early stuff only one thing can be said … you could hear the potential but let's face it, it was a bit amateurish! However, without the raw early attempts, the later stuff just wouldn't have been the same! Some tracks were re-worked because the content was so good, but the quality needed some work! 'Alf Garnets Heart Attack' got a second visit, all about the EU and changes in Europe at the time, it all came true… Makes you think eh? Also, SOTS (Sitting On The Scaffold) was re-done. Very powerful track about the working man, watching the girls go by… It wasn't for lack of material though, we just wanted to give them the later AMP energy and attention they deserved. Most European gigs were the memorable ones. Bruges, Berlin, Stuttgart, Vienna, to name but a few. UK gigs were a little disappointing. We paid to play and usually had tough crowds, unless it was a punk or Oi! gig when we had more fun with it.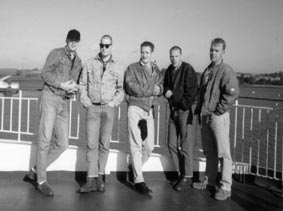 From Britain to Europe
At the end of 1994 the band toured Europe. Just before the tour Alan decided to leave and was replaced by Jason Stretton on Bass. He had one month to rehearse! The tour was a great success, they played to capacity crowds at all the venues and were received as 'stars'. They were accompanied by the German Oi! band 'Blanc Estoc' who supported every gig (except Berlin where a toilet roll was thrown during the first song and they walked off!!!). Fantastic! Every day, every gig, every minute. We travelled nearly 4000 miles on the trip! Every gig was a sell out! We played best to a good crowd and they always were. Best gig ever for me was Berlin. We just played and played, on stage for about 3 hours I think, into the early hours. They just wouldn't let us get off stage! Most profits were spent on beer, hotels and petrol. We didn't really make money, but we didn't lose any either! I still have our 'accounts' book! Thousands changed hands on the trip, and no profit! Oh well, it was fun! We were a bunch of young lads, on the piss, treated like rock stars wherever we went (sort of!). We sold records, signed pictures, got drunk most places and didn't sleep much! The people were brilliant where ever we went too. I'll never forget the tour as long as I live… well, those bits I remember!... In Bad Sooden Allendorf, we didn't get paid because we had drunk too much beer and the bar bill was more than our pay! We had to leave in a hurry! During the tour the third single 'Santa Claus Just Burgled My House!' was released. It was a tongue in cheek look at Christmas. They were accompanied by Frankie 'BOY' Flame on keyboards, a name well known in the Oi! community. He was later to produce the compilation CD 'Voice Of The Street' in 1995. Most of the time, we all got on really well.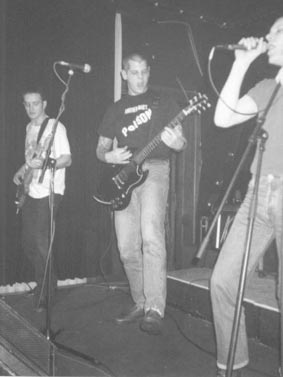 Scooters, battles, politics
We all liked the same things really. We were heavily in the UK Scooter scene and were often seen on the rallies. We rarely fell out though there were a few scuffles now and then. It was OK though, we got over it. We had a few incidents when gigging or just out on the piss, same as everyone I guess?? Had a few good battles now and then, but we didn't look for it. Sometimes the gigs used to kick-off out front. We just kept playing and it all faded away eventually. One gig in High Wycombe didn't go that way, but we weren't on stage at that time. We all stuck together though and spent lots of time together, whether with the band stuff or just socially. We couldn't get over the last hurdle though, with the politics. That's what ended the band.
... fall
After the European tour and the success of "Howsa' bout that" LP, we returned to UK and started the second album. One member wanted to change the band to a right wing band. No one else wanted it. We all had our politics and they were no secret to anyone who knew us. But we didn't want it in the band. This was a partially commercial decision. In Europe, we watched Left and Right all together, just enjoying the music… then buying it! Put yourself on one side or the other, you limit your audience! He wouldn't go on as we were and when we all said that we wouldn't go on as a political band, he left. I don't care what people think of this, I keep my politics to the ballot box and late drunken nights down the pub! Each to their own, I don't like to shout about it and I wasn't going to be in a band that did. We tried to carry on but it wasn't the same. We played our last gig in 'The Junction', Cambridge in March 1995 and split soon after. Very sad, it just didn't need to happen.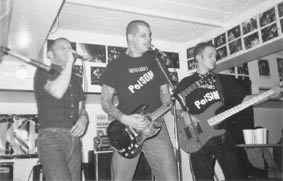 Never say never
At least 3 of the band, Me, George, and Jas the bass would do it tomorrow. Big Charlie has often mentioned it but I haven't heard from him in ages, he lives away now. In fact, we all live hundreds of miles apart. Little Charlie lost touch all together and went to play in a few different bands. I don't think he's go down that road again, not even for old times sake, shame. I'd never write off the possibility though, not when there is so much interest in the band from all over the world. I still get mail from the States, South America, Japan and all over Europe. I have nothing against any of the old band members and would love to give it another go, only this time bigger and better! See what happens, never say never.