Bakers Dozen
Bakers Dozen began in the summer of 1995. It was the end result of several drunken practices of old oi classics involving myself and some friends, we even wrote a few songs (some of which are still used today) but the other 3 guys who where involved in the band looked upon the Dozen as nothing more than a joke and went onto do their own things. I thought different and wanted to take the band in a more serious direction, other friends who had heard Bakers Dozen said they preferred them to the band that I was playing in full time (Beergut 100) and with that kind of encouragement I drafted in 2 new members.
Craig Young (Thermos) was a mate of mine who was also drumming in Beergut 100 at the time and had shown an interest in playing for Bakers Dozen. Gary Lafferty was playing in two local punk bands at the time (The Happy Spastics and Overspill) and had also shown an interest in Bakers Dozen when mentioned before. The three of us began rehearsing and writing songs as well as a few covers (Rapist-Combat 84, Remember This-Condemned 84 and Violence In Our Minds-Last Resort). We played one gig as a last minute support to Beergut 100 at a gig in Fife, Scotland which erupted in violence (not a good start for a first gig). Things kind of slowed down for a while, this was mid 97.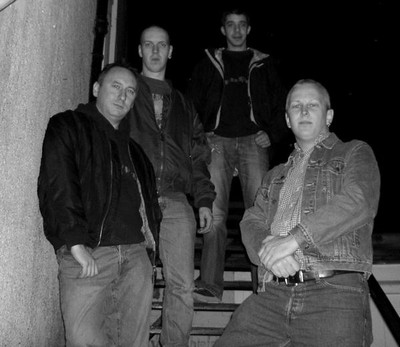 In 1998 I drafted in a guitarist called Dave Wallace (Dougal), he was seventeen years old and could play like a man possessed but unfortunately had the attitude of a fourteen year old at times. In August 1999 Beergut 100 split up after a disastrous European tour involving riot police at two shows and internal trauma that could never be repaired. This however was the perfect opportunity for Bakers Dozen to become the full time band. Our first gig as a four piece band was supporting local Edinburgh ska merchants Bombskare at the local skinhead haunt the Postillion. We gigged there a few times with Bands like On File, The Swellbelly's and the Happy Spastics until the pub was closed down in mid 2000. We then did a few shows in England with Retaliator, Resistance 77 and On File. In the spring of 2000 we played our first European show in Brugge, Belgium at the legendary De Kastelein skinhead pub, the gig was a riot and we all had a great time.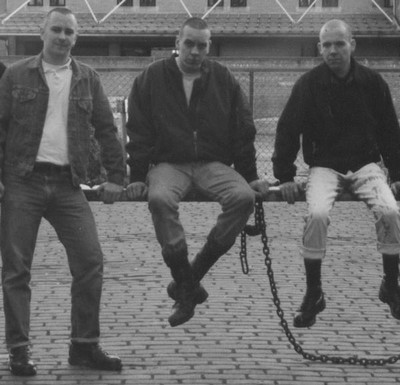 We were invited to play at an up coming oi festival in Kent, Northfleet to be exact. Many top oi bands were on the bill such as Condemned 84, Section 5, Retaliator and On file, as you can expect we were delighted and couldn't wait to play, Dave on the other hand was feeling the strains of being a sheltered kid playing in an oi band and left the band shortly before Northfleet. A good friend of ours Gordon (Gogs) Balfour whom I had known from his days in the Exploited stepped in to replace Dave for the gig and certainly saved the day.
We gigged on and off for a while after that as a three piece and entered the studio to record our debut record, the Ripe For Violence ep. It was a cracking three track affair with tracks Pick A Victim and Fire Arms Offender playing as the B side. The single was released on the German Screwed up label who had also released the On File album and in short they did an excellent job.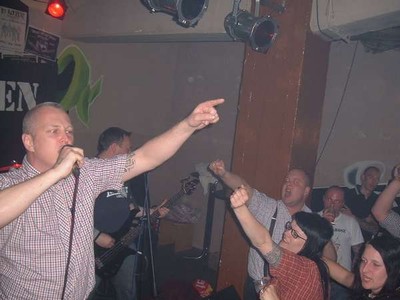 We got the offer to record a cd for Pure Impact Records (Belgium) and entered the studio in June 2001, again with a little help from guitar maestro Gogs Balfour. At the start of 2002 the Divided From The Masses cd was released to much demand and excellent reviews. In the summer of 2001 we played on the bill of the Holidays In The Sun festival in Morecambe. There was something like 100 bands playing and it was a little out of control at times but we had a good time even though we sounded a bit rough in places as the band for that gig was Myself and Gary as well as two friends filling in on guitar and drums without much practice or notice.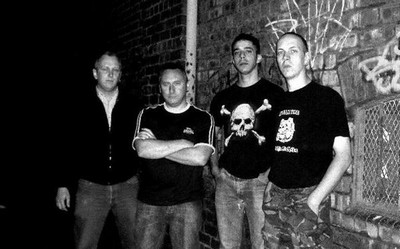 Our current guitarist Bobe joined Bakers Dozen after seeing us at HITS. He used to play in local Scottish punk band External Menace and has been fitted in well to the band to this day.
In November 2001 we entered the studio again to record a split lp with the excellent Retaliator. This one was getting called Kick Down That Fucking Wall and was getting released on another German label Blind Beggar. The end result was five new tracks from Bakers dozen and four from Retaliator (they should have included their version of Swords Of A Thousand Men as its not that bad). The new lp is due out next week with the current date being 03/06/02 and that is basically the story so far.