BANNER OF THUGS - The story so far...
It was the summer of 1999 when Merijn, Joost en Joris decided it was time to join their forces and start a band in which they could fully express their love for the punk rock, OI! and hardcore music. At that time Merijn sang in the $400 Suits and Joost and Joris did the vocals for the 046 hardcore band Segregate. But the three of them all felt something was missing and decided to cry out this feeling in the rehearsal room. Joris picked up his guitar and Merijn and Joost their mic's. They asked their good friend and Joris´ younger brother Daan to do the drums and found their good friend Ivo willing to do the bass. A new band was born: Banner of Thugs.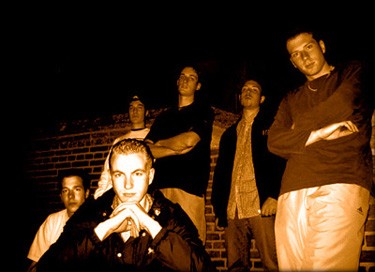 Inspired by a wide range of bands they started to write some very basic OI! songs and recorded their first demo ´This is where it starts´ in the spring of 2000. Despite the lousy sound, the demo received some good critics and the band got the chance to do a number of shows with the likes of Discipline, Evil Conduct, Aggro-Culture, Hardsell and other OI! and street punk legends. Their live shows not only attracted OI! and Street punk lovers, but also people who were into Old school hardcore, Ska or even (heavy) metal. Since they didn't necessarily felt they had to stick to playing basic OI! music and all of them were crazy about hardcore and many other kinds of music too, their songs got a little hardcore touch and were combined with some rock 'n roll and metal influences.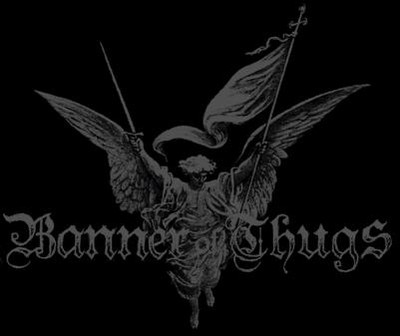 In the autumn of 2001, Banner of Thugs played a show together with Hardsell (RIP), where former Hardsell guitar player Maurice saw them play and told them he wanted Banner Of Thugs to record a full length CD for his label Bouncing Sole Records that he just started. So it happened and in the spring of 2002 Banner of thugs went into the Pitstudio in Weert to record their first full length album 'First feat of arms'. During the recordings they heard about Ivo's future plans to join the Marine Corps in September and when he passed the entrance examination, there was no other option for him than to take the hard decision to leave Banner of Thugs. Since they started this band together and Ivo has, except a friend, always been a kind of driving force behind the band, it could have become a real problem to find a suitable replacement. Fortunately there was bass-player Jan-Willem who had become bandless after the split up of Segregate and who was willing to pick up the bass. At the same time former Segregate guitar-player and Jan Willem's twin-brother Ed was asked to join the band to strengthen and enrich the sound.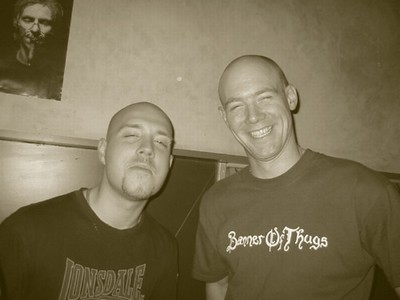 After the usual process of postponing, 'First feat of arms' was released in October 2002 on Bouncing Sole records. The album became an energetic mixture of OI! Street punk and hardcore music and was awarded with lots of good reviews. The album was released on vinyl by Blind Beggar records and even released on cassette in Russia. Banner of thugs got to do many shows with many different bands and worked hard to spread their music and beliefs. With a new line up they then went back to the studio and recorded three new songs. From which two songs appeared on the vinyl version of 'First feat of arm' and one song on the Brabantia Nostra sampler. These songs were reviewed very well and got known as the best the band had done so far...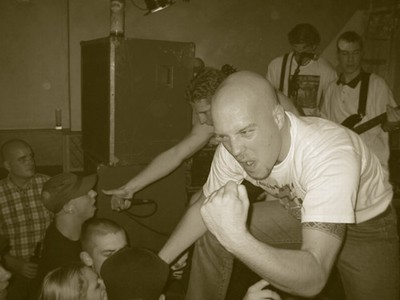 But in May 2003 all the good got roughly disturbed when Joost had a working accident while breaking down a staging at the Liberation fest in Roermond. Joost had a serious brain contusion and was admitted in the hospital. Fortunately there appeared no lasting injury and after almost a year of recovery Joost turned out to be the same old again. Wouldn't it be he was still forced to leave the band because of health reasons. He then decided that recording the next album would be the last thing he would do together with the band. As Joost had always been a good friend and they had been playing in different bands together since high school Joost's involuntary departure was a sad and tough decision as well for him to make as for the remaining band members.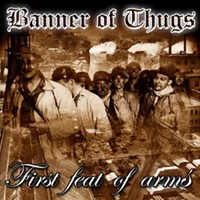 During Joost's recovery the band kept on rehearsing and writing new songs for their second full length nevertheless. Thanks to the entrance of Ed en Jan Willem and the progress of them all as individual musicians Banner of Thugs went through a considerable growth. Their style of music slightly changed in a far more melodic style of street punk / hardcore that can hardly be compared with the OI-core they used to play on their debut album. In April 2004 Banner of Thugs finished writing their new songs and hit the Pitstudio in Weert again to record their second album 'What we hold dear'.