CHELSEA
It was in August 1976 that Gene October placed an advert in Melody Maker which led to replies from guitarist William Broad, bassist Tony James and drummer John Towe. On October 18th they made their live debut as Chelsea supporting Throbbing Gristle at London's ICA. It was at this time that Gene convinced the manager of gay London nightclub, manager of a gay London nightspot in Covent Garden called Shageramas, to convert the club into London's first live punk rock venue called The Roxy - a fact for which he is given little credit. The band split in November 1976. Gene briefly recruited guitarist Marty Stacey and bassist Bob Jessie. The other three former members formed Generation X. When Gene was asked about his former band colleagues he said "Generation X? Oh yeah they used to be in Chelsea."
In early 1977 Jessie and Stacey left and Gene put together a new line up consisting of guitarist James Stevenson, bassist Henry Daze and drummer Carey Fortune. This line up was slightly more permanent and soon the band's first single, the punk classic Right To Work, was released. However, not long after the release of the second single High Rise Living, Chelsea played their "farewell" gig on October 6th 1977 at The Roxy.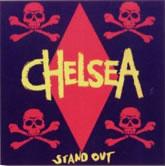 As we all know "farewell" gigs are not to be taken seriously and in December Chelsea reformed as a five piece with rhythm guitarist Dave Martin, bassist Geoff Myles and drummer Steve J Jones joining October and Stevenson. Extensive gigging and the third single Urban Kids was released before drummer Chris Bashford replaced Steve J Jones. In many peoples opinion the line up of October/Stevenson/Martin/Myles/Bashford is the definitive Chelsea. The first album was released in early 1979 and the band continued to tour extensively including U.K. dates supporting The Clash and another with The Police supporting them! They also made their first foray into the U.S. with an East Coast tour. As the first album contained none of the band's singles a compilation of them was released as the second album. Alternative Hits did also feature a couple of new tracks as well as drummer Bashford on the sleeve in typical rock and roll pose. This record became Chelsea's first U.S. release and renamed No Escape for that territory.
This line up's final show was at London's Notre Dame Hall on May 2nd 1980. They'd actually been together for two years! Sting got up and guested on a few numbers. James Stevenson, after playing on Charlie Harper's debut solo single Barmy London Army, ironically went on to join the final incarnation of Generation X. Dave Martin and Geoff Myles formed The Smart and as for Gene he did what he'd done before - recruited a new Chelsea line up and took it back out on the road.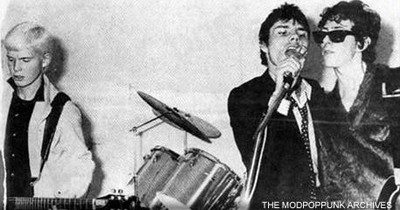 A temporary line up still featuring drummer Chris Bashford toured America later in 1980 during which their appearance in "Urgh! A Music War" was shot. Then in December 1980 the band split leaving Gene, once again, to rebuild and relaunch Chelsea. Having produced some of Punk's finest moments such as the single Right To Work and the self titled debut LP it seemed to many as though Chelsea's finest days had gone. But Gene had other ideas and over the next three years came up with some of the band's strongest and most enduring material.
A new Chelsea line up featuring drummer Sol Mintz, bassist Tim Griffin and guitarists Stephen Corfield and Nic Austin debuted in January 1981. Austin became a strong song writing partner for Gene as aired on Rocking Horse the line up's first single and Chelsea's first for over a year. The band was reduced to a four piece following the departure of Corfield and Griffin was replaced in September 1981 by Paul "Linc". A gig at London's Fulham Greyhound once again featured Sting guesting as Griffin left the day before the show. 1982 saw continuous gigging and the release of the third album Evacuate which gained substantial critical acclaim - a first for Chelsea.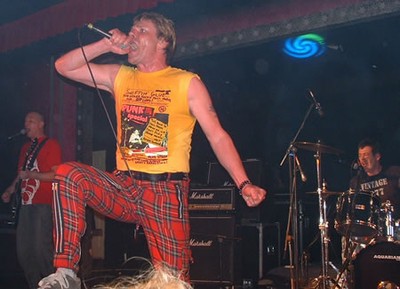 After 1984 this version of Chelsea came to a close. Gene issued a couple of solo singles Suffering In The Land and Don't Quit (the latter featuring James Stevenson and Glen Matlock). Chelsea took a hiatus for a few years before Gene put together various line ups, releasing the albums Original Sinners, Rocks Off and Underwraps which never really lived up to the recordings the band made between 1977 -1984. Underwraps is notable for featuring The Clash's Topper Headon on drums. 1993's The Alternative and 1994's Traitors Gate again saw Gene working with Nic Austin and feature some of the band's best work for many years. 1994 also saw the release of the first October solo album, Life And Struggle, which was co-produced by James Stevenson.
Stevenson, following the demise of Gen X in 1981, went on to spend a year in Kim Wilde's band before forming Hot Club with former Sex Pistol Glen Matlock. In 1985 he joined Gene Loves Jezebel, with whom he still works, co-writing most of their hits. He has also played on many records including Tricky's influential debut album Maxinquaye. In 1994 he was invited by his old friend Billy Duffy to join The Cult's forthcoming world tour as second guitarist. For the past few years he has worked live and in the Studio as a member of Mike Peter's revamped The Alarm. Diversely Stevenson has also shown up on albums by pop artists such as Jimmy Nail and Louise.
The classic Chelsea line up featuring Gene October, James Stevenson, Dave Martin, Geoff Myles and Chris Bashford reformed for the Social Chaos tour across America in 1999. These were their first shows together since 1980.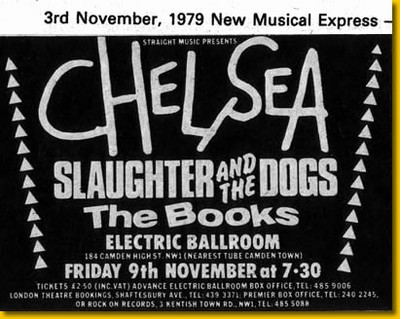 Since then the line-up of October/Stevenson/Bashford/Myles has done sporadic gigs including Holidays In The Sun in Morecombe in the summer of 2001 and Punk Aid at The Garage in London in September 2000 and again at the 100 Club in London in September 2001. More recently tours of Germany, France and the Czech republic have been undertaken and UK appearances are more frequent. Just for fun of course insists drummer Chris Bashford. Bassist Tony Barber, borrowed from the Buzzcocks, often stands in as bass player.
Gene October has always championed the underdog and is well known for giving up and coming new band's their first breaks. He invited Southern Death Cult to play their first ever London Shows, for example, supporting Chelsea at London's Marquee. Now in the 21st century the success of a new generation of punk bands proves the viability of the genre yet Chelsea, undisputed originals, never achieved any real commercial success. Ironically Gene's only gold disc is for German punk supergroup Die Toten Hosen's cover of Chelsea's electrifying debut 45 The Right To Work. He says "Young bands today are once again picking up their own pieces, creating their own scene, which is why many are turning to punk as an influence. Once again the guitar has taken over from the machine."
The new Anthology Urban Kids released on Sanctuary January 2005 contains a wide cross section of the band's essential recordings made between 1977 and 1983 as well as some bonus Gene October solo tracks including his never before released version of The Stooges "Raw Power".