Comando Suicida
Comando Suicida was created in 1983, when Argentina returned to democracy after the bloody military dictatorship suffering, ended with the sad crumbling Falklands War. The group is a continuation of an old Punk Rock band created in 1981 called The Desalmados of which were part Sergio (vocals) and Key (guitar), Mariskal(bass and later also member of Trixy i Los Maniáticos) and Fernando (drums), the last member of the legendary punk band Alerta Roja (one of the first in the country in the late 70s and early-'80s) was formed and the first alignment of the band .
Comando Suicida - the name comes from the expression of an English soldier who described in an interview as he saw the Argentine army in the recent Malvinas war. The name was and is a tribute to the fallen Argentine soldiers in the battles.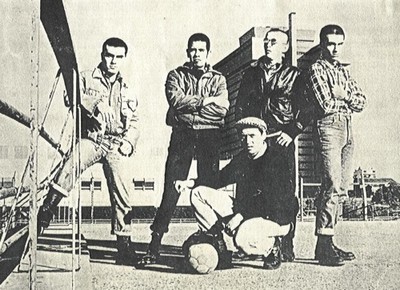 Comando Suicida started a raw punk rock style like Sex Pistols, with cutting nihilistic lyrics, which were changing them to the band envolved into a social message, influenced mainly by the bands like Cockney Rejects, Sham 69, Last Resort, Decibelios from Spain, Cock Sparrer, , 4-Skins and Italian Nabat. Unknowingly Comando Suicida would be the first national band sounds raid near Street Punk, Oi! Music or Real British Punk.
There were some changes in line up on guitar come Hari B (first guitarist of the punk pioneers, Los Violadores), and some demos were recorded. Band palys also at various punks festivals, and finally they recorded the first EP's edited in 1987 by fledgling label Radio Tripoli, owned by one of the band members, Chuchu Fassanelli (drums) together with the manager of the group Walter Kolm. The EP was called "The KO" and contained 4 tracks, including a cover "Chaos" from British 4 – Skins In addition to Sergio on vocals ,Chuchu on drums and, completed training Adrián "Chino" Vera (ex-member of Attaque 77, Conmoción Cerebral, Mal Momento or Katarro Vandáliko) and Tano in El Gallego on guitars and bass. This EP was sold out quickly and another edition of it also (today is the record collector's item not only in Argentina but in other parts of the world).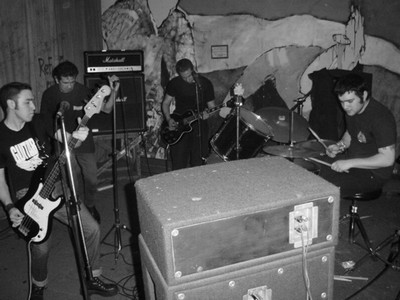 Thanks to the release of the EP, band became known in the national punk scene and the following year (1988) they were invited to record two new songs for first punk LP in Argentina "Invasion 88" on which are also groups like Attaque 77 and Flema which become popular after it. It was released by the same label Radio Tripoli. At that time, the group consisted of Sergio voice, Gabi on guitars, bass and Jude Torres on drums (he was tatoo artist and he lived in the United States before). Torres died and the band broke up for a while.
Band feautured on some internacional compilations. They returned in 1992 and recorded a 4 pieces demo, where was a Spanish version of Cockney Rejects, "Fighting in the street" ("Pegando en la calle") that was released also in Europe on EP "Skinhead Revolt" with other bands of the old continent like Straw Dogs, Buldok and Mistreat. After several drawbacks that make the band in a transition period. The line up at the time was Sergio voice, guitar Marcelo, El Topo bass and Topo drums .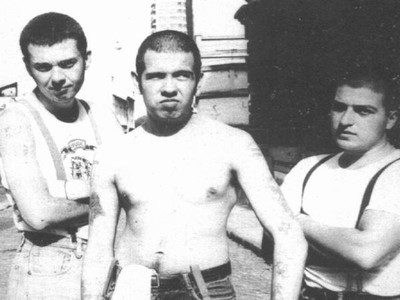 By 1993, the band came back together, this time with new members, always including Sergio (only original member since its founding to the present day) and El Gallego bass, who joined to the band also Demián on guitars and Paul on drums. With this line up they recorded they new album (with a sound closer to the Hard Rock), in 1994 released only on cassette:"Argentina Despierta"(Wake Argentina), under the local label Sick Boy Records. This album contains 7 songs, some new and some oldest and also two songs from label compilation with label bands like Flema, Bulldog de Rosario, Sin Ley, Penadas por la Ley and Desakato. Again the removal of two of its members make the band dismembered and enter a phase of absolute discontinuity, only recorded a theme ("Que loca está la hinchada", a song popular in the 70s and "A barra de la goma) for the cable and radio program "Equipo desafío" in the year 1995. That songs came out three years later (1998) also on a CD compilation released by Sick Boy Records label, simply titled "Comando Suicida 1982 - 1996" which as its title indicates, collects songs from their beginning till 1996, some of them taken from rehersals and demos, and some new as well as a cover of Sex Pistols ( "No Feelings") in Spanish.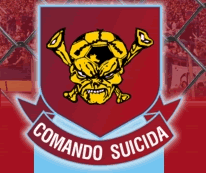 The years go by and in 2002 and they recently returned to the arena. Sergio recruited young and new musicians: Charly and Lute on guitars, Tano on bass and Tati on drums (later replaced by Nikita) At the end only Charly stay near guitar, and the rest was replaced by Juan Gonad on bass and Dany (ex Conmoción Cerebral, Doble Fuerza and Mal Momento) as a guest drummer, who achieved the record in 2004 in studios Outside tunnel (where Attaque77 redcorded their LP "Antihumano") their album "Sentimiento inexplicable" (edited and distributed in Argentina by the label Xennon Records and in Europe by Pure Impact Records from Belgium), which brings 10 songs, one of them is a cover from Alerta Roja ("Juventud Perdida"), another song from Cockney Rejects in Spanish ("Guerra en la popular") and re-record they old song from 1983 entitled "Desaparecido", which is from the Desalmados times. On this new album we can see the return to the roots of the early '80s and the band with an updated sound.
The story continues ... to 22 years of his birth ...