Immoral Discipline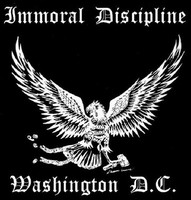 Immoral Discipline was formed in Washington D.C. in November of 1986 with singer, Shawn Garard and lead guitarist, Bill Gerber writing lyrics and music in a basement that belonged to their friend Keith Sturges while searching for a bass player and a drummer to round out the band. A short time later, they added their close friend Jimmy Wood (R.I.P.) on bass and as fate would have it, he was stabbed to death before the band's third practice together. Wanting to pay tribute to Jimmy at a benefit show in his memory, Shawn and Bill asked John Allen to fill in on bass and recruited drummer, Bryan Kelly (who was in another local band Bill played for called What Happened?) to play the show. The Jimmy Wood Memorial Concert took place on December 14, 1986 at D.C.'s Hung Jury Pub. Having only 6 songs in their set, this first incarnation of Immoral Discipline played two sets and got a good response from the crowd. Wanting to add some variety to the D.C. scene and to give their friends a band that they could call their own, Shawn andBill decided to keep the band together.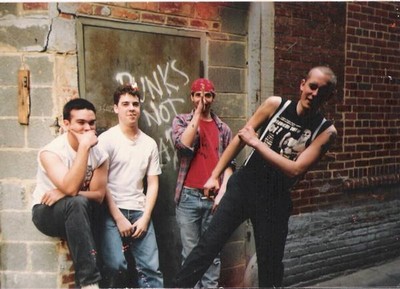 Bryan stayed on as the bands drummer, and Todd Greene joined the band as a permanent bass player, staying on until the bands end. This line-up started playing shows in the D.C. Metro. area on a regular basis and began to make it's mark on the local scene. Bryan leaving for college prompted a change in drummers; "Bhatman" took over on drums. A rhythm guitarist, Bill Meeks (of Ft. Lauderdale, FL band, Bad Rep) was also added. It was this line-up of the band that recorded the 5-song demo. tape "Boots and Braces, Stars and Stripes" in November of 1987. Two songs on the Link Records compilation "The U.S. of Oi!" were taken from that recording session. Bill Meeks leaving the band prompted yet another line-up change. Brian Robinson was added as a rhythm guitarist, and this line-up recorded the band's two EPs: "Battlefield" (Smash! Records/D.S.I. Records) and "Immoral Discipline" (Smash! Records) at Black Pond Studios in Rockville, MD in 1988. Two songs from this studio session were also featured on the Oi!Core Records compilation "The Spirit of Oi! American Style".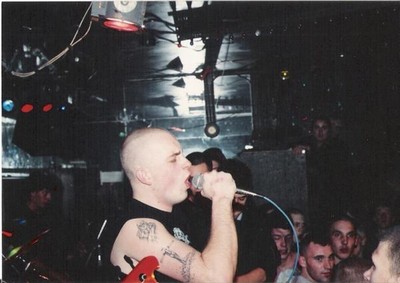 Many shows locally and in other cities on the East Coast followed, with the band playing with such acts as Agnostic Front, Half Life, The Adolescents, Leeway, Biohazard, Forced Reality, Best Defense, Uniform Choice, Warzone, Black Market Baby, Government Issue, Anti-Heros, Youth of Today, The Exploited and many more. The bands final line-up change took place with "Bhatman" and Brian moving to California. "Raven" was added on drums, and Chris Bodeen (who also played for D.C. band, Union Strike) was added as the band's rhythm guitarist. This final incarnation of Immoral Discipline played several shows together and recorded 12 songs in the studio that were planned on being released as an LP. The band broke up in August of 1989. A retrospective CD of all of the band's recorded material is currently in the works.
http://www.myspace.com/immoraldiscipline