Red Alert
The group was formed in Sunderland in the North East of England in around May 1979. The original line up was Steve 'Cast Iron' Smith (Vocals), Tony Van Frater (Guitar), Gaz Stuart (Bass) and Dona (Drums). After a couple of months of rehearsals we played our first gig at a carnival in Sunderland. We did a mixed set of self penned songs and a couple of Clash and UK SUBS songs. We began to play at youth clubs in and around Sunderland on a regular basis. Around this time we recorded our first demo tape. The recording turned out so well that we released it as our first record. It was a four-track E.P entitled 'Third and Final' and as it was self financed we could only afford to press 250 copies, which we sold outside of record shops and at gigs. After the release of this record Mitch replaced Dona on drums. We continued to gig in the North East of England and recorded the 'In Britain' demo. Shortly after this Mitch was replaced on drums by Nobby. We then recorded another four-track demo. After this we recorded two tracks for the 'Cary On Oi!' album. We recorded 'SPG' and 'We've Got the Power' but only 'SPG' was used. Then on the advice of Gary Bushell we sent the first E.P and the two demos to No Future records and within a week we had signed our first recording contract. Over the next two years between 1981-83 we released five separate records. These were:- In Britain E.P (3 tracks) Take No Prisoners E.P (3 tracks) We've Got The Power L.P City Invasion (Single) There's A Guitar Burning 12 inch E.P (6 tracks) Over this period we began touring all around England (Manchester, Leeds, London etc). There was also a steady stream of appearances on compilation albums. After the 'Guitar Burning' E.P Nobby left the band. At the same time our contract with No Future records had ended. We recruited a new drummer named Matty Forster and recorded some new material with the view to getting a new record deal.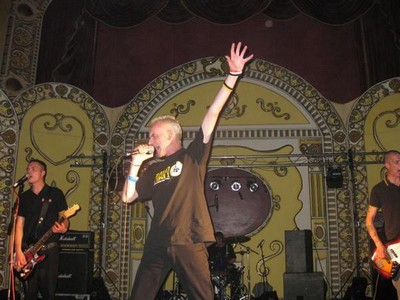 It was not long after this, that things didn't feel right within the band due to family commitments and a basic disillusionment with the Oi! and Punk scene that we felt was dying off, we decided to split the band. Over the next couple of years that followed the 1985 split we all went our separate ways. Steve left the music scene altogether and spent most of his time drinking and playing pool. Tony began touring Europe as second guitarist with Red London. Matty also joined Red London. Gaz Stuart went into a band that played old 70's hits in workmens clubs. It wasn't until 1989 that we began regular contact with each other again. A new music club called 'THE KAZBAH' opened in Sunderland and we just happened to bump into each other now and then. It was during a conversation with the club's promoter that the idea of a comeback gig was first mentioned. We agreed to do it and began to rehearse together for the first time in four years. It was early 1990 that we did the gig with Red London and Attila the Stockbroker. A full house saw a great gig which inspired us to reform on a permanent basis. Steve, Tony and Matty were happy with this but Gaz had doubts so we replaced him with Tony's cousin, Tom Spencer. In August of 1990 we did our first European tour. With Red London we did gigs in France and Switzerland. This went well and led to more tours in Europe. After a couple of these tours Tom left the band and was replaced by Gaz Stoker of Red London. We also began to use a number of different drummers, one of which was Keith "Stix" Warrington of Angelic Upstarts and Cockney Rejects fame. In 1992 we recorded the 'Blood, Sweat'n'Beers' album for German label 'Nightmare' records. A year later we recorded the 'Beyond the Cut' album which was a joint release by Nightmare and Knockout Records. During these periods we were touring in many parts of Europe including Belgium, Spain and Germany as well as the other countries we had already played.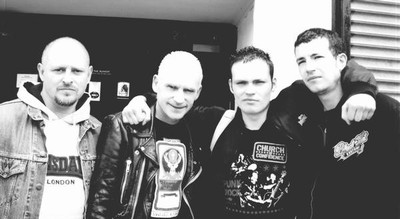 In 1994 we had a busy and eventful year which began with a lengthy German tour. For this tour Matty Forsters brother John was on drums. The following month, May, we did our first gigs in the USA. For this tour we took Lainey the drummer of Leatherface as John was unavailable. We played a few gigs on the East Coast including New York and New Jersey. We also did a recording session in Long Island which was released as a split album with the Templars entitled Super Yobs. When we returned we recorded the 'Street Survivors/Drinkin' with Red Alert' double 7 inch E.Ps. It was around this era of the band that Pete ' Bracket ' Littlemore started to look after the band. He became tour manager, driver, organiser, he even had his own slot singing a few of his own songs every night, going down a storm. Eventually Pete moved to Canada where he still lives to this day, gone but never forgotten. In August of 1994 our current drummer Ian did his first tour with us, a three week tour of Belgium, Germany, Switzerland and Austria. In 1995-96 we recorded the 'Breakin' All The Rules' album for DOJO Records. Gaz Stoker had left the band so we recruited our original bassist Gaz Stuart just to play on the album. Shortly after the recording Lainey rejoined the band but this time on bass. With this line up of Steve, Tony, Ian and Lainey we began touring other countries such as Italy and Canada as well as the countries we previously played. This is still the line up now (July '99). In 1998 we recorded our first album with this line up, entitled 'Wearside' for Plastic Head Records. This was released in 1999 at the same time as 'Red Alert-The Rarities' which was 20 tracks previously unreleased, this was for Captain Oi! Records. Over the last few years there have been many compilation and collection albums of Red Alert as well as a handful of singles on various labels. So far in 1999 we have toured Italy and Spain and recorded some new songs which featured Charlie Harper sharing the vocals on one track with Steve which will be released in the future.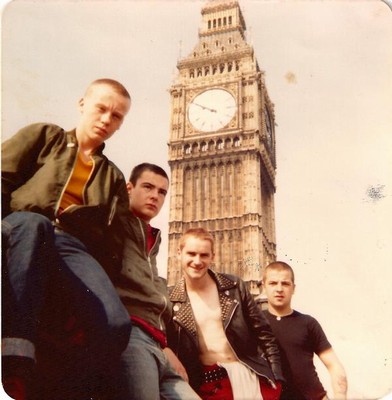 A few changes happened in 2000. Steve was now singing on a permanent basis with Red London and Tony and Lainey had joined the Cockney Rejects, Tony on bass and Lainey on drums. Due to these other commitments things started a bit slow for red Alert. Lainey was also busy with his other band, Leatherface and it got the point where it became impossible to be in all three bands so Gaz Stoker rejoined the band on bass. Around this time Ian had begun working in London so he was only available from time to time. He was temporarily replaced by Matty Forster on drums and Nobby also made a few appearances. In May of 2000 we did the HITS festival in Berlin. This was followed by another appearance at HITS Morecambe. On the record front 'The Best of Red Alert' album was released on Captain Oi, which also featured 3 new tracks. One of which was 'Til It's Done', the track featuring Charlie Harper. Around this time 'Red Alert...The Story So Far' a book written by Kid Stoker containing the bands history, rare photos, a tour report, discography etc was published. August saw Ian back behind the drums for a 10 date German tour. Next up was another HITS festival in October 2000 in the Basque region of Spain. Another line up change for this gig saw former bassist Tom Spencer replace Gaz Stoker who was unavailable for this gig at the time. The year was wound down with another trip to the U.S.A, this time to the West coast. We did 4 gigs with the L.A. band The Generators, a great tour which saw the band play the legendary Whisky-A-Go-Go club in L.A. 2001 began slowly due to commitments with other bands. The first tour of note this year was a German tour which featured old mates The Rebels as the support band for the whole tour. Next up came another appearance at HITS Morecambe which by now had become bigger and better with four venues in operation A "Best of" type album was released around this time called 'Border Guards' containing tracks from various albums we've done. This was released on Harry May Records. Again this featured Charlie Harper sharing the vocals with Steve on the Subs classic CID.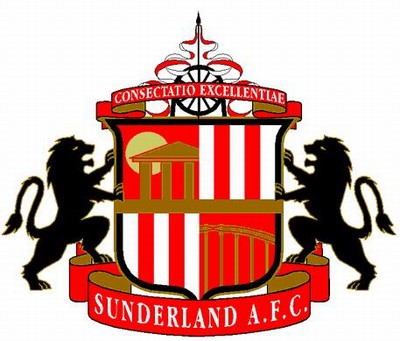 The band line up saw yet another change and Lainey came back in on drums. Shortly after this Tony, Gaz and Lainey teamed up with punk legend Mensi and became part of the new Angelic Upstarts line up which saw Tony write the music for a new Angelic Upstarts album 'Sons Of Spartacus' Meanwhile Red Alert did a couple of gigs in Serbia (former Yugoslavia). It was our first time there and hopefully not the last. Alongside two great gigs in Belgrade we also made t v appearances and created a lot of interest. We came back and did a couple of British gigs, one of which was our second trip to Scotland, with a gig in Glasgow. October saw us do an Italian tour as we wound down the year with a gig in our hometown of sunderland. 2002 started slowly as we were busy writing new songs. Three of these were recorded for compilation albums, one of them 'Only The Toughest Survive' saw Steve share the vocals with Mensi. This track along with a track called 'Liberation' appeared on the Captain Oi compilation 'Addicted To Oi'. The other track 'Million Dollar Punx' appeared on a Canadian compilation on Insurgence records. In May we did our first gig in Dublin, Ireland as part of the HITS festival. This was followed by HITS Blackpool. August saw the return of Ian behind the drums as Lainey was unavailable. The gig was under the banner of Anti-Fest, a big outdoor festival in the Czech Republic featuring over 100 bands. A one off line up change in early September saw local musician Billy Blackett (of 1977) take over from Gaz on bass for a festival in Austria as Gaz was unavailable for that gig. When we returned from Austria we heard the tragic news that Ian had died in an accident at his home in London. This is the worst thing that's ever happened to this band and in truth we'll probably never get over it.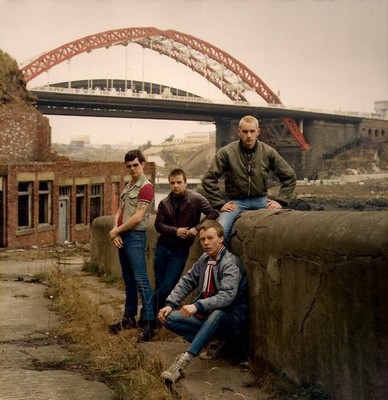 As the old cliche goes "the show must go on" and we had to pick ourselves up for a tour of Spain that same month. In a way it was a good thing as being together on the road gave us a chance to remember the good times we'd had on tour with Ian. The tour went well, ending in it's usual style with a great gig in our favourite venue, the Sisters bar in Barcelona Our next trip saw us in Japan for the first time as part of the HITS festival. A great experience and we hope to tour there for longer sometime. The year ended with the "Punk 'n' Disorderly" festival in another one of our favourite cities Berlin. Again it was a great weekend. February 2003 saw us play our hometown with a tribute gig for Ian. A sad but great occasion to say Farewell to one of the best lads who'd ever been involved with Red Alert. We've also written a song in Ians memory called 'A Distant Rhythm' which will feature on the forthcoming Red Alert album, provisionally entitled 'Excess All Areas' Rehearsals are currently underway on this new album which hopefully will be out around late summer of 2003. On the gig front there's the "One Big Punk Day" festival on Easter Sunday here in Sunderland. Various other gigs and tours are being organised now, including one off British gigs which sees us play the last ever HITS festival in Morecambe, Eastern European gigs (Serbia, Slovenia etc) a September tour of the West coast of U.S.A. and other European gigs which will include a German tour. The usual delays that come with making albums came our way but 'Excess All Areas' was eventually released early 2005 on Captain Oi! Records. Gigs have been few and far between but things should get rolling again soon with a Spanish tour in Sept/Oct '05. There's a German tour early 2006 and other parts of Europe and the USA to follow. A deal with SOS Records will also see more releases from us in the USA. The last couple of years have seen a few changes in the band. We did a 3 week tour of the USA in March 2006. This tour saw a new line up for the band, the main change being Micky Jones replacing Tony on guitar. This has now became a permanent situation though Mick still has his own band, Loudmouth. Since that tour, Micks' brother Dave, also of Loudmouth, has joined on bass. Using various drummers we've continued touring, mainly round Europe and there'll be plenty more to come. A new album is in the pipeline, being written by Mick and Steve. There's no definite release date but it's gradually coming together and will surface in the not too distant future. 2007 and 2008 saw more touring, USA, Europe and some UK stuff. There's more of the same in 2009 along with some new recordings.