Stormwatch
The band first began as an idea in 1990. Jeff(Sab) and Tim were friends who talked about doing a band together. We knew this guy named Don who also had ideas of doing a band. After a few talks, he informed us that his brother matt played drums and he knew a bassist named scott. We all got together and so started the journey. The initial line up of the band was Jeff on vocals, Tim on guitar, Don on guitar, Scott on bass, and Matt on drums. We named the band "Moral Outrage" and began practicing. After a few short practices things with scott werent working out. We recruited another friend "Lloyd" to take over on bass. ..oyd was in the fold we were on track. We released our first official demo under the name of "Moral Outrage" in 1991.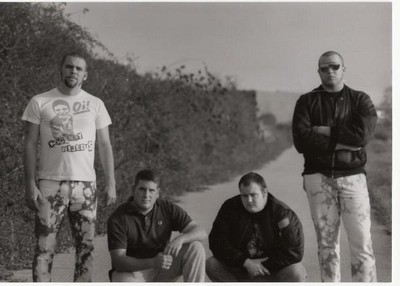 After it was released, we decided to change the band name. We wanted something that was more fitting of our sound and thus "Stormwatch" was officially born in 1991. This line up endured until right after our debut album, "At War With Peace" was released in 1993. At that time, we parted ways with Don and Matt. Don was never replaced on second guitar. Matt was replaced on drums by Don D.K. He lasted a brief time and was replaced by Jeff C in the same year. This is the line up that would finally hit its stride. With this line up, we all clicked. We released our second full length album in 1996 entitled "Right To Remain Violent".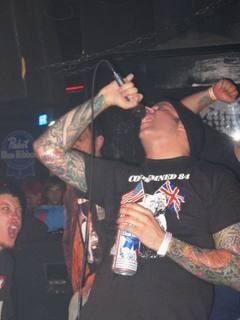 The band eventually broke up in 1998. After the break up, Lloyd became a family man, got married, and now has two kids. Jeff C just retired from bands and worked. Jeff(sab) and Tim(terrible) both continued on in various bands however. Sab would then front the band "Combat Ready" They released one CD entitled "Combat Ready... Hates You". It was released on Vulture Rock Records in the year 2000. Tim would make his mark much louder however. He helped start up what was to become the sickest thing going. Bad Luck 13. As "Terrible" in this band he pushed his body to the limits of what a human body can endure in the way of pain. Wrestling in barbed wire, thumb tacks, and basically inflicting violence in ways most people cant fathom. Nowdays, Jeff(Sab) isnt really in any bands. Tim however continues to forge .. his stint in Bad Luck 13, he played guitar in "Blackthroat" and now is in a doom metal band called "ONITA". As for Stormwatch. The "Right To Remain Violent" era line up reunited in 2006 to play a 15th anniversary show in Delaware.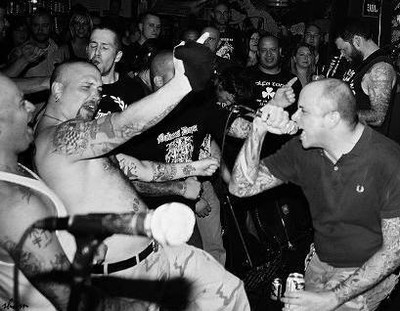 The show went so good that we all agreed to reunite once or twice every year to play out for fun and nostalgia. We played the one reunion show in 2006 in Delaware. That was followed by three reunion shows in 2007. Two in Atlanta supporting our biggest influence "Condemned 84" and one in New Jersey headlining. All of which went great and were alot of fun. Some things are in the works for 2008 as well, so stay tuned. What now follows is a discography of sorts for what stormwatch released. For any more info, just ask. 1991- 7 song demo tape. 1993- At War With Peace Full Length. 10 song LP, 14 song cassette, 16 song CD. 1996- Right To Remain Violent Full Length. 15 song CD. We also appeared on numerous compilation 7 inches, lp's and cd's.