THE WARRIORS
Formed in late 1981 out of the ashes of The Last Resort,who after encountering one too many punch ups decided reluctantly to call it a day. This decision was not taken lightly and the band parted company with drummer Andy Benfield and recruited John Fisher to replace him. They also parted company with manager Mickey French or "Fagin" as he was known. In early 1982 they played two gigs in in London, one at the 100 Club, the other at the Blue Coat Boy which at the time was known as "Skunks". This line up recorded "Horrorshow" for Oi Oi Thats Yer Lot LP and "Wicked Women" for the United Skins LP. In May The Last Resort album "A Way of life - Skinhead Anthems" was released by Mickey French. "Skinhead Anthems" was never intended as an album as it was just a bunch of demos but by then the band weren't even playing under that name.
Line Up:
Roi Pearce – Vocals
Arthur Kitchener – Bass
Charlie Duggan – Guitar
John Fisher – Drums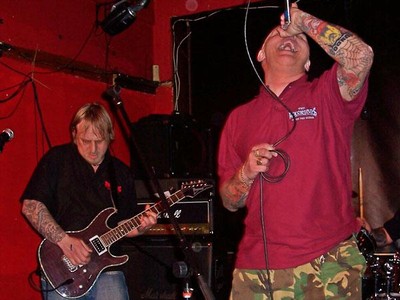 After that Roi joined The 4 Skins, Tarot, The Resort (1988), The Heavy Metal Outlaws in 1993, then Horrorshow and Roi before reforming The Last Resort in 2003. Charlie sold his guitar and bought a motorbike.
Andy appeared in a local band Big Mamoo as a keyboard player and later joins L.A. Doors to be replaced by Ben Mills.
Arthur meanwhile joins Diz And The Doormen, Alive & Picking followed by The Balham Alligators, Artur Kay & The Originals, The Cho-zen and The City Blues band to name but a few before reforming The Warriors in 1995.
In September 1995, Bieze, a skinhead from Belgium, wanted to do a "Last Resort" show in Brugge. Charlie and Andy are "unavailable" but Roi wanted to do it. Then him and Arthur fell out over musical differences. Basically Roi wanted to do a big rock show and Arthur wanted to take the money and run. So the original Last Resort vocalist in the shape of Graham Saxby is recruited after a chance meeting with Arthur's wife.
The gig has to be put back from November '95 to January '96. In the meantime the lads team up with Daryl Smith (Cocksparrer, Argy Bargy) and Dustin Burgess (Argy Bargy) and record the new album "The Full Monty".
Roi, who owns the copyright of the name "The Last Resort" had agreed to a one off gig but hadn't agreed for an album to be made under that name, so a compromise was reached when Arthur suggested The Warriors A.K.A The Last Resort. The first pressing of "The Full Monty" bear that moniker as does a video of a gig recorded in Cardiff a couple of months later. This line up of The Warriors also plays gigs at The Penny Theatre in Canterbury '96 and The Cue Club in Herne Bay '97. The Cue Club gig was also a launch party for the second album called "Noizy Bollox".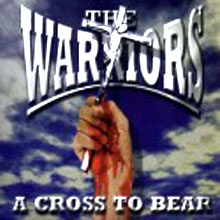 Then in 1998 a mini album is recorded called "Bad Guys" with Bob Coltart (Maroondogs, Cho-Zen) and Steve Wyse on some of the tracks as Daryl and Dustin are so busy with Ska band The Mistakes.
The Warriors are then offered a small tour of Japan. James "Dutch" Ovens (Deadline, Gundog) and Tarik "Taz" Majeed (Gundog) are recruited on guitar and drums respectfully. They play gigs France, Herne Bay and Brixton before going off to a 3 date tour of Japan (Osaka twice and Kyoto).
This line up plays over 40 gigs together in 4 years including, Holland, Germany, Dublin, Belfast, Atlanta (U.S.A), Finland, Norway and London (7 times). They played Punk Aid, Holidays In The Sun, Holidays In The Smoke and Punk & Disorderly before recording "A Cross To Bear" in 1999. This album was not released however until 2000. In 2001, The Warriors recorded "Justice Not Politics" for the album A Tribute To The Business".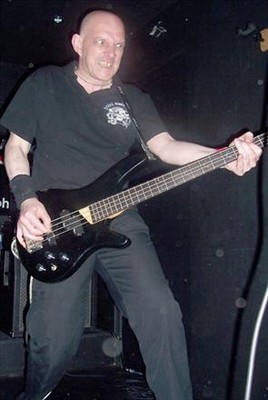 Then in 2002 Arthur decides to retire from Oi / Punk. Sid of Section 5 joins and a gig in Canterbury in 2003 is the final gig with that line up.
Saxby decides to have a rest for various reasons and during this time the band lose James who decides to move to Bradford and Tarik gets a job away and has since played with East End Badoes and Viva Las Vegas.
Then in 2003 Roi reforms The Last Resort and Saxby goes to their gigs and ends up singing backing vocals quite a bit. After a while he wants to get The Warriors up and running again but is struggling to find a guitarist after a local lad was offered the job and decided he didn't want it. Arthur suggests Tosh (Section 5) or Gary Lammin (Cocksparrer) or both but by this time Saxby is in a band of one so leaves it.
Saxby is bored and has an idea of getting a band of local lads together so that The Warriors are a proper band again, rehearsing regularly (??) and socialise a bit like the original Last Resort used to back in the 80's.
In February 2007 after watching Crimewave at the Mill Inn in Deal, Saxby offers bass duties to Karl Taylor his old mate from Herne Bay but as Karl is quite happy in Crimewave he declines and suggests a mate of his, Russ Black, who is at the same gig. After rapidly recruiting Dave Rowe on guitar and a loan of Chris Hogg from Crimewave, until a permanent drummer can be found, Saxby has a glint in his eye as he can see the start of a new era for The Warriors.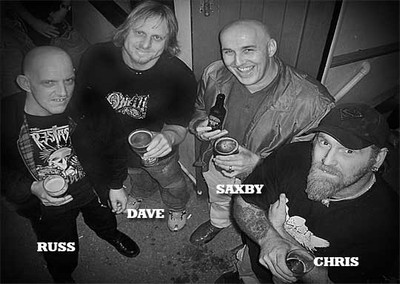 Within two months and just as many rehearsals (i.e. Two) the first gig with this line up at the Concrete Jungle festival at Camber Sands in April. What an absolute disaster, it came way too quickly and with that many rehearsals and an extremely pissed member of the band it was as shambolic as you would expect. But they were going again and a gig at the Beercart Arms in Canterbury on the 29th of April (Saxbys Birthday) with Deadline and Crimewave was a vast improvement on the previous gig.
Unfortunately after that Chris had to go on tour in America as he is also a roadie and a drum tech. So the band had to cancel a gig and were struggling again until Ben Moss from local metal heads Demonbreed offered himself up as drummer. He also liked his punk so it gave us a bit of a metal edge with his drumming.
A few local gigs followed with Vice Squad (twice) Assert, Demob, Batteries Not Included (Malta), Vas Deferens and The Vibrators among others. Ben announced he was leaving and on 4th Jan 2008 played his last gig at The Railway in Ipswich supporting The Gonads.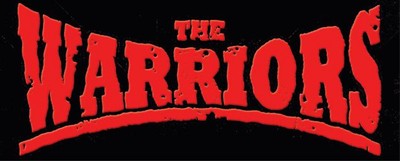 Chris who had just returned from his trip to America and Europe rejoined and played his return gig in Ashford at Oranges less than one month and more than two rehearsals later, followed by a support slot to Sick On The Bus. Then in March we got offered a gig in Stoke supporting The Business, a headline show in both France and Belgium at the Moloko Bar. Later that month The Warriors recorded a few songs at a small studio in Dargate as a demo. One year on and April and May are busy months, April culminating in Saxbys 50th Birthday bash in Sheerness supporting The Vibrators followed by a gig with Red Alert June saw the band headline The Bridgehouse 2 with Splodge and The Gonads, a gig with Menace and one supporting The Last Resort.
We finished off the year by finally recording "Unite The Scene" which was recorded at Perryvale Studios in London and mixed by us and the very able Pat Collier. And finished off gigging for the year with a superb night at the Bridgehouse with Frankie Flame and Superyob. Unite The Scene having now been finished we shall be releasing it in March, hopefully at the Sham 69 gig in Gillingham