Ultima Thule
Only short note to this history…it is translated to English from Swedish original across internet translator(with my adaptation) so the text will be a little bit breackneck and maybe with some mistakes. I could´t find this history written in English..so I hope that you will enjoy that version.
In the beginning
The story of Ultima Thule started in the steel city Oxelösund in the late 70's. Janne Thörnblom, came across punk style in contact with Ulf Hansen and Thomas Krohn who were playing in the band Ugly Spots. Meanwhile, guitarist Nicklas Adolfsson from Busk founed a punk band named Död Lag. Still have not the two band members contact with each other except by mutual friends. Janne Thörnblom asked eventually to become a member as a guitarist in Ugly Spots after an audition. First impressions with Janne in the band is 1982. On the song appeared "Pesten" Rutström.
Nicklas came in contact with Ulf, Thomas and Janne at audition for IOGT-NTO in Nyköping where Död Lag were playing with Ugly Spots. The lyrics were typical for punk in that time, so it were about nihilsim or unemployed. Exclusion and a grief loose life with festivals and concerts was the basis of life.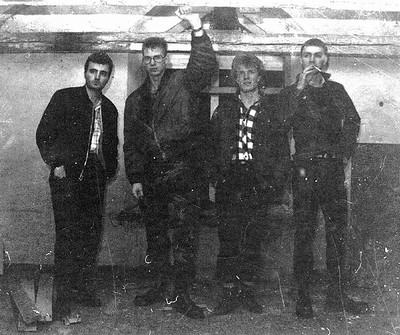 In England, a new style of punk was developed and it was called Oi! The style was slightly more aggressive than punk, and there were more patriotic lyrics. The supporters came mainly from working class and the new style meant short cropped hair and proper attire. In retrospect, it has come to be termed the second wave of Skinheads. Even members of the Ugly Spots accepted that new style and one by one became skinheads instead of punks. Patriotism - something unique in the Swedish music scene had begun. The name Ugly Spots were considered to be no longer representative for this new style and an older brother of one of the band members came with name Ultima Thule, which means "extreme north" in Latin language.
Six songs was recorded: Nationalsangen, Vikings, Misunderstanding, Friday Evening, Sverige Sverige Fosterland and Engelbrektsmarschen. During the weekend they were in Studio inertia room in Nyköping and their first cassette startet spreading over the kingdom. We are writing now in 1983 in the calendar. At the same time the organization BSS - Bevara Sverige Svenskt used to grow and appeared in the media. With inspiration from the English National Front, which has reached success with the bands Skrevdriver and Ovaltinees start BSS looking for bands in Sweden whic played patriotic music. The only band they know was Ultima Thule, they contacted them for funding a disc, and the band said yes. This created a political link is not something to consider. At the end of the year 1984-85 was released EP: Sverige Sverige fosterland in 2000 copies.
Broke up and reunion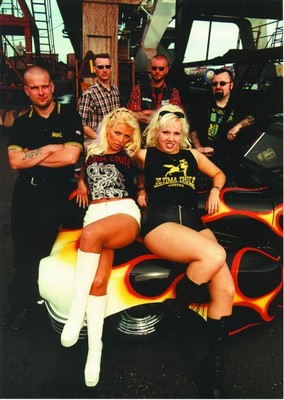 After a few live shows the band members went to different places - Janne and Tomas leaved the band to try to play Rockabilly. Ulf and Bruno continued for some time with other members and in the autumn of 1985, contacted Nicklas Adolfsson to join the band. Years went by and around 1990 the band found out that the German record label Rock´o´Rama plans to release a LP disc with all the band's songs, Hurra för nordens länder. Ulf contacted Janne to ask if he has anything against the releasing disc. He had nothing against and the band made an evening at the home of Janne talking about old memories. A reunion is taking place and so a new enthusiasm brought by the band. Bruno was asked also, but he refused it.
In the absence of rehearsals the band rehearsing in couple of new songs at the home of Ulf Hansen. The first songs which were written was Ragnarök and Ensamt öga. During the late summer of 1990 Janne went to Lebanon to United Nations service and in the meantime the other members bought new instruments and arranged a rehearsal. More songs are written and sent to Janne to Lebanon on cassette tape for writing lyrics. After his return the band went into the studio to record the album Svea hjältar. Thanks to a bank credit of 50 000 SEK, they can put their works on LP. The disc is spread among friends and acquaintances and the local paper wrote some positive articles about band's reunion. When record shops in Nyköping and Stockholm started selling the disc, it was quickly sold out.
Breakthroughs and the Media Unit
With success of Svea hjältar they recorded second album, För fäderneslandet, and it listeners received it with enthusiasm. 1993 band decided to buy studio Svängrummet. Said and done, Svängrummet became known as a Studio Valhall.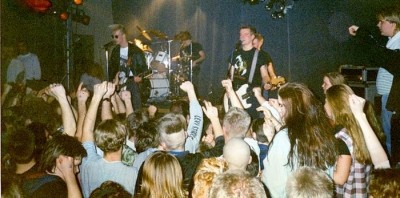 In November 1993, the fourth album Vikingbalk came into stores around the country. Ultima Thule had contact with a nationwide distribution chain and some things started to happen seriously. One day they were called by Bert Karlsson himself and after a number of calls and meetings a contract that both parties are happy with were signed. Ultima Thule's requirements was to retain all rights to the music while Bert was responsible for distribution and marketing. The news that Bert Karlsson signed contracts with Ultima Thule beats down like a bomb in the media in Sweden. An aggressive campaign began. The band agreed to participate in a documentary that should be about different youth cultures. The band responded truthfully to reporter questions, but what they didn´t not know is the fact the documentary would be called racist, yes! Ultima Thule is suddenly appointed to both racists and Nazis ...
"Rumors" about the band members were rising. Someone has been a member of the Sverigepartiet which became Sverigedemokraterna. Nothing was proved but it was too much to get fired from the record label EMI. It has achieved something that no one else succeeded. A while three Ultima Thule albums simultaneously on the top possitions in hitparade and it sold a bit more than giants like Nirvana and 4 Non Blondes in Sweden.
On tour
The band's success of course meaned that we want to went out on tour around the country and kingdom. Implementing a show proves anything but easy. A large part of the organizers werre scared and blackmailed by extremists. The municipality in several cases stopped the gigs for fear of riots. The venues vary from everything from gym to restaurants and outdoor gigs. At each point the local press has been excited about the atmosphere and in Vetlanda being intercession in the church which urges the stores to be closed. The quality of gigs varied depending on the band form, and alcohol intake, the audience was always happy and trouble is extremely rare. The large number of police officers comrades went to gigs and they often sit outside and they found that it is nothing more than the Saturday night any time.
Ultima Thule's music is already in the 80´s found their way abroad, and of course, it also adore their foreign listeners. After the tour, 93-94, it has became increasingly difficult to organize gigs in Sweden. Germany became the first foreign stop, which end in February 1996 where they played in Dresden with the German band Rabauken. Although the band recorded English versions of their most famous songs on the album Once Upon a Time, foreginers prefered when Janne sang in Swedish. We played in Belgium together with Headcase, and Section 5. In summer it was time for Germany again and this time played Thule in the city of Coburg before about 2,000 people. On this gig Midgard Sönner from Stockholm supported us. France was visited by Ultima Thule also, and in Paris was put in a fanclub cities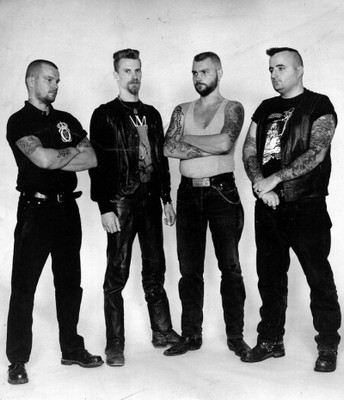 In May 1997 band visited the neighboring country of Finland and Helsinki together with the Heroes from Boras and 1999, it was time for a third Germany tour including Heroes participated. The same year they also played outside of Venice in Italy.
Gigs in Sweden is limited during the late 1990s when the festival Holmgang organized by the music club Kazoo outside Boras started. The largest was organized in 1999 and it makes its first full band gig. Other bands which were playing are German Kampfzone and Gothenburg band Riot. Occasional gigs at home at the MC-clubs were also present. Summer of 2001 was in the name of mini festival Sensommerblot in Nyköping with Ultima Thule, Hel and Soypooh. The festival took place on Kuggnäs engine farm and it will continue annually but it changed their name to Kuggnäsfestivalen. Ultima Thule has played at the festival about every two years during the 2000s. 2007 celebrating 25 years as band with a live gig before almost 2,000 people.
Bombs
In February 2000 Ultima Thule's studio was totally destruced in a bomb attack. Original recordings, paintings, instruments and studio equipment for millions went up in smoke. The attack was never cleared up but extreme leftwing groups described it as an action against the band on various websites on the Internet. Tv 3 made a feature of the event in the program Efterlyst(Wanted), beginning with the program Hasse Aro excused themselves with that "sometimes forced to raise this kind of crime." The victims this time was politically incorrect can not pass without comment. The band became to crossroad. If they wanted to continue or closed down? To start with clear sheet would be an enormous task and no one longer wanted to rent rehersal rooms to the group. They added guestbook on website for the fans which were allowed to write words of encouragement. After only a few days, the webmaster had to put up new guestbooks in regular intervals because of thousands of good wishes and prayers for not stopping their band from around the world. There were no more options, we can´t give up now!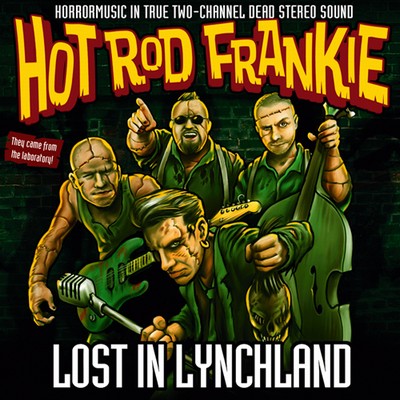 A temporary local was hired in Oxelösund and in the autumn of 2000 the reconstruction of a new studio which was a few mil outside Nyköping started. The first Thule disc recorded in the new studio was Resa utan slut, which came in 2001.
The new age
Internet's huge breakthrough made that disc sales falled sharply. The music can be wider distributed but new bands are often not afforded to record a disc because of the increasing downloads. Ultima Thule records are forced to think in new ways, and in 2003 they founded No Shame to have a much wider range of clothing than in the past. Ultima Thule has already experimented in 1997 with their side project The Headhunters, where they played more pure Oi! with English lyrics. Until death it is part of us and we have another innovative project with the guest singers and beautiful synth loops. It's called Hotrod Frankie and the band plays rockabilly and its harder cousins Hellbilly and Psychobilly. Hotrod Frankie recorded in 2008 his second album. 2009 will calculate with the next Ultima Thule album released and what the future bears late in his bosom remains to be seen. The scene has its cycles and listeners come and go. Without the true enthusiasts who organize gigs and recording discs would not vikingrock have been detained today.
Continued ...